5 Apps Like Clubhouse If You're Still Waiting For An Invite
You may even like these better.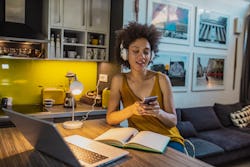 blackCAT/E+/Getty Images
Having launched their beta in early 2020, Clubhouse is the new social networking app that amplifies voices… literally. The new app uses audio to connect its users to others in various spaces from the arts, social justice, sports and more. Users convene in a virtual panel setting while listening to others talk about the topic at hand and listeners can even get the chance to speak with panelists (which sometimes may or may not be a celebrity like Drake or Oprah). But while you're waiting to get your voice out there on the most exclusive app since Facebook was only for college students, there are plenty of apps that are similar to Clubhouse to check out.
As Clubhouse gained its popularity back in May of 2020 after only about one month into beta and the app has still yet to officially launch. But even with the competition, many other new networking apps are springing up with more features that will better help you reach your social career goals. Twitter recently announced their new voice function called Audio Spaces. Apps like Wavve and Riffr have popped up on the scene and even apps like Discord are getting a rebranding to feature more audio functions to better connect people with the power of voice.
While Clubhouse certainly set the tone for the future of audio apps, there is definitely more to be explored with these newcomers. All with their own set of similar yet unique features (and available for both iPhone and Android), these new audio-based apps are going to be the talk of 2021.