The 5 Best 2-In-1 Cordless Vacuums
We only recommend products we love and that we think you will, too. We may receive a portion of sales from products purchased from this article, which was written by our Commerce team.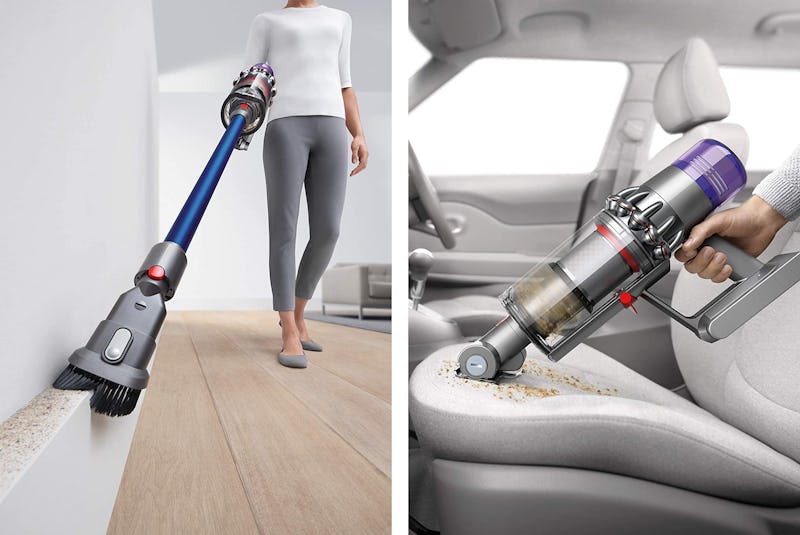 If you're struggling to decide between a powerful upright vacuum and a compact handheld vac, the best two-in-one cordless vacuums will give you more reach than a handheld vacuum while still allowing you to get into the nooks and crannies of your space. That said, there are a lot of different options out there, so you want to consider factors like battery life, suction power, and your budget when choosing the best two-in-one cordless vacuum for you.
Something to keep in mind: Most vacuum brands use different measurements to articulate their suction power. Some brands will release a combination of wattage and kilopascals (kPa's), which represent the total power used by the vacuum and suction pressure, respectively. Other brands (like Dyson), will focus on a measurement called air watts which measures both airflow and the vacuum's power. When looking for good suction, look for a vacuum that crosses a threshold of 100 air watts or 20 kPa's to ensure you're getting your money's worth, regardless of what surface you'll be vacuuming on.
Beyond power, you'll want to consider battery life. Despite similar designs, there's a lot of variation in the run times of cordless vacuums. The larger your space, the more time you'll need to clean it, so there's no magic number to look for when shopping. The best of the best cordless vacuums offer around an hour of battery life, so you have plenty of time to tackle big spaces. But, you can still find cordless vacuums with 40- or 50-minute run times that aren't as pricey.
Lastly, decide whether you'll want any additional attachments and if so, how many and which ones. While every vacuum on this list comes with at least one attachment, certain models offer multiple extra brush heads or crevice tools that make it easier to tackle tight spaces or handle pet hair, for example.
Scroll on for some of best two-in-one cordless vacuums out there to help you get started.
1. The Overall Best, All Things Considered
Safe for: Hard floors and carpets
If doesn't come from a household brand, but this affordable cordless vacuum cleaner meets all the criteria for an incredible two-in-one vacuum. It features a 250-watt motor with 21 kilopascals (kPas) of suction power that can suck up all kinds of dirt and debris from both hard floors and carpets. Even better, its high-efficiency filtration system can remove more than 99% of dust and particles from your space, making this vacuum a great pick if you have allergies. This cordless design has a 53-minute battery life when used on the lowest setting, and a 14-minute battery life when used on its highest setting. This comes with a crevice tool attachment you can fix to the stick vacuum to reach into tight corners on your ceilings, or into the base when using it as a handheld vac. For the price, this is a great vacuum worth your while.
According to one reviewer: "It works wonderfully. You can get in small spaces. It has good suction. It seems like cleaning the floors is done quickly yet well. We have a dog & cat & it gets all the hair up off our hardwood & rugs with no problems. I would definitely recommend."
2. The Runner-Up
Safe for: Hard floors and carpets
With a 450-watt motor and 22 kPas of suction power on its highest setting, this cordless vacuum offers a bit more power than the option above at a higher price point. It's designed with a high-efficiency lithium battery that lasts for up to 40 minutes before it requires a charge. On top of that, it also features a HEPA filtration system that not only sucks up dust, but traps it so it doesn't float in the air. This vac has two different power settings, so you can choose the right one for the mess and the floors you are working on (thick carpets might require the more powerful setting, for example). On top of that, this vacuum comes with three helpful attachments for cleaning your furniture, stairs, corners, and more.
According to one reviewer: "The Tineco suction in normal mode is perfectly adequate on hard floors and flat rugs and normal carpet and even the car. Might not suck up Lego bricks but that is a good thing! I have a really thick pile carpet on my stairs and bedroom and it was fine for that also. But on max mode which I tend to use for that particular carpet I had to use two hands to move it as the suction was so strong. Very please with that"
3. The One With The Most Attachments
Safe for: Hard floors and carpets
This versatile cordless vacuum has so many attachments that your carpets and hardwood floors will be absolutely spotless. With a powerful 250-watt motor and 23 kPas of suction power, this vacuum can tackle just about any job. It comes with a corner attachment to get into all those nooks and crannies, as well as a furniture brush, smaller brush for your keyboards and other electronics, as well as an extra-long hose that you can snap onto the handheld vacuum before adding any other attachments for more length and flexibility. This vacuum also features a 45-minute run time on its lowest setting and 20 minutes on its highest setting.
According to one reviewer: "The vacuum works great. We just built a home with all hardwood floors, so I wanted something for vacuuming both the rugs and the hardwood. My last vacuum was a full size, so I especially love how easy it is to pull this out multiple times a day and vacuum just one room like the kitchen or the whole house."
4. The One Designed For Pet Owners
While Bissell doesn't publicly offer up the suction power of this cordless two-in-one vacuum, it has a few features that make it great for pet owners. For one, it is designed with a tangle-free brush roller that works on hard floors and carpets, helping to trap even the finest hair without clogging up your vacuum. It also comes with three attachments, including a "Turbo Brush" tool to suck up fur from your furniture, as well as a crevice tool and dusting brush to pick up those pet hair tumbleweeds that tend to get stuck in corners. It offers a run time of up to 50 minutes and features Bissell's multi-level sealed filtration system (and a washable foam filter), to remove dust and particles without them escaping into your air. While Bissell recommends this vacuum for carpeted floors, a number of reviewers use it on hard floors as well with success.
According to one reviewer: "These small details are what really differentiates this model from others in the same price range; and truthfully this vacuum performs just as good if not better than some models on the market that are twice the price. This vacuum has truly amazed me when it come to suction power, technology, and performance. As a pet owner, this vacuum is a MUST HAVE and can easily be the main vacuum for an entire household."
5. The One That's Worth The Splurge
Safe for: Hard floors and carpets
There's a reason why Dyson vacuums are often lauded as the cream of the crop — they offer powerful suction packed into a frame that's designed to last a really long time. This Dyson V11 Torque vacuum has the longest run time of any on this list and can run for 60 minutes on one charge. The vacuums head automatically adjusts the suction to match the flooring surface you're working on, and this vacuum is safe for hard floors and carpets. This Dyson has 185 air watts worth of suction power (100 air watts is generally the threshold for a good upright vacuum, for reference).
When you're done using it as a stick vacuum, easily snap out the stick of the vacuum and snap in one of the attachments (which store in the charging dock). This vac comes with five additional attachments, including a crevice tool, a small rotary head that would work well on carpets, and a few different dust brushes. It's a splurge, but for a powerful two-in-one vacuum that you'll have for a long while, this Dyson can't be beat.
According to one reviewer: "Wish I would have bough one sooner, I can't stop vacuuming! It's expensive but very effective. It improved the condition of my carpet! I ran my old shark navigator over the carpet 1st and then the dyson. I couldn't believe how much more it vacuumed up. Amazing!"