The 5 Best AirPods Pro Ear Tips On Amazon
We only recommend products we love and that we think you will, too. We may receive a portion of sales from products purchased from this article, which was written by our Commerce team.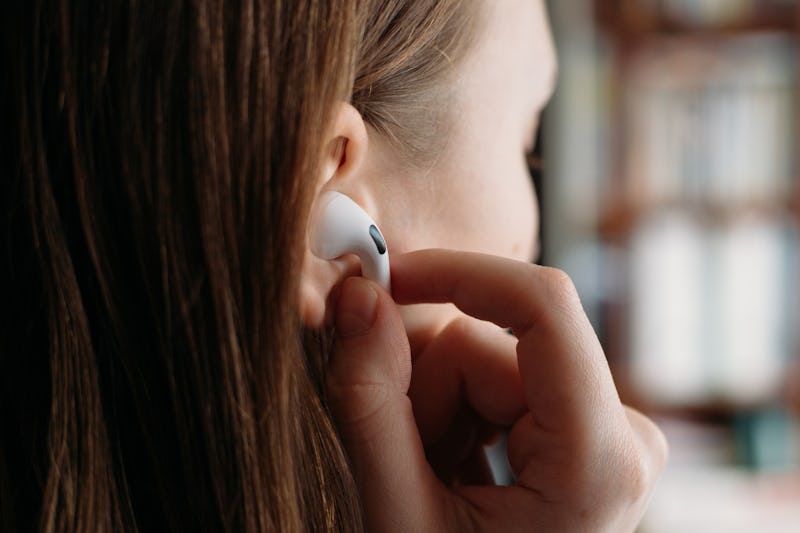 Ivan_Shenets / Shutterstock
While AirPods Pros come with their own ear tips, they're not always the best fit for all ears — and they can simply get lost, too. The best AirPods Pro ear tips for you will be made of a material that feels comfortable and secure in your ears, available in a size that fits well, and come in the color you'd prefer. They'll also feature some kind of mesh or guard to protect your AirPods Pro from dust and other build-up. Whether you're looking for a suitable alternative to replace lost AirPods Pro ear tips or want to upgrade to something more comfortable, scroll on for plenty of great options.
What Criteria To Consider
The ear tips that come standard with the AirPods Pro headphones are made of silicone. For your replacement ear tips, you can opt for another pair of silicone ones if you like how those feel in your ears. Alternatively, you can opt for another material like memory foam, which is softer and will conform to the size of your ear, or a slightly harder plastic. Many silicone and plastic tips are easy to clean with water, while memory foam ones are best to be replaced more often.
While the material of the replacement AirPods Pro ear tips will influence how they fit, so will the size. If you're unsure what size you need, lots of options are packs with multiple sizes so you can find the perfect fit (or swap between a few depending on the activity). For those with small ear canals, one of the options below even has an extra-small pair of ear tips for you to try. Regardless of what size you need, all of the tips on this list are designed to fit in the AirPods Pro case along with the headphones.
To make the most of the clear sound, noise cancellation, and streamlined look that make the AirPods Pros so popular, here are some of the best AirPods Pro ear tips to replace or jazz up your current pair.
1. A Set Of White Silicone Replacement Ear Tips
If you're happy with the look and feel of the included AirPods Pro ear tips but are in need of replacements, consider this multi-pack of white silicone ones, which even comes with three sizes like the originals. They have a mesh layer to protect your headphones from dust and other gunk, and come in a pack of six, so you'll have a backup set of whatever size you find fits best.
One reviewer wrote: "These are very affordable replacements for the original cushions. They are as good as the more pricey Apple replacements with more bang for the buck. I wear one small earbud cushion and one medium to get the best fit and noise cancellation. There is little, if any movement of the APPro when working out."
Material: Silicone | Sizes: Multi-pack of Small, Medium, and Large | Color: 1
2. The Fan-Favorite Memory Foam Ear Tips
This set of memory foam ear tips has racked up more than 11,000 ratings on Amazon and an overall rating of 4.3 stars. You can get a pack that's all in one size if you're confident in what you'll need, or you can opt for a multi-pack of all three sizes to ensure you get the perfect fit. All sizes come in black and have a mesh protector.
One reviewer wrote: "These tips have literally saved me from having to sell my AirPods Pro. The tips that came with them would slip out of my ears after just 30 seconds or so of walking around or talking. Try as I might, I could not get them to stay in my ears and I was seriously contemplating selling them (the return period had already passed). As a last ditch effort I decided to buy these. They have stayed in my ears from the very start. Not a single issue with even loosening much less falling out. The seal is also fantastic, perhaps even a bit better than the originals. As far as comfort, they are soft and it's easy to forget that I'm even wearing them! I cannot recommend these enough. If you are having troubles with the original tips, buy these!"
Material: Memory Foam | Sizes: Small, Medium, Large, or a multi-pack of all three | Color: 1
3. A Multicolor Pack Of Silicone Ear Tips
This pack of silicone ear tips comes with four cool colors, making them perfect for anyone who loves the feel of silicone ear tips but wants to upgrade the color from plain white. The manufacturer has specified that they're washable, and they have a dust guard screen to protect your AirPods.
One reviewer wrote: "These fit my Pro's perfectly. I love that they are all the same size and multi color for when I just feel like I want a change. The feel durable. I'm very happy with this purchase."
Material: Silicone | Sizes: One size | Colors: Assorted
4. These Bright Memory Foam Tips
These ear tips are made from a soft memory foam and come in really fun, bright colors, including orange, green, and purple, for anyone who wants their accessories to make a statement (or just want them to be easier to find). They feature two parts: the memory foam ear tip and a wax guard to protect your AirPods Pro.
One reviewer wrote: "I LOVE these things [...] These are the only tips I've tried that actually keep my AirPods from falling out. I love that there's the option to order 3 of the same size. A lot of other AirPod replacement tips I've purchased come with various sizes, making the majority of the pack unusable. Lastly, I like that they come in different colors. It's fun, but also super useful. my husband and I order different colors so that we don't get our AirPods mixed up. Highly recommend."
Material: Memory foam | Sizes: Small, Medium, Large, or a multi-pack of all three | Colors: 8
5. These Plastic Tips In 6 Sizes (Including Extra Small)
For anyone who's been searching for ear tips in an extra-small size, these clear plastic ones are here to help. In fact, they come in six different sizes, the most of the options on this list. They are harder than memory foam or silicone ear tips, so perhaps give these a try if you find those to be too soft. They come in one transparent gray color, and all sizes are equipped with a micro-mesh to protect your AirPods from dust and wax.
One reviewer wrote: "I'm petite (5'0") and have small ears. I bought airpod pros and it's become more and more evident with time that they are not working well for me, and continuously fall out. I ordered a few different brands of tips to try (including memory foam and spinfit) and these are the definite winners! I love that they come in the extra small (SS) size and the material is super grippy. They haven't fallen out once! I'm so happy with them!"
Material: TPE (thermoplastic elastomer) | Sizes: SS (Small S), S (Small), MS (Medium Small), M (Medium), ML (Medium Large), L (Large) | Colors: 1