The 3 Best Bar Spoons
We only recommend products we love and that we think you will, too. We may receive a portion of sales from products purchased from this article, which was written by our Commerce team.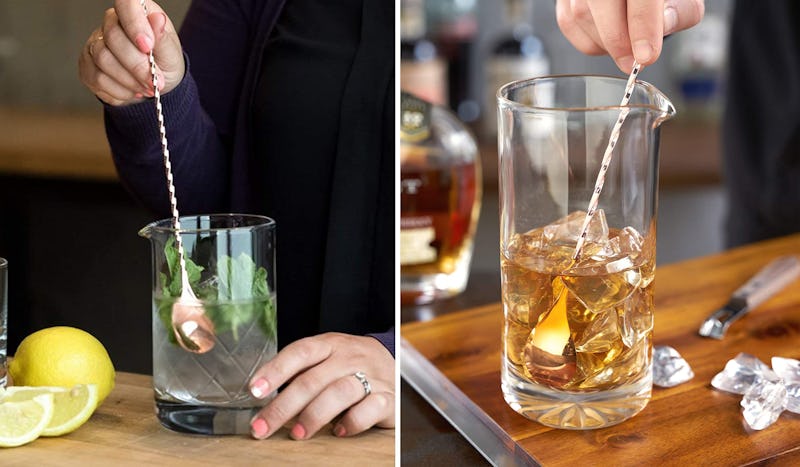 Whether you're an amateur mixologist or a seasoned pro, every bar needs a few key pieces of equipment. The best bar spoons are among the most essential tools for making expertly crafted cocktails, and come in long designs and are made of non-reactive metals that make it easy to mix and stir your favorite drinks. But, what else do you need to know?
Unlike standard spoons you keep in a utensil drawer, bar spoons are long and slender with a depth that's more shallow than deep. The bowl of the spoon can be used to measure small amounts of ingredients like bitters and syrups, and you can use the back of the spoon to delicately float ingredients for layered cocktails. Typically, the shaft of a bar spoon has a spiraled texture that makes the spoon easy to grip, and can help ingredients flow down the length of your stirring glass when moving in a circular motion for an even mix and minimal splashing.
Look for a bar spoon that's at least 10 inches in length, so there's adequate room for your hand to stir in a tall mixing glass or highball. Ideally, the material should be a non-reactive metal so it can be used with acidic ingredients like citrus, and won't absorb flavors or odors.
Like many tools that take practice to master, the best bar spoons will elevate your skills behind the bar to impress company (or just yourself)! Read on for our top three picks.
1. The Overall Best Bar Spoon
This bar spoon from Hiware has a classic design made from dishwasher-safe 18/10 stainless steel that won't rust, bend, or absorb flavors. The spoon's 12-inch length offers plenty of clearance for hands, and can reach to the bottom of highballs or mixing glasses for efficient mixing and dilution. The spoon's subtle teardrop-shaped end is weighted to ensure balanced and stable stirring, and the spiral design of the shaft is easy to grip, even with wet hands. This is an all-around great bar spoon that doesn't cost a fortune, and should last you for years of cocktail-making.
According to one reviewer: "This bar spoon had a great price point in comparison to others on Amazon and it definitely does not disappoint. It has a very sturdy handle and works like a charm. Would definitely recommend this spoon to other bartenders!"
2. The Splurge
If you're looking for a more stylish bar spoon, this stainless steel model from Viski is electroplated in copper and would add a warm touch to your home bar. The 15.75-inch length of the spoon is long enough to be used in highballs and even some small pitchers and carafes. The spiral design of the shaft runs all the way down to the spoon for efficient mixing, and the spoon's weighted end provides balance and stability while stirring. The Viski is also available in silver, gold, gunmetal, and black, so you can coordinate it with your decor or other barware.
One note: Copper can be reactive in highly acidic liquids, however in diluted drinks like mixed drinks where a copper-plated bar spoon only encounters the drink for a short period of time, it shouldn't be as big of a concern. In fact, chemists say that straight lime juice would have to be in a copper mug for hours before reactivity would become a concern. For increased safety, put this bar spoon in to stir and then remove after you've finished.
According to one reviewer: "This spoon has a really good weight, finish and feel. I love using it. I've had the silver version for around a year and it seems to be holding up really well, so I expect the same from this one. Great for stirring, I recommend picking one up!"
3. The Best Set
If you're just getting started behind the bar and don't have any of the basics, this affordable set from Hiware includes a double-ended bar spoon and a muddler for making a range of cocktails. The end of the 10-inch spoon features a small fork to help add or remove ingredients like olives without the need for an additional tool, and the spiral texture of the shaft ensures even mixing. The nylon material of the muddler's bottom is textured to help release oils and juice from herbs, aromatics, and citrus. For just $8, this versatile cocktail set would enhance any home bar setup or make a great gift.
According to one reviewer: "The muddling pestle is durable and heavy, easy to clean. The spoon is long, and it has a pronged spear on the end for olives or spearing twists, cherries, etc. The pestle makes short work of mint leaves or sugar cubes."