The 5 Best Blankets For Puppies
Cozy, adorable picks for pups of all sizes.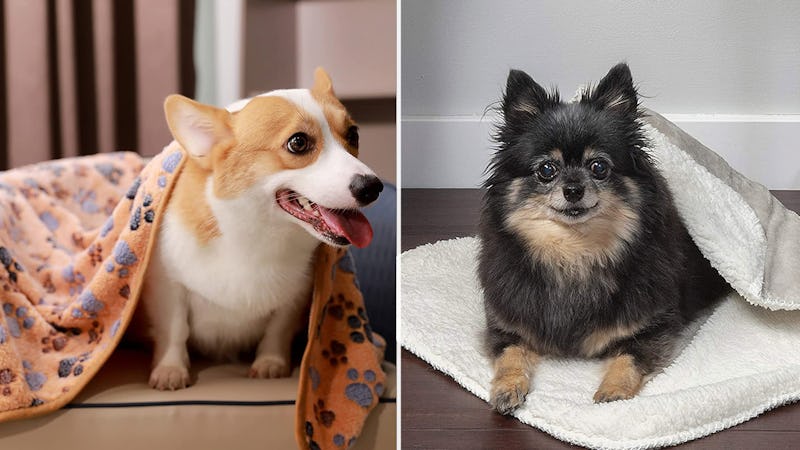 Amazon
We may receive a portion of sales if you purchase a product through a link in this article.
When you're bringing home a new puppy, you'll need to stock up on all the essentials, and a quality blanket to make them feel at home should be at the top of the list. The best blankets for puppies are made with soft, cozy material that is durable enough to withstand puppy chewing and rough play. Just as importantly, the blanket should also be machine washable for those inevitable accidents. Finally, it should also be appropriately sized for your new pet and how you plan to use it.
What To Look For When Shopping For Blankets For Puppies
Choose the best blanket for your pooch by taking these factors into account:
Material: To ensure the comfort of your pet, look for a blanket that's made from snuggle-worthy material — fleece and faux fur are common options and some blankets are dual-sided with a different material on each side.
Waterproofing: If you're worried about your puppy having an accident on their blanket, choose one with a waterproof layer to protect surfaces beneath it — like your couch!
Washable: Accidents are inevitable with a new puppy, so all of our picks below are machine washable.
Size: Blankets for puppies are smaller than blankets for humans, but size can vary quite a bit. Take your pooch's size into consideration, as well as where they'll be using it — a smaller blanket is likely a better choice for small breeds or for use in a crate or dog bed, while a larger pick has more surface area for snuggling on a couch. Can't decide between two sizes? You may want to choose something that's slightly larger that your pup can grow into.
Other helpful features: Some blankets can even be personalized with your dog's name and other special details — this added extra is worth it after all the time you spent carefully choosing your pup's new moniker! Think your pet might enjoy a little extra warmth? Opt for a puppy blanket with a self-warming core (for example, a layer made from Mylar will reflect body heat for warmth) to keep your furry best friend toasty.
Shop The Best Blankets For Puppies
In a hurry? Here are the top picks for the best blankets for puppies:
These five puppy blankets are sure to (bow) wow — and they all cost under $25 and are a breeze to wash in the machine.
1. A 3-Pack Of Small Puppy Blankets So You Always Have A Clean One
Pros:
Comes with three blankets so you can always have one clean
Costs less than $5 per blanket
Your furry fido will enjoy cozying up with these blankets from Luciphia — and you'll love the price! A popular pick on Amazon, the puppy blankets are made from a soft, velvety material that'll hold up well in the washing machine. This three-pack makes it easier to ensure you always have a snuggly blanket clean for nap time for less than $15. They're lightweight and on the smaller side — in fact, many reviewers note they're particularly perfect for use in a crate or dog bed. Choose from a range of color options, all of which feature an adorable paw print design.
One Reviewer Wrote: "We bought these for our new puppy and she loves them. She still sleeps with them in her kennel. They are [super] soft and comfy especially for a new puppy!"
Material: Fleece | Waterproof: No | Available Colors: 8 | Available Sizes: 3 (23 x 16 inches–41 x 31 inches) | Machine Washable: Yes
2. A Fan-Favorite Waterproof Puppy Blanket That's Self-Warming
Pros:
Features a self-warming layer
Water-repellant fabric with waterproof core
More than 32,000 reviews with an overall 4.5-star rating
Wide range of sizes
This puppy blanket from Furhaven offers a safe, electricity-free solution to keep your puppy warm and toasty; the multi-layer pick boasts terry on one side, high-pile fleece on the other, and a Mylar core that reflects body heat for added warmth. The puppy blanket is water-repellant (liquids will bead up on the surface) and the core is waterproof, making cleaning up accidents a total breeze. Amazon reviewers are big fans of this pick — giving it a 4.5-star rating overall after 32,000-plus reviews — one buyer wrote, "I think this is one of my best purchases from Amazon." Choose from four sizes and eight color options.
One Reviewer Wrote: "Now with the weather cooling down, my dog tends to gravitate to this blanket more often. It's soft and I have felt the temperature when he gets up and it's certainly warmer than his other blankets feel to the touch."
Materials: Terry, high-pile fleece, mylar | Waterproof: Yes | Available Colors: 8 | Available Sizes: 4 (20 x 30 inches–50 x 60 inches) | Machine Washable: Yes
3. A Comforting Faux Fur Puppy Blanket From A Cult Brand
Pros:
Shaggy faux fur is extra comforting for your puppy
Available in neutral colors that blend with home decor
Featuring a soft and shaggy material, your beloved pooch will find major comfort in this blanket from Best Friends by Sheri — the vegan fur is reminiscent of mother's fur. The blanket comes in two sizes that give your pet plenty of space for snuggles. Some Amazon reviewers noted that they use this pick as a crate pad as well. One note about caring for this blanket: After machine washing it, you'll want to place it in the dryer without any other laundry to keep it looking its best. You can even match the color to one of the brand's highly rated donut cuddler beds.
One Reviewer Wrote: "My puppy lives on this blanket! Her favorite blanket. Super soft and light weight but comforting. Very happy with purchase."
Material: Polyester faux fur | Waterproof: No | Available Colors: 4 | Available Sizes: 2 (30 x 40 inches and 40 x 50 inches) | Machine Washable: Yes
4. A Blanket With A Waterproof Interior In A Ton Of Sizes
Pros:
Waterproof
Double-sided
Wide range of sizes
When you bring home a new puppy, accidents are bound to happen. Luckily, this blanket from Bedsure features a totally waterproof interior lining that'll stop liquids and messes from leaking through onto the surface below; many Amazon reviewers place the blanket on furniture like couches, beds, or chairs to keep it protected. Functionality aside, this puppy blanket is also incredibly cozy with microfiber fleece on one side and a high-pile fleece on the other. The tight stitching at the edges ensures durability by preventing fraying and discouraging chewing.
One Reviewer Wrote: "These blankets are amazing! We put them on our couch so we can cuddle with our new puppy because he sometimes has accidents. They're truly waterproof and don't leak. Super easy to machine wash and use again!"
Materials: High-pile fleece, microfiber fleece | Waterproof: Yes | Available Colors: 5 | Available Sizes: 4 (25 x 35 inches–50 x 60 inches) | Machine Washable: Yes
5. A Personalized Puppy Blanket
Pros:
Personalized
Family-owned company
Wide range of sizes
Welcome the newest member to your family with this personalized puppy blanket from Custom Catch. This pick is completely customizable to your liking — choose from two blanket colors, add your puppy's name (select from a handful of fonts), and consider extra design details like paws or hearts. You can also pick from three different blanket sizes, all of which are made from a micromink material that's silky smooth it doesn't hold onto fur like a magnet.
One Reviewer Wrote: "A cozy blanket and the personalized option makes it special. Bought one for each grand dog and they both love their blankets."
Material: Micromink | Waterproof: No | Available Colors: 2 | Available Sizes: 3 (20 x 30 inches–40 x 60 inches) | Machine Washable: Yes
Also Nice To Have For Car Rides: A Waterproof Seat Cover
Pros:
Protects your vehicle's seat from damage
Non-slip backing and anchors hold it in place
While not technically a blanket, parents of puppies can benefit from having a car seat cover in each of their vehicles. Made from four layers of durable materials (including polypropylene), the cover will protect your vehicle's seat from dirt, hair, and scratches, and it's completely waterproof as well. The non-slip backing and seat anchors prevent the cover from sliding around as you drive. And when it comes time for cleaning, simply wipe down the seat cover with a damp cloth or suck up any messes with a vacuum cleaner. Choose from two different options based on the size of your vehicle.