The 3 Best Blenders For Margaritas
We only recommend products we love and that we think you will, too. We may receive a portion of sales from products purchased from this article, which was written by our Commerce team.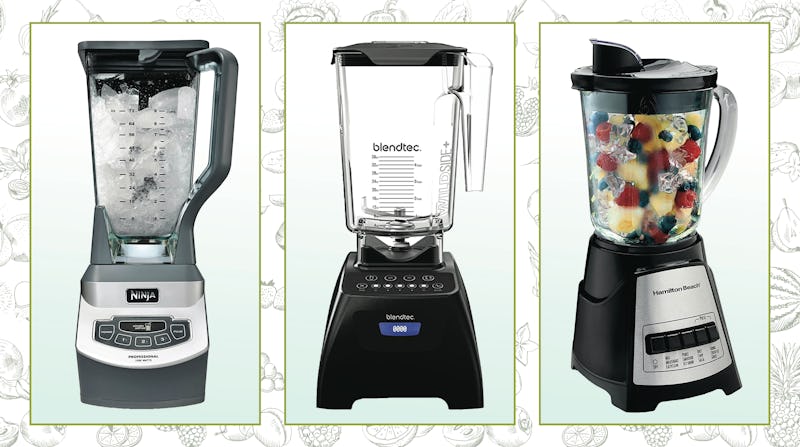 Bustle/Amazon
For a restaurant-style blender margarita, you need, well, a blender that's up to the task — especially since you don't want annoying chunks of ice killing those margarita vibes. The best blender for margaritas is a high-powered countertop style strong enough to crush ice with little effort. You'll find both affordable and luxury options that are up to the task just in time for your next happy hour.
Power & Speed Settings
If you're buying a blender primarily to mix up margaritas, be sure to choose one with ice-crushing power. A high-powered countertop blender with at least 700 watts of power crushes ice and other frozen ingredients. For more expensive blenders with 1,000 watts or more, crushing ice is less work, and you'll get an appliance that lasts longer than others. Also, a tough stainless steel blade that's durable and strong enough to stand up to hard ingredients, like frozen berries or ice cubes, is essential to match that power.
Depending on how smooth or textured you prefer your margaritas, you'll appreciate a blender with multiple speed settings and a pulse feature for controlling your result. On premium blenders, you'll also get convenient features like countdown timers or more preset programs.
Capacity
Another thing you'll want to pay attention to is the capacity of the blending jar. Larger blenders allow you to whip up a batch of margaritas in one go, but a smaller blender may be a better fit if you're short on space and only need a couple of margs. As a guide: countertop blenders hold about 48 to 72 ounces.
Material
Most powerful blenders use hard plastic containers, which are lightweight and less likely to break than glass. Now, a plastic jar can absorb odors or get scratched by tough ingredients, like ice, so you'll want to wash the jar soon after using it to prevent stains or trapping odors. Glass jars maintain their clarity better, but can be heavy when filled and may shatter if dropped. Whatever you choose, blender jars are generally dishwasher safe. Some blades may be billed as dishwasher safe, too, but you're better off carefully washing those by hand to keep them sharp.
With all this in mind, here are the three best blenders for margaritas, plus some essential accessories for margarita night.
1. The Overall Best Blender For Margaritas
Capacity: 72-ounce pitcher, plus two 16-ounce cups
Watts: 1,100
A powerful ice-crushing machine with a 1,100-watt base and stainless steel blades, this is a popular blender for margaritas that has a 4.8-star rating and over 23,000 reviews on Amazon. The unique six-blade piece extends midway up the 72-ounce pitcher so the blades hit frozen ingredients at more places during blending, which helps crush ice faster. Shoppers reported this blade design also resolves the issue of thicker mixes getting stalled or stuck, as they might with a blade only on the bottom.
Three speed settings and a pulse button allow control over how smooth or textured your final margarita is, and there's a convenient single-serve option for drinks or smoothies. Two 16-ounce cups with lids are also provided for mixing up drinks you can easily take on the go. For clean-up, the blades are removable, and the hard plastic pitcher, to-go cups, and lids are dishwasher safe. This is a powerful and large blender that's easy to use and perfect for stepping up margarita night.
A helpful review: "So far we love this. I mainly have used it for margaritas and compared to a Margaritaville this thing can really do well [with] shaved ice. Almost can't tell the difference. We have noticed that the closer either containers are to the fill line the better they blend. Also have made a lot of milk shakes with it, does surprisingly well making those as well. They tend to burn up regular blenders."
2. The Splurge Pick
Capacity: 90-ounce pitcher
Watts: 1,560
Now, if you're in the market for an even larger, more powerful blender that easily blitzes restaurant-style margaritas time after time but is also capable of much more, this is the best blender to splurge on. It's a commercial-grade Blendtec with a 1,560-watt base and a big 90-ounce jar.
This pick's patented blade is about 80% thicker than other blender blades, according to the manufacturer, and it's forged for a stronger blade that keeps its edge for longer. The blunt shape of the winged blade creates a smoother blend and gives the blender the ability to crush thick ingredients without requiring a tamper.
You can achieve a wide variety of textures with this blender's five speed settings, its pulse button, smoothie preset, or 60- and 90-second buttons. An LCD display conveniently displays the remaining blending time, and the blender comes with a rubber spatula for scraping out every last bit of your mix. Make smoothies, frozen drinks, salsas, or even hot soup just from the friction of this powerful blender.
Plus, this is a self-cleaning blender; just add some dish soap and water to the hard plastic jar, blend with the programmed clean cycle, rinse, and air dry. According to reviews, the jar and lid are dishwasher-safe.
A helpful review: "Absolute[ly] the best blender we ever had. It is strong enough to make snow cones out of ice cubes. We love it for Margaritas. Plenty of power and strong blades."
3. The Budget Blender
Capacity: 40-ounce pitcher
Watts: 700
If you're just occasionally making blended margaritas or simply want one that gets the job done for well under $50, this blender for margaritas is a quality pick. At its budget-friendly price and 700-watt performance, this one is a perennial favorite with nearly 20,000 reviews.
The blender's 40-ounce sturdy glass jar, removable stainless steel blades, and lid are dishwasher safe. It's designed with a wave-like system that continuously pulls your blend down toward the blades for a smooth drink. Four programming buttons on the base offer 12 blending functions, including pulse, smoothie, and ice crushing.
A helpful review: "Nice glass pitcher with good pouring spout. Cleanup is a breeze (just put hot soapy water in it and run it). It handles ice like a champ and the summer has been full of lots of margaritas, daiquiris, and milk shakes because of the machine."
Nice To Have: A Margarita Glass Set
To really step up margarita night, pour your freshly blended drinks into this pitcher with matching margarita glasses for serving. The 89-ounce pitcher comes with six 9-ounce glasses that are designed to be both durable and dishwasher safe. You'll love that the pitcher's lip is designed to keep ice from pouring out when serving.
A helpful review: "Very nice Margarita glass set. Glasses and pitcher arrived in excellent condition. Will enjoy filling both up with some yummy liquid libation!"
Also Great: Lime-Infused Salt For The Rim
Salt and lime are essential for an excellent margarita, and this lime margarita salt will give your homemade drinks that little extra something that makes them special. It's a highly rated favorite with over 4,000 reviews. Fine sea salt is infused with real citrus, and it's not too coarse or too fine for your margarita glass rim.
A helpful review: "This salt was incredibly delicious and I now make the best margarita in town!!"