The 3 Best Blenders For Salsa
We only recommend products we love and that we think you will, too. We may receive a portion of sales from products purchased from this article, which was written by our Commerce team.
by Ileana Morales Valentine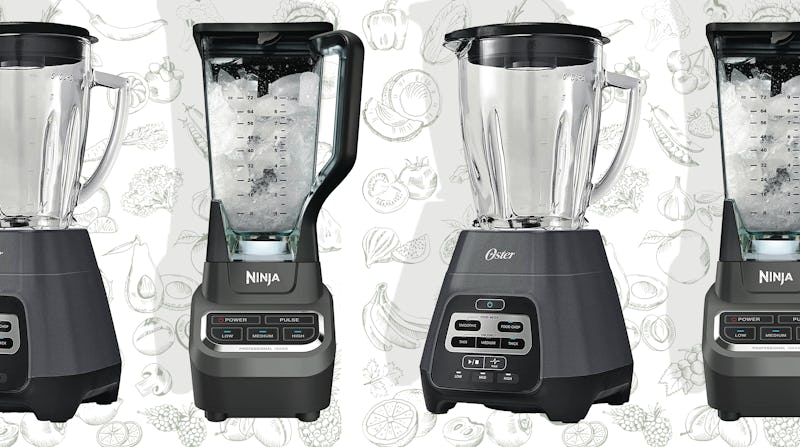 Bustle/Amazon
Blenders are versatile appliances, and they make it a cinch to whip up a tasty dip. The best blenders for salsa have a pulse button for controlling the texture of your pico de gallo or salsa verde and come with a jar large enough for your favorite condiment.
Blender Features
Blenders are designed to liquefy and puree, so if you're going to use a blender to make salsa you'll need a feature that helps mimic the mixing of a food processor: a pulse button. A pulse button allows you to control how textured or smooth your salsa ends up by giving your ingredients quick bursts of blending. Variated speed settings are also useful for blitzing salsa ingredients.
Wattage or blender power isn't a make-or-break factor for making salsas; each of the picks below will mix up standard salsa ingredients with ease. But you might like to know that as the price of a blender goes up, so does the maximum wattage — and more powerful blenders do tend to outlive their more affordable counterparts.
Blender Capacity
What size blender is most suitable for salsa? After consulting several Mexican cookbooks, I found most recipes yield 2 to 4 cups of salsa. The other factor to consider is that a blender's overall capacity isn't designed to be filled to the brim, and these appliances have a lower liquid capacity. So to comfortably make a standard salsa recipe, choose a countertop blender with at least a standard 40-ounce jar.
Jar Materials
Blending jars come in plastic and glass. Plastic is lightweight and easier to maneuver when filled (especially with larger blenders) but can trap odors and become discolored if not washed promptly; glass jars won't scratch or stain but they are heavy and may break if dropped. Both are usually dishwasher-safe.
With all this in mind, here are the best blenders for salsa. Each one is highly rated on Amazon.
1. The Overall Best Blender For Salsa
With a pulse button, three automatic programs that mix ingredients to thin, medium, or thick textures, and a reasonable price tag, this is an ideal blender for salsa. In addition to thickness settings, you can set it to two food modes: smoothie or food chop — so you can further customize the consistency of your recipe, which is key when making salsa. Not all blenders allow such control for texture, so this 800-watt model really stands out for these features.
The 48-ounce glass jar with a pour spout is shatter-resistant and the set also comes with a 24-ounce to-go cup for smoothies or for bringing your homemade salsa to a friend's house to share the love. The jars, lids, filler cap, and blade are all conveniently dishwasher-safe.
A helpful review: "[...] I love that making salsa now is so much easier. Most of the time my other blender didn't blend as well. However with this blender, [it] allows you to customize how hearty you want the chunks to be. I like chunky salsa but my husband does not. So I can make small batches for each of us with the same blender. [...] This is easy to read and use, you do not need to fumble with parts and pieces. [...]Highly Recommend this product."
2. The Upgrade Pick
With over 24,000 reviews and a 4.7-star rating on Amazon, it's pretty clear that shoppers enjoy using this Ninja countertop blender. The 72-ounce plastic jar is larger than my first pick, and its 64-ounce maximum liquid capacity means you can make salsa for a crowd in one batch.
It has a pulse button that is essential for controlling your salsa's texture, and this more powerful 1000-watt blender has low, medium, and high settings that can crush ice into a snow-like texture. For clean-up, the jar, lid, and blades are dishwasher-safe. The jar's pour spout is also convenient for pouring larger batches of salsa or other recipes without spilling.
A helpful review: "Not used to having a really nice blender. I've been using an antique. I sure do love my Ninja. I bought it because I like salsas, and it's great for that. Next, I'll try something new to me, like juice."
3. The Budget Pick
You don't need to pay a premium for a salsa-making machine. This affordable blender is a great deal under $35. It comes with a 40-ounce glass jar, and the appliance has a pulse function, plus four preset buttons, including one for salsa, which makes this a no-brainer gadget. This budget-friendly, practical 700-watt blender is another fan favorite with nearly 19,000 reviews. The jar, blades, and lid are conveniently dishwasher-safe.
A helpful review: "[...] It has been about over a year when I purchased this blender and it still works. I have made hummus, salsa, basic smoothie drinks and pureed soups. It works — it does the job! I have been surprised at how long these inexpensive items have lasted me — and how they work just as well as the higher end electronics. I always take care of my things, so I use baking soda to wash the carafe, take the bottom off to really clean it, I don't use the dishwasher and I use a dampish paper towel to clean the outside of the blender. It is a great little blender."
Nice To Have: A Festive Bowl To Serve Your Creations
You've whipped up the perfect salsa — the only thing left to do is display your creation in this adorable salsa bowl that will make guests smile. The ceramic chili pepper-shaped bowl has a 1.5-cup capacity and includes both a lid, to keep your salsa fresh, and a serving spoon. This dishwasher-safe pick is hand-painted in a vibrant red shade and has an impressive 4.6-star rating and more than 2,000 reviews.
A helpful review: "I truly love this beautiful and unique salsas bowl. It's lightweight [...] I enjoyed my first salsa in this bowl and found the serving size perfect for a single serve for salsa and guacamole or could also be used for serving chutneys, creams and sauces as well. This bowl makes a wonderful gift. Regarding the care part, one needs to be careful in handling this dish to prevent any chipping and surface scratching. Be careful while loading in the dishwasher to ensure enough room around to prevent damage."
Worth Considering: A Lime Juicer For Salsa With A Zing
Some of the most delicious homemade salsa recipes require fresh lime juice. It doesn't get any fresher than squeezing your own limes — without the fuss, mess, and seeds — with the help of this manual citrus juicer. The sturdy metal juicer features a two-in-one design that can handle limes and lemons in a variety of sizes. It effortlessly squeezes every bit of juice into your blender or bowl, leaving seeds and extra pulp behind. The simple-to-store tool is dishwasher-safe on the top rack and boasts a 4.7-star rating and more than 23,000 reviews. It even comes in a number of bright and fun colors to liven up your kitchen.
A helpful review: "I love this gadget! It took me about 5 minutes to squeeze a bunch of limes. I love limes and lemons but I hate squeezing them. [...] It works great!! And it seems very durable. [...]"