The 5 Best Bookshelves For Home Libraries
We only recommend products we love and that we think you will, too. We may receive a portion of sales from products purchased from this article, which was written by our Commerce team.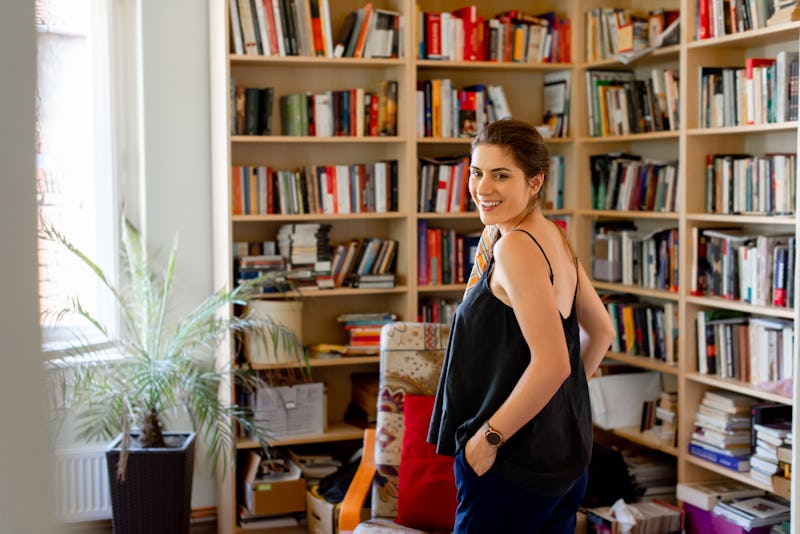 Vlad Teodor / Shutterstock
If your book collection is large enough to warrant a home library, you probably know that the best bookshelves for home libraries strike a balance between solid storage and simple, attractive design. A good bookshelf should easily and conveniently hold your collection, which means it should have closed sides or bars to keep books from sliding off the ends, and should be sturdy enough that it won't buckle under the weight of all that literature. If you're a paperback aficionado or just need a short-term storage solution, you shouldn't require anything too heavy duty, but if you're a hardcover fan or want your furniture to last, look for clues that the bookshelf is up to the job — a manufacturer-provided weight capacity can help you ensure that each shelf will hold the necessary 20 pounds per running foot, but a thick, solid construction and glowing user reviews can also provide insight.
A true home library is likely to require more than one set of shelves, so be sure to measure your space carefully and note the dimensions of any shelves you're considering to determine how many can fit. If you're on a budget, you might opt for cheaper furniture with the knowledge that the shelves could sag over time, but wide, sturdy bookshelves can be a budget-friendly way to cover a lot of space. As far as vertical space goes, you'll want to make the most of what you've got without sacrificing your ability to reach the books stashed up top — for most people, this means the tallest shelf should be between 72 and 78 inches high, though a cute step stool can provide a boost if needed. While you should always anchor heavy furniture, wall-mounted shelves can look sleek while saving space. Adjustable shelves allow you to fit taller books if needed. Bookshelves are typically around 12 inches deep in order to fit standard novels and textbooks, which should be fine for most people, but if you don't have any oversized books, you can get away with shelves around 10 inches deep
Finally, make sure you pick bookshelves that would look nice in your space. Whether you're creating a new home library or updating an existing one, these top-rated bookshelves will hold your collection with ease.
1. A Wide Bookshelf That Can Handle Lots Of Heavy Books
If you want to buy fewer shelves while still covering a lot of the library wall, try this double bookshelf from LITTLE TREE which measures just over 58 inches wide and 70 inches tall. Made from a combination of natural pine wood and metal that gives it an industrial look, the bookshelf can support a whopping 150 pounds per shelf (that's around 30 pounds per running foot). The metal frame bisects the five shelves to split them into 10 storage areas and criss-crosses over the open sides and back to keep the books from falling out. The shelves are around 11.58 inches deep to fit most standard books.
Amazon reviewers report that the shelf is easy to assemble in about 45 minutes. They give it an overall rating of 4.7 stars on the site, among 500 and growing reviews.
The shelf doesn't come with brackets, but multiple reviewers suggested they had success securing it to the wall with their own brackets. It has adjustable pads on the bottom to keep the shelf level even if the floors aren't.
Positive Amazon review: "I love this shelf! Attractive, very sturdy, easy to assemble, and perfect for my extensive book collection. I have purchased two and may buy more."
Assembled dimensions: 59 x 11.8 x 70.9 inches (width x depth x height)
2. A Classic Bookshelf Made From Solid Wood
For a more traditional library lined with real wood shelves, look no further than this bookcase from International Concepts. The bookcase is made from solid parawood, a material that's known for its strength and durability, and is 72 inches tall to keep the highest shelf within reach. If this height doesn't work for you, International Concepts sells a bunch of shorter versions, too.
Amazon reviewers advise that the bookshelf is "designed so that each shelf will fit standard size hard back books," rather than coffee table books, textbooks, or children's books. At only 9.84 inches deep, the bookcase's six shelves are too shallow for bigger books, and while three of the shelves are adjustable, reviewers state they're unable to be configured to fit tall books unless you're willing to remove a shelf. This should only be an issue if you want to fit something larger than a standard paperback or hardcover novel.
While the manufacturer doesn't provide a weight capacity for this bookcase, the solid wood construction should provide plenty of strength, and reviewers report that it's super sturdy. "Once put together, this thing is solid," wrote one such reviewer. "We bought this one because we had a cheaper bookcase whose shelves were buckling under the weight of our books. No worry about that happening now; this thing is holding up well fully loaded."
The bookshelf comes in a few pretty stained finishes, and you can even buy an unstained version if you'd like to DIY your own finish to match your space. There's also a version that comes bundled with a matching side table. Assembly is required for this piece, and while some reviewers struggled with the task, many others found it to be quite straightforward. It's unclear whether the bookshelf comes with furniture anchors, but you can always buy them separately.
Positive Amazon review: "Good balance of quality (solid wood, sturdy construction) and affordability (who pays a thousand dollars for a bookcase?!). We got three, and they arrived well-packed and undamaged. Straightforward to assemble if you're reasonably handy, and nice that the backing is wood instead of cardboard. [...] The shelf spacing worked for every fiction paperback and hardcover we have, though it probably would be too small for textbooks or 'coffee table' books. I will definitely buy more if our book collection keeps growing!"
Assembled dimensions: 32 x 12 x 72 inches (width x depth x height)
3. A Stylish Wall-Mounted Bookshelf
Whether you're working with limited space, love an industrial look, or simply prefer your bookshelves mounted on the wall, this ladder-style bookshelf from Nathan James is exactly what you need. It attaches to the wall with the included screws so it's super secure, and since the shelves are 11.7 inches deep (perfect for most books), it shouldn't jut very far into the room. With a sleek iron and particle board design, it's easy to imagine how stylish several of these bookshelves would look all lined up on your library wall. And Amazon reviewers report that assembly and installation are both super easy, taking less than the manufacturer's suggested 40 minutes.
While this design doesn't have its own back, it does have iron rods on the sides to keep books from tumbling off its six shelves. Each shelf can hold 55 pounds of books (that's 22 pounds per running foot), and the entire bookshelf is 85 inches tall, but the tallest shelf is a bit lower, meaning most people should still be able to reach it.
This product has a whopping 4,400-plus reviews on Amazon and a 4.7-star rating overall, but this massive following is (at least in part) due to the sheer number of variations available. Want it in another color? You got it. Wall-mounted on both the top and bottom? Sure thing. With a few drawers? No problem. You can even buy the shelves bundled with a matching side table, storage unit, or accent table if that's appealing to you.
Positive Amazon review: "We currently have 3 lined up next to each other against one wall, it looks like my perfect library!! We will have to get a fourth soon, as the books keep piling up! Very elegant and sturdy, I even have some heavier props on one top shelf and they never budge."
Assembled dimensions: 30 x 12 x 85 inches (width x depth x height)
4. A Budget-Friendly Bookshelf For Mostly Paperbacks
Putting together a home library on the cheap? This white bookshelf from Sauder has got you covered. For less than $100, you get four shelves, three of which are adjustable, in a 72-inch-tall engineered-wood frame — it's no wonder the shelf has a solid 4.1-star overall rating after more than 1,400 reviews. While Sauder doesn't provide a weight capacity for the shelves, one Amazon user suggests that the "adjustable shelves hold a maximum of 35 pounds," while the "fixed shelves hold a maximum of 50" — that's about 17.5 and 25 pounds per running foot, respectively. If these capacities are correct, you may want to keep any heavy books on the bottom shelf and place primarily paperbacks on the adjustable shelves above.
The bookshelf requires assembly, but reviewers describe the task as quick and easy. It comes with an anchor to secure it to the wall.
Positive Amazon review: "This bookshelf is easy to put together, even for one person (who isn't very strong at that). As far as I can tell it's pretty sturdy! It holds all my books and my textbooks as well, which aren't light! Overall it's a great value. Maybe don't buy it if you're looking for something fancy, but for a college student it's perfect. I'm currently waiting on another!"
Assembled dimensions: 24.57 x 11.5 x 71.18 inches (width x depth x height)
5. A Gorgeous Splurge With A Built-In Ladder
This set of two Martin Furniture bookshelves is expensive but it's also everything an avid reader with a massive book collection could dream of. If you've ever wanted to house your beloved tomes in the most extravagant, gloriously indulgent way possible, this is it. The sturdy pair of bookshelves is made from heavy 400-pound wood with an oak finish. A slat design lines the back, metal rails decorate the front, and there's a ladder that attaches to the top rail so you can easily reach the highest shelf. The bookshelves measure 94 inches high, so the ladder should actually come in handy. The combined width of the two sets of shelves is 80 inches, so they're sure to cover a lot of wall space.
Between the two sets of bookshelves, you get 12 shelves, most of which are adjustable. The manufacturer doesn't provide a weight capacity, but with all that heavy wood specifically meant for book storage, it's hard to imagine you'll have any issues with buckling. The bookcases come fully assembled — you'll just need to attach the ladder to the rail. One reviewer cautions that the ladder sticks out "a good two feet from the bookcase bottom," so be sure to take that into consideration when planning your space.
Positive Amazon review: "It looks even better than the pictures. It's made sturdy, good quality and a great price. [...] We were so happy it was mostly assembled."
Assembled dimensions: 80 x 15 x 94 inches (width x depth x height)