The 4 Best Brushes For Double-Coat Dogs, According To A Professional Groomer
A groomer shares her best tips for brushing your double-coat pup.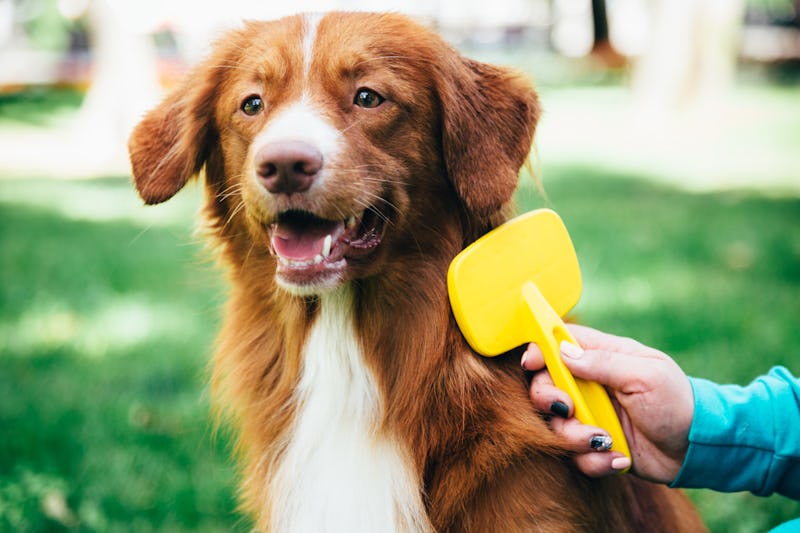 Shutterstock
We may receive a portion of sales if you purchase a product through a link in this article.
The way you care for a bulldog's short coat differs from the way you would groom, say, a Siberian Husky. Dogs with double coats (common with herding breeds, retrievers, and terriers) need a little extra maintenance in the grooming department. The best brushes for double-coat dogs can help remove excess fur, detangle longer coats, and distribute fur's natural oils for a healthy sheen — all without irritating your dog's delicate skin.
You'll likely find that it will require a few different tools to maintain your dog's luscious coat in-between groomings. Helen Schaefer, a nationally certified master groomer at Heart + Paw, explains to Bustle that using a soft slicker brush is the first necessary step. "This will help break up any thick areas and remove the bulk of the loose shedding hair," she says.
Next, you'll want to go in with a single or double-row undercoat rake. According to Schaefer, a double-row rake "will help remove the loose dead undercoat — which is the bulk of what sheds out at home to create those hair bunnies." After you brush out those extra thick and knotted areas, Schaefer recommends going back through using a wide-tooth "Greyhound" style comb for any remaining loose hairs.
Shop The Best Brushes For Double-Coat Dogs
In a hurry? Here are the best brushes for double-coat dogs:
These four brushes and grooming tools will help your dog maintain a mat-free, shiny double coat — and help you keep shedding in your home down, too.
The Expert
Helen Schaefer is a groomer at Heart + Paw in Glen Mills, Pennsylvania. She is a nationally certified master groomer and a certified canine esthetician and has been nominated for several top grooming awards both in the U.S. and globally.
This article was originally published on