The 3 Best Cast Iron Handle Covers
We only recommend products we love and that we think you will, too. We may receive a portion of sales from products purchased from this article, which was written by our Commerce team.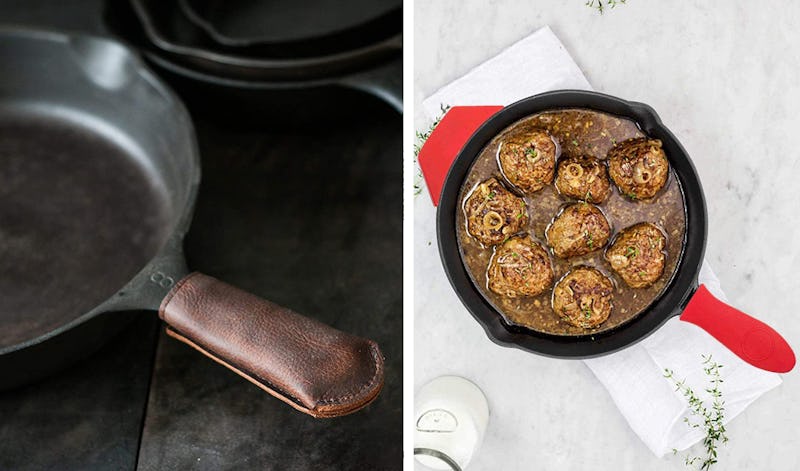 Due to its low conductivity point, cast iron tends to retain heat for longer periods of time, making cast iron pans great for cooking, but difficult and even dangerous to move or lift. The best cast iron handle covers are made of thick materials like leather or silicone to provide protection from hot handles, and are easy to grip and comfortable to hold. But what else do you need to know when shopping?
First and foremost, measure the size of your handle. Whichever handle cover you pick, make sure it fits snugly on your pan's handle so it won't slip or shift when you lift or move the pan. You have a choice of materials when it comes to finding a heat-resistant handle cover. Fabric handle covers should be avoided since they can catch fire when used near an open flame like a gas stove or broiler. Instead, look for a flame-resistant material or one that can withstand exposure to high temperatures.
Leather handle covers are durable, and should be layered to protect hands from high temperature (leather also tends to withstand high heat well). Silicone, in turn, offers a flexible, waterproof, heat-resistant alternative. Regardless of what you choose, remember that any handle cover should be removed when your pan is transferred to the oven.
Larger cast iron pans often have a bonus handle or lip to aid in lifting and moving full recipes. You can purchase covers for these "helper handles," either individually or as part of a two-piece set for both of your pan's handles.
The best cast iron handle covers are essential for protecting hands from burns and blisters, and can provide confidence when handling hot cookware.
1. The Best Leather Cast Iron Handle Cover
Hardmill's leather handle cover fits snugly on your pan's handle to protect hands and fingers up to the edge of your cast iron pan. Handmade in the United States, the cover is constructed from two layers of oil-tanned leather and stitched together with Kevlar thread, a heat-resistant synthetic fiber. The cover's opening flares a bit, so it slips over handles of varying thicknesses and self-adjusts for a secure fit on your pan's handle, regardless of the manufacturer. Over time, the leather will conform to your pan's handle, offering a near-custom fit that makes it that much more comfortable and safe to use.
The 4.5-inch length of this style will fit most standard cast iron pans, but it also comes in a 5.75-inch size to fit longer handles. While the specific heat resistance isn't listed, reviewers say it should work for temperatures up to 400 degrees Fahrenheit. An important note: While generally flame-retardant, leather is flammable, so this handle cover should be slipped off once the cast iron pan is transferred to the oven.
According to one reviewer: "I cook with cast iron quite a bit and something as simple as this leather pan handle makes that experience even more enjoyable. Designed well and made well. Great value for the money."
2. The Best Silicone Cast Iron Handle Cover
When shopping for silicone cast iron handle covers, it's important to look for one that is easy to grip and offers a tight fit. Le Creuset's design is made from thick silicone that's heat-resistant up to 482 degrees Fahrenheit, and features both a textured outer surface, as well as ribs on the inside that flex to fit a variety of handle sizes and thicknesses. The 5.75-inch length provides full protection down the length of most standard cast iron pan handles. You can choose from subtle black, or choose one of three vibrant colors. One thing to note: Though silicone is heat-resistant, this handle cover can become damaged if placed over a high flame, like those on a gas stoves, where the fire can exceed silicone's heat-resistant threshold. While the manufacturer says this cover is oven safe, be wary as many reviewers dispute this.
According to one reviewer: "Fits our Lodge brand cast iron skillet like a glove. The handle was too hot when used on a side burner and this is just what the doctor ordered. Fits perfectly and makes it easy to control the pan - without branding your palm. Should have bought one years ago."
3. The Best Set
This set of two silicone handle covers from Trumoter includes one for your cast iron pan's long handle and another for the helper handle, so you can use both hands to safely lift and move even your heaviest recipes. The long cover measures 5.5 inches, and has a tapered design to fit securely on most cast iron pan handles, all the way to the edge of the pan. The heat-resistant silicone material protects hands against temperatures up to 464 degrees Fahrenheit, but like the Le Creuset, Trumoter's covers are not recommended for extended use in the oven or over a flame. They're designed to help lift and move hot pans from the stovetop or oven, much in the way you'd use a pair of potholders.
According to one reviewer: "Liked the protection to your hands from very hot cast iron skillets. Like that it has the 2 parts. Pot holders often are not adequate to protect your hands especially when removing it from the oven."