The 4 Best Ceramic Waffle Makers
We only recommend products we love and that we think you will, too. We may receive a portion of sales from products purchased from this article, which was written by our Commerce team.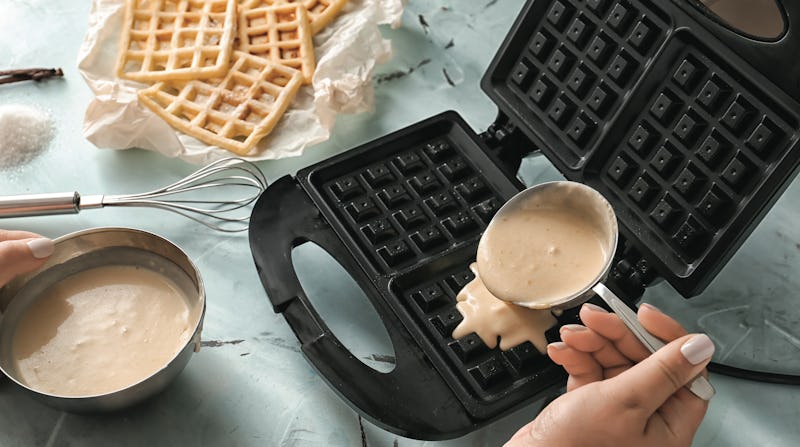 Bustle/Amazon
Ceramic is the new nonstick, and by now you likely have added (or considered adding) one pan to your collection. And when it comes to making waffles that release easily and intact, ceramic options reliably deliver there too. Whether you want classic or Belgian-style, the best ceramic waffle makers are totally nonstick — without the Teflon — and are just as easy to clean as they are to use.
A standard ceramic nonstick coating generally wipes clean easily, and you won't end up with much or any batter stuck to the plates. If you want an even more durable option, consider a titanium-infused ceramic coating that enhances the waffle iron's nonstick properties, as well as its performance. Similarly, diamond-infused ceramic increases the nonstick surface's resistance to wear and results in excellent heat conduction. While any of these plates will wipe off easily, for the most hassle-free cleanup, look for removable, dishwasher-safe plates.
Most plug-in waffle makers look similar: plates on the top and bottom that shut to cook your favorite batter into a delicious waffle. Now, since the bottom plate heats up faster and cooks the one side sooner, it's nice to have a waffle maker that flips if you're keen on evenly cooked and crispy waffles. But the downside to flip waffle makers and vertical devices is that you can only use them to cook one waffle at a time and they are bulkier then standard options, which makes them more difficult to store. Then, take a close look at the depth of the plates. Classic waffle makers make thinner, crispier American-style waffles while Belgian-style waffle makers feature deep wells to create thicker and fluffier waffles.
Belgian waffles are the more popular choice these days and you'll notice this list of the best ceramic waffle makers features more deep-plate options, but there are still a few options for those who crave crispier breakfast treats. Scroll on to find your perfect choice.
1. The Best Flip Waffle Maker
This ceramic waffle maker is coated in Durathon ceramic, which is up to four times more durable than traditional nonstick cooking surfaces, so it won't crack or peel, and it releases waffles effortlessly. For its performance and easy cleanup, this pick maintains a 4.6-star rating with over 2,500 reviews on Amazon.
This plug-in waffle iron makes round, Belgian-style waffles, and the plates flip with the help of a crank that you turn for more even browning of each side. It makes a single 8-inch waffle at a time. Once cooled, the plates and drip tray can be removed and are dishwasher safe. The waffle iron's stainless steel exterior is built to last, and you'll appreciate the power on and ready-to-cook indicator lights plus adjustable browning control.
A helpful review: "Great price for something that puts out giant fluffy waffles. Easy to clean because of the removable drip tray it comes with. The iron pieces are removable as well for easy clean up. It is awesome!"
2. The Best Vertical Waffle Maker
Sometimes batter can leak out of waffle irons if overfilled. This vertical waffle maker avoids the mess by turning the iron on its side with a wide spout to pour the batter into; plus, it comes with a measuring cup to help you get it right every time. Keep in mind that although it shares a similar design to the first pick, this one does not flip.
The metal waffle maker has titanium-infused ceramic coating designed to make round, 7-inch Belgian waffles. The iron has lights indicating when the waffle is ready to cook and when it's done cooking, though there's no adjustable temperature control. To clean the waffle iron, the plates don't come off but the appliance does open up for a wipe down of each side.
A helpful review: "It heats up quickly and makes a perfect waffle in minutes and the vertical design leaves no mess or leaking which is the biggest problem with other waffle makers. The nonstick surface is truly nonstick as the waffle popped out effortlessly leaving no crumbs behind. You will need to use the provided scoop to pour the batter in and watch to make sure it's filled just before the base of the funnel. [...] The design is wonderful for no mess and a perfectly circular waffle since you're able to see how much you're filling it. [...]"
3. The Best Multipurpose Waffle Maker
For any cook who likes a kitchen tool that does more than one thing, this ceramic electric griddle makes waffles and more. With seven ways to cook, each removable plate features diamond-infused ceramic for a surface that is up to five times harder, and 10 times more durable, than traditional nonstick coatings, according to the manufacturer. The plate surfaces are actually so hard that they're billed as safe to use with metal utensils, unlike most nonstick cookware.
Both halves of the griddle can lay flat for maximizing the cooking surface; picture yourself making eggs on one side and sizzling bacon or sausage on the other. Or making grilled cheese by using the griddle as a press with adjustable height to fit even tall sandwiches. The waffle plates have deep texture for large Belgian-style waffles, though the size of the waffles is not mentioned. Other features to love: one-knob control for adjusting the temperature, a ready indicator light, a drip tray, and dishwasher-safe plates that remove for convenient cleaning.
A helpful review: "I love the convenience of being able to take the plates off and put them in the dishwasher. I had a separate grill and waffle maker, which neither had removable plates, so I got this to replace them. Saving space and adding convenience! [...]"
4. The Best Novelty Waffle Maker
For an instantly sweeter breakfast, try this heart-shaped waffle maker. The ceramic-coated interior makes five mini classic waffles with connecting heart shapes or one large 8-inch waffle, and it's a popular breakfast maker with over 1,000 reviews.
The plates aren't removable on this plug-in waffle iron, but they can simply be wiped clean when cooled. The chrome exterior features indicator lights for when the iron is on and hot enough to cook, and it has a dial for adjusting the temperature.
A helpful review: "I have been looking for this Norwegian style waffle iron for ages. I had one many years ago. This has the SS metal top, light to dark setting, ready on light, and the done light. The ceramic plates were no trouble, non stick and did not really need much butter or oil. [...] The waffles came out very nicely evenly cooked and very thin as expected. [...] Love the heart shapes that can be divided to reveal nice little heart snacks."
Also Nice: An Easier & More Accurate Way To Dispense Batter
Filling up a waffle iron with the right amount of batter — not too much or not enough — can take a bit of trial and error. Use this batter dispenser tool to take the guesswork out of breakfast and make a batch of more consistent waffles.
The container holds up to four cups of batter, and a squeeze on the handle releases the batter from the bottom of the cup. Measurement markings on the side of the cup make it simple and convenient to use the same amount for each waffle batch. It's also useful for making pancakes, muffins, or cupcakes.
A helpful review: "Love this dispenser. It takes the messiness out of pancake and waffle making. The flow of batter stops without dripping. Good to have if you make lots of batter based food."