The 4 Best Chafing Dishes
We only recommend products we love and that we think you will, too. We may receive a portion of sales from products purchased from this article, which was written by our Commerce team.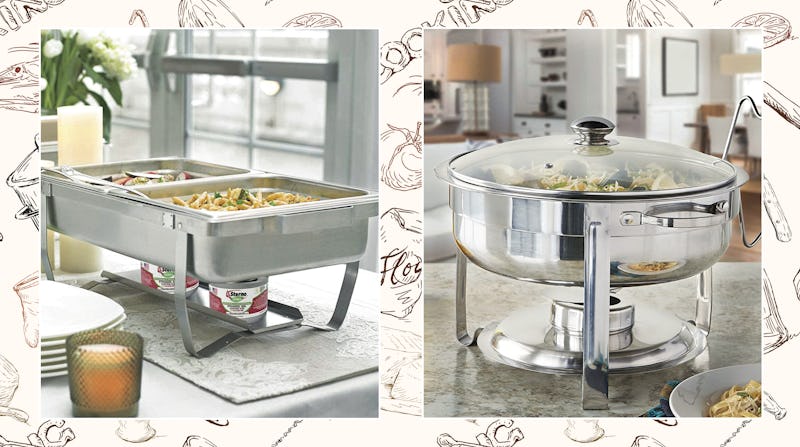 Bustle/Amazon
A versatile cooking option for the kitchen and beyond, chafing dishes hold cooked foods in an elegant buffet-style, allowing you to serve meals in mass quantities. When selecting the best chafing dishes, choose a stainless steel model that's sized to your needs and has a lid type that suits your serving style.
The best chafing dish material is stainless steel for its durability and the elegant look that it adds to any occasion. While there are aluminum options available, they're not as sturdy and the metal may reactive with acidic ingredients, like tomato sauce.
In terms of design, a chafing dish should be easy to assemble and break down, which is something you can get a better idea of by reading Amazon reviews. A foldable option is ideal for storage and travel. Features such as the handles and covers are also important to consider; handles should have some sort of coating or be far enough away from the heat source to protect hands. Chafing dishes come with covers that help retain moisture and keep food warm, but not all covers are the same. Dome covers have a handle on top that make them easy to pull up but you'll have to find a place to set the lid, while roll-top covers retract and are simply flipped up and locked into place. A glass top cover can be found on either type and provides the additional benefit of giving you and guests a peek at food without lifting the cover, which helps keep heat trapped inside.
If you're investing in a chafing dish, you're likely looking to feed several people, so size needs to be taken into consideration. A good, standard chafing dish size is somewhere around four to eight quarts; a 7-quart chafing dish, for reference, holds 50 to 60 servings. You'll typically find chafing dishes divided into halves and thirds to accommodate different meals and portions.
Scroll ahead for four of the best chafing dishes for serving pro-level meals.
1. A Chafing Dish For Smaller Parties That Folds
Lid Type: Dome
Capacity: 8 Quarts
Unique Features: foldable
If your goal is to serve a small crowd — at someone else's home — and then easily store your chafing dish when the party has ended, this chafing dish holds 8 quarts and folds for storage and transportation. Its stainless steel construction resists dents and it comes with a lid with raised handles (though the manufacturer doesn't state if the handle is heat-resistant), one 4-inch deep water pan, and two 2-inch deep food pans to accommodate two different meals as well as a fuel holder tray and two fuel holders.
Created for professional chefs, this pick has earned an impressive 4.7-star rating on Amazon after more than 1,000 shoppers weighed in. One reviewer reported safely washing it in the dishwasher, though the manufacturer doesn't specify if this is recommended. As far as individual features go, reviewers gave this pick five stars for easy assembly and one reviewer noted: "it is easy to seat up and put away." This one also comes in different set sizes, so if you need a 2-pack, 3-pack, or even a 4-pack of chafing dishes, it has you covered.
Helpful review: "I decided to give it a try using the new Sterno Chafer Buffet to entertain our guests while they came over for a football watching party. It kept our food hot from before kickoff to after the game and after game show!! It was easy to use, easy to clean and, more importantly, easy to store. The frame folds, the lid and trays fit inside and it stores just like a roasting pan."
2. An Elegant Roll-Top Chafing Dish
Lid Type: Roll-Top
Capacity: 8 Quarts
Unique Features: gold-accented handles
This elegant stainless steel chafer has a roll-top cover that retracts 90 degrees and stays in place on its own, bringing another level of ease to your dining party since guests won't have to fumble with buffet lids. It can hold 8 quarts and includes one full-size food pan, two dripless water pans, a cover, and two fuel holders. Its gold-accented handles — one in the front and two on the sides — give it a unique and elegant twist and it has an impressive 4.7-star rating.
As far as assembly is concerned, one reviewer noted, "The chafer is easy to setup and to take apart. Cleaning it is simple and it goes back into the box for a nice storage option when not in use. The roll top opens and closes smoothly without noise."
Helpful review: "Awesome buffet server. It is a beautiful unit and functions superbly. Guests will comment on it's beauty. Cleanup is a breeze. I highly recommend."
3. A Smaller Round Chafing Dish With A Glass Lid
Lid Type: Dome
Capacity: 4 Quarts
Unique Features: built-in holder for glass lid
Holding four quarts, this stainless steel round chafing dish provides an elegant presentation at smaller get-togethers. It includes a water pan, food pan, fuel holder, and a transparent glass lid that allows you to see the food inside without opening it and releasing heat. The handle on this pick is only raised slightly, but when you lift it up it stays in place thanks to a built-in holder. This buffet has an impressive 4.7-star rating and is hand wash only. One reviewer shared that it was "easy to assemble" and "cleaning was a breeze."
If you love the look of this round chafing dish but require something bigger, this 6-quart pick has a roll top and is highly rated.
Helpful review: "I love this. Very easy to use, stylish, compact, holds great amount of food. I work for a hotel and host a social 3 days a week. I bought four and together they feed a crowd of 50+ easily. Some nights I only use one (like for dips and spreads). So well received. The holder for the lid is perfect!"
4. An Electric Chafing Dish that Doubles as a Food Warmer
Lid Type: Dome
Capacity: 6.5 Quarts
Unique Features: electric, transparent lid, adjustable temperature knob
Composed of three 2.5-quart trays, this electric chafing dish is a minimalist's dream because it forgoes fuel holders and water trays. This pick has a stainless steel casing and domed transparent lids with safe-to-touch handles that ensure food stays hot while your hands are protected. An adjustable temperature knob provides an extra level of heat personalization that you won't get from traditional chafing dishes. It's something of a cult favorite, with a 4.6-star rating and more than 4,000 reviews. It should only be washed by hand.
Helpful review: "We ordered 2 and used these for a small catered party at our house and they worked out fantastic! We used them with the trays catering brought and our food stayed warm and heated throughout the day. No worries about flames, chafing trays, pans of waters. We just put the food trays right on top."
Also Nice: An Affordable Disposable Set With *Everything* You Need For Your Party
This disposable aluminum chafing dish set may not be the one you pass on to the kids, but it has everything you need to put on a great party without the price and commitment of stainless steel picks. You'll get three wire racks, three water pans, six food pans, six cans of Sterno Handy Fuel, three serving spoons, and three serving forks. Keep in mind that this pick doesn't come with lids, but it has a 4.7-star rating and more than 1,700 reviews.
Helpful review: "LOVED this product! Loved how included EVERYTHING!...Extremely sturdy, well made and great price (since it came with all that you already needed or would have to buy anyway). Definitely would buy again!"