The 3 Best Chair Mats For Hardwood Floors
We only recommend products we love and that we think you will, too. We may receive a portion of sales from products purchased from this article, which was written by our Commerce team.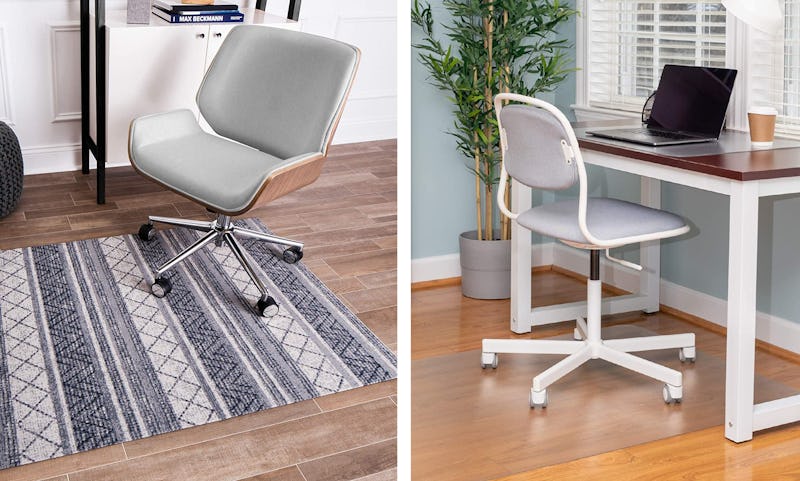 Amazon
A nice office chair on wheels is a game-changer, especially if you spend tons of time at your desk. That said, rolling around can cause serious damage to your floors without one of the best chair mats for hardwood floors to protect the wood. So what do you need in a chair mat for hardwood floors? The two most important features in a chair mat will be the size and the nonslip backing. Finding the right size is essential to ensure you have plenty of room to roll around without ending up on your wood floors. And, the nonslip backing will keep the chair mat in place on hardwood, so it doesn't move with you.
From there, you'll want to consider aesthetics and your budget. A basic fabric or transparent mat won't set you back too much, and will likely match almost any color scheme in your office. But, if you're willing to spend a bit more, you can add a touch of style to your space with a chair mat that resembles an area rug. The one on this list comes in more than 20 printed designs to combine function and aesthetics in one.
To help you get started, here's a roundup of some of the best chair mats that are comfortable for you while protecting your floors from scuffs and scratches.
1. The Overall Best
Available sizes: 47 by 35 inches, 55 by 35 inches, 63 by 51 inches
This fabric chair mat is made from soft and flexible polyester fibers that don't hold onto dust and debris so your workspace is easy to keep clean. This mat also features special anti-slip grips on the backside so it won't slide around as you move your chair. On top of that, it comes in three different sizes to fit almost any office, and you can even trim it to fit the size and shape of your floor space. While the specific thickness isn't listed, reviewers are quick to say it provided enough cushioning between the wheels and the floor for plenty of protection.
According to one reviewer: "Good size, grips to my hardwood floors and provides enough tension on the wheels so that the chair doesn't move on its own or too easily. It's also not too difficult to roll if you need to, just like perfect office carpet really."
2. The Best Clear Chair Mat
Available sizes: 30 by 48 inches, 36 by 48 inches, 59 by 47 inches (with lip, or without lip)
Now, upfront, I should note: This transparent chair mat lacks one big feature most chair mats for hardwood floors have: a nonslip bottom. Instead the bottom is smooth and the top is textured which helps give your chair grip on the floor. And despite the lack of a textured bottom, reviewers still report that it doesn't slip on your hardwood floors. And, there are plenty of benefits to it that might still make it the right choice for you. For one, it's the most affordable option on this list. And, one huge benefit to plastic chair mats is that they're super easy to clean should they get any dirt or spills on them. Lastly, this is the least conspicuous option on this list, so if you're looking for a chair mat that you can barely tell is there, this is the right pick. This one is designed with tough and durable PVC plastic that won't curl at the corners, crack, or become discolored over time. The mat does have a slightly textured topside to prevent your chair from free-wheeling all over the room, and it comes in multiple different sizes so you can find the perfect fit for your desk and office, as well as options with a built-in lip that gives you more runway for your chair.
According to one reviewer: "[T]his mat is great! It protects the floor and it also allows the beauty of the wood to show through unlike a number of the mats that are foggy looking and hide the floor. This map is the most transparent that I have seen. A great product!"
3. The Best That Resembles An Area Rug
Available sizes: 36 by 48 inches, 40 by 54 inches
Available in more than 20 different patterns that resemble area rugs, this 0.25-inch chair mat designed for hardwood floors is thick enough to protect your hardwood floors and adds a stylish touch to any home office or computer room while it's at it. The rubberized dots and non-skid backing on this mat will keep it in place while you roll around, and it's soft enough to comfortably rest your feet on it while you work.
According to one reviewer: "This chair mat is fantastic and it's exactly what I wanted. I needed something to protect my hardwood floors, reduce the sound of the chair rolling, and I also wanted something that had a little traction and was stylish. This is perfect."