The 4 Best Compost Tumblers Big & Small
We only recommend products we love and that we think you will, too. We may receive a portion of sales from products purchased from this article, which was written by our Commerce team.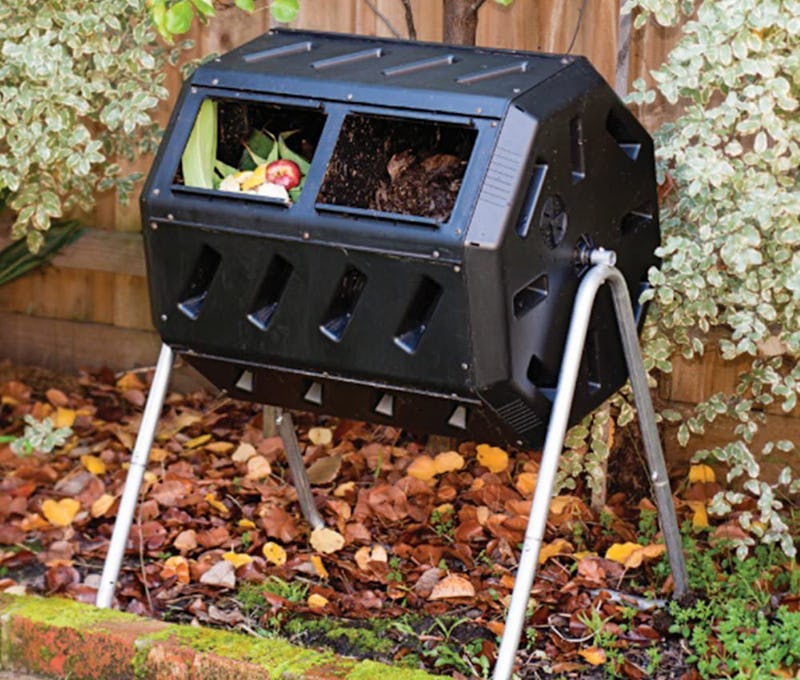 Amazon
Forget mixing your compost with a shovel; the best compost tumblers make the process faster, easier, and more thorough. Still, despite this being a relatively niche tool, there are plenty of options to choose from. All of the top-rated compost tumblers feature aeration, durable materials, and an easy-to-use tumbling mechanism — but in order to narrow down the best choice for your home, you'll want to consider the capacity and the number of chambers.
Capacity is pretty simple: It's the maximum amount of organic matter your tumbler can hold, and it's usually measured in gallons. The bigger the capacity, the more compost you'll be able to turn out — but keep in mind that larger-capacity options take up more space and tend to be more expensive. For those with small budgets, a small organic waste output, or a small deck or yard, they may be more than you need. (Check the dimensions beforehand to ensure that your composter of choice will fit in your space!)
Next, decide whether you want one composting chamber or two. Since making compost can take anywhere from a few weeks to a few months, a dual-chamber unit allows you to keep two separate batches going at once. That way, you can add new waste to one side while the other is further along in the composting process. Again, however, dual-chamber units are typically bigger and more expensive.
These are four of the best-selling, top-rated compost tumblers available on Amazon, and they come in all different sizes, capacities, and price points.
1. The Overall Best Compost Tumbler
The 37-gallon FCMP Outdoor Store's tumbling composter has nearly 10,000 reviews and a 4.5-star overall rating, making it the most popular choice on Amazon. Reviewers love it because it's well-made from BPA-free, UV-inhibited materials, it offers quality aeration, and it's capable of making compost in as little as two weeks if placed in the right environment. Finally, it's easy to use and rotate, and it has dual chambers so you can have two batches going at once — all for less than $100. (According to some reviewers, the only down-side is the assembly; it takes a while.)
Capacity: 37 gallons
Chambers: two
Dimensions: 36 by 30 by 28 inches
One reviewer wrote: "I can not tell you how fast this breaks down my kitchen and yard waste. [... and] I can not believe how much I have dumped into this thing. After 90 days, I have stopped feeding one side so that I can finish it off and use it in my yard."
2. The Runner-Up: A Single-Chamber Model For A Little Less
If you're looking for something that's simple, affordable, well-reviewed, look no further than the Miracle-Gro small composter. The 27.7-gallon capacity is small enough to fit in tight spaces, but the durable construction is BPA-free, food-grade, and UV-protected. Even though it has only one chamber, the internal mixing bars and aeration holes help you to create ready-to-use compost in as little as 4 weeks. Reviewers say it's really easy to turn (even when full) and it's a "great composter for the price!" Plus, according to one customer: "Assembly took me 20 minutes by myself with only the need for a Phillip's screwdriver."
One reviewer wrote: "Perfect for the price. This little compost bin is just the right size for a small garden. It was easy to assemble and a manageable size. And I don't have to manually turn over compost."
3. The Best Compost Tumbler For Small Spaces
For those who are short on space or just don't compost much, this compact rolling composter is small enough to fit on most balconies and in the tiniest yards. It holds only 19 gallons of compost and has no metal frame to save room, but it's still easy to load and turn thanks to its wide door and ergonomic handles. Since it has reliable aeration and internal fins, it breaks up waste to make compost in just a few weeks. In terms of construction, the materials are recycled, BPA-free, and UV-resistant. Get it in your choice of green or blue. It's also the easiest to put together. "Let's just say the setup took as long as opening the box it came in, less then 10 seconds. All you have to do to assemble is slide the door in and set it on the base," one reviewer explained.
Capacity: 19 gallons
Chambers: one
Dimensions: 24 by 24 by 12 inches
One reviewer wrote: "We were looking for a small, easily hidden composter and this little guy is perfect. [...] The tumbler comes completely assembled so it literally goes from box to garden instantly."
4. The Best Large-Capacity Compost Tumbler
Finally, if you have a large garden or a big organic waste output, the Lifetime rotating composter is worth the splurge. It has dual bins that hold 50 gallons each, which means that you can make up to 100 gallons of compost. This one also has a few convenient features others don't, including a spring-loaded pin that locks the barrels in place while you're loading them and a processor indicator that lets you how your compost is doing. Plus, the tumbler is designed for easy rotating, no matter how full.
Capacity: 100 gallons
Chambers: two
Dimensions: 65 by 31 by 43.3 inches
One reviewer wrote: "We have a solid half-acre of ground available for gardening, so I wanted something large. This stands above ground and has a crank for turning it on a schedule. I love that it's enclosed - so you don't have to deal with the mess, the smell, and the fire danger of having composting in the heat of our desert sun. Excellent!"