The 5 Best Cordless Electric Snow Blowers
Retire your snow shovel with models for as little as $150.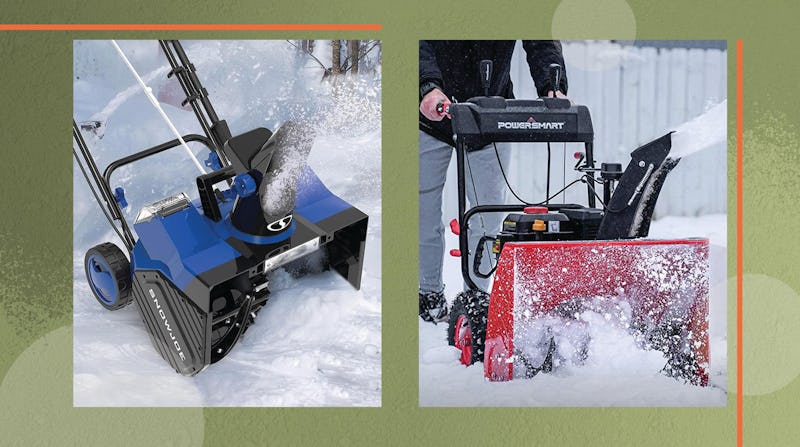 Bustle/Amazon
We may receive a portion of sales if you purchase a product through a link in this article.
When winter weather strikes, you'll be glad to have one of the best cordless electric snow blowers on hand to efficiently clear snow from your driveway, sidewalk, patio, and other outdoor surfaces — without fumes and with less noise than gas-powered models. To choose a suitable snow blower, consider the amount of snow and sleet you typically get. It's also critical to opt for a snow blower with a battery that'll last long enough for you to clear snow from all of your surfaces — there's nothing worse than being forced to stop halfway through to recharge. Additionally, think about your storage situation; some machines are much more compact and others have parts that can fold if you're tight on space. While snow blowers are an investment, they range in price to accommodate many different budgets.
What To Look For When Shopping For Cordless Electric Snow Blowers
Consider these specs and features when hunting for the perfect cordless electric snow blower for your home:
Single- vs two-stage: A single-stage snow blower has an auger that scoops up snow and pushes it out of a chute, throwing it up to 35 feet. A snow thrower is classified as a single-stage machine, though they're usually much smaller and more lightweight. Because of this, snow throwers usually can handle less snow, and work better if you live in a location that doesn't get too much inclement weather. On the other hand, a two-stage snow blower has an auger that gathers the snow and a high-speed impeller that blows it out of the chute — allowing snow to be thrown much further. Two-stage snow blowers can handle heavier or larger quantities of snow, but the tradeoff is that the machines are usually larger in size, requiring more storage space.
Clearing width & depth: The clearing width refers to how wide of an area of snow the machine can clear — single-stage snow blowers usually have a clearing width between 11 and 22 inches, while two-stage snow blowers can have clearing widths as large as over 30 inches. Many manufacturers also list the depth of snow that the machine can remove. The larger the clearing width and depth, the more snow the snow blower can handle at once.
Battery power & run time: Cordless snow blowers are powered by rechargeable batteries. Generally speaking, the higher the voltage of the batteries, the more powerful the snow blower will be. Take note of how long the manufacturer and/or Amazon reviewers say the battery will last on a single charge — remember that this can also be impacted by external factors including how heavy the snow is and how much is on the ground.
Shop The Best Cordless Electric Snow Blowers
In a hurry? Here are the top picks for the best cordless electric snow blowers:
Goodbye uncomfortable bending and lifting, hello effortless snow removal — these five cordless electric snow blowers are the best picks to get the job done.
1. A Powerful Single-Stage Snow Blower That Can Handle 10 Inches Of Snow
Pros:
Great price point at under $300
LED lights for easier snow removal in the dark
Con:
No folding handle for storage
This snow blower from Snow Joe is a high-quality option that's well worth considering... and it's extremely well priced! The snow blower comes with two 24-volt 4.0-Ah batteries that can clear up to 10 tons of snow per charge. The clearing width is 18 inches and it has a clearing depth is up to 10 inches. The quadruple-bladed, rubber-tipped steel auger can break up stubborn snow and ice with no issue, while the adjustable chute (which rotates 180 degrees) can toss it up to 20 feet. The LED headlights make early morning and nighttime snow clearing much safer as well. Each of the batteries is capable of up to 40 minutes of run time.
One Reviewer Wrote: "The machine works great! I've used it for recent snow storms of 4-8 inches. It has a lot of torque and throws the snow about 15ft. I do mine and my neighbors driveway and sidewalks. It last just long enough to do both. Even the hard [piles] at the end of the driveway after the plow trucks come through. With an additional set of batteries I would not have any issues. It makes a clean path and is very light making it easier to do the back patio as well."
Type: Single-stage snow blower | Throws Snow: Up to 20 feet | Clearing Width: 18 inches | Clearing Depth: Up to 10 inches | Weighs: 37.3 pounds | Size: 40 x 19 x 40 inches
2. A Self-Propelled 2-Stage Electric Snow Blower With A 24-Inch Clearing Width
Pros:
Two-stage snow blower can throw snow up to 50 feet
Great clearing width and depth
Powerful; features an 80-volt 6.0-Ah lithium battery
LED lights on the handle for easier snow removal in the dark
Self-propelled for better maneuvering
Cons:
Expensive
Large
No folding handle for storage
When it comes to power, this two-stage snow blower from PowerSmart is out of this world — the 80 volt 6.0-Ah lithium battery has up to 90 minutes of run time, and the machine features a steel auger to remove snow up to 20 inches deep! It's worth mentioning that the snow blower also has the largest clearing width on this list at 24 inches. The 180-degree rotating chute can propel snow up to a whopping 50 feet, ensuring it's completely out of your way.
While this pick is large, it's self-propelled (operate it forward or reverse as needed) for easier maneuvering, and the extra-large, 13-inch rear wheels help with this as well. This machine also features an LED light to help you remove snow in the dark — and since it's located on the handle, there's less chance that it'll accidentally get covered up by snow or sleet.
One Reviewer Wrote: "This exceeded our expectations as every time we've used it, we received wet, heavy snow and lots of it at once. We live near Lake Superior and are prone to Lake Effect Snows. My mother purchased an extra battery, which works out well. This really throws the snow and does an admirable job. We have a large area to clear. Two driveways and the back yard area, etc. [...] Not having to worry about spark plugs, gas and oil is a plus. This one is a keeper for sure!!"
Type: Two-stage snowblower | Throws Snow: Up to 50 feet | Clearing Width: 24 inches | Clearing Depth: Up to 20 inches | Weighs: Not listed | Size: 49 x 26 x 45 inches
3. A Lightweight Snow Thrower For About $250
Pros:
Lightweight; weighs just 19 pounds
Dual handles and the secondary handle is adjustable based on your height
Con:
No folding handle for storage
This snow thrower from Earthwise is smaller and more lightweight than a typical snow blower, but that doesn't mean it can't remove a surprising amount of snow at once. In fact, the machine moves up to 300 pounds of snow per minute. The snow thrower features a dual-blade auger that's incredibly strong and a 180-degree rotating chute that can propel snow up to 32 feet. The six-inch rear wheels and dual handles combine for easier maneuvering through bad weather conditions — the auxiliary handle even adjusts to your height for comfort.
The snow thrower has a single 40-volt 4.0-Ah battery. While the run time of this machine is not listed by the manufacturer, one Amazon reviewer commented, "I get 40-60 minutes of start/stop use out of a fully charged battery, enough to clear about 2500 square feet of sidewalk and parking lot." And another wrote, "The battery lasted 50 minutes," which is impressive considering this pick's size.
One Reviewer Wrote: "The 40 volt battery with just the initial charge managed to do my driveway (2 car wide with additional side parking by 50 feet) 36" wide front sidewalk ( 200 feet ) and most of my neighbors drive about the same size as mine. I find it easy to maneuver and light weight. [...] I am impressed with the performance!"
Type: Single-stage snow thrower | Throws snow: Up to 32 feet | Clearing width: 16 inches | Clearing Depth: Up to 8 inches | Weighs: 19 pounds | Size: 41 x 16 x 38 inches
4. A Single-Stage Electric Snow Blower With Impressive Battery Life
Pros:
Powerful; uses two 56-volt 5.0-Ah batteries
Folding handle for easier storage
LED lights for snow removal in the dark
Throws snow up to 40 feet away
Cons:
Expensive
Heavy
Not self-propelled
Boasting a 4.3-star overall rating on Amazon after more than 1,000 reviews, this snow blower from EGO Power+ is undeniably favored on the site — and for good reason. For one, the snow blower features two 56-volt 5.0-Ah batteries that give the machine major power — the brushless motor can clear up to eight inches of snow on a 12-car driveway. The steel auger busts through heavy snow and ice with ease, while the adjustable discharge chute allows you to throw it up to 40 feet in your desired direction. The snow blower boasts large wheels that make it easier to push (a plus, considering this pick is on the heavier side). And the dual LED headlights mean you can work in the dark as needed. When cleanup is complete, the handle on this snow blower folds down for more compact storage.
While the specific battery life for this snow blower isn't listed, one Amazon reviewer wrote, "The batteries lasted about 50 minutes on each of the 4 sessions I did to clean two driveways over two days."
One Reviewer Wrote: "I needed to use this snow blower twice this year with snow levels up to 6". The are 2 parking spaces in front of our attached garage and sidewalk approximately 109 feet across. This snow blower was awesome. The directional snow discharge shoot was easily changed making separate direction passes or between vehicles and snow removal simple. What took a few hours before was completed in 30 minutes. The dual 5.0 amp batteries provided plenty of power for the task with more power left over. Never going back to shovel again."
Type: Single-stage snow blower | Throws Snow: Up to 40 feet | Clearing Width: 21 inches | Clearing Depth: Up to 8 inches | Weighs: 50.6 pounds | Size: 45 x 22 x 35 inches
5. An Ultra-Lightweight Snow Thrower With An Unbeatable Price Tag
Pros:
Breaks down into two pieces for super compact storage
About $100
Lightweight; weighs just 7.8 pounds
Dual handles
Cons:
Least powerful option on this list (20-volt battery), but can still be a good option if you don't get much snow or have only a small area to clear
Some reviewers report the battery life is short (about 30 minutes)
If you don't get much snow in general or only have a small area that needs clearing (think: a deck, sidewalks, or a short driveway), this snow thrower from AlphaWorks is a great option. Plus, it only costs about $100, which is quite a steal. This snow thrower features a dual auger blade that can move up to 300 pounds of snow per minute — it clears a 10-inch wide path up to five inches deep. There are two handles (including one that's adjustable for optimum comfort) that are grippy, which you'll be grateful for in wet and slippery conditions. For storage, this snow thrower actually breaks down into two separate pieces. And the whole thing weighs less than eight pounds.
While the battery life of this machine isn't provided by the manufacturer, Amazon reviewers note they generally get around 30 minutes of run time on a single charge.
One Reviewer Wrote: "Great snow shovel [...] A good buy for the price and [does] a great job on the steps and walk way."
Type: Single-stage snow thrower | Throws Snow: Up to 25 feet | Clearing Width: 10 inches | Clearing Depth: Up to 5 inches | Weighs: 7.8 pounds | Size: 45 x 6.4 x 17.7 inches