The 4 Best Dish Brushes
We only recommend products we love and that we think you will, too. We may receive a portion of sales from products purchased from this article, which was written by our Commerce team.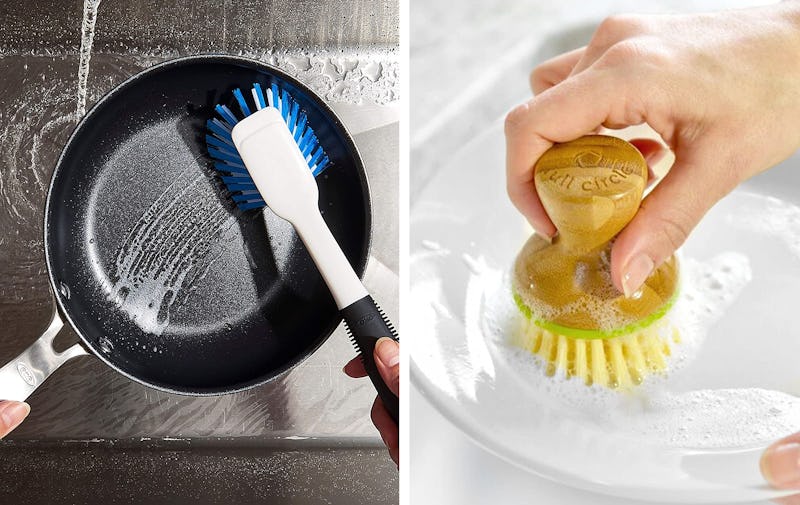 Amazon
A hard truth: Dish sponges are teaming with bacteria, and are not the most sanitary way to wash your dishes. In contrast, the best dish brushes are designed with durable bristles that powerfully clean dishes, and are made of either plastic or natural fibers that, due to their design, dry more quickly and are less prone to bacteria. Even better if you can find one that is dishwasher safe. But what else do you need to know when picking out the best dish brush for you?
In general, the most versatile dish brushes have flexible bristles that can reach in to clean the bottoms of glassware, and stuck-on messes in pots and pans. Look out for a dish brush with an ergonomic handle, which is nice to have, particularly if you're cleaning a lot of dishes under running water. Opting for extra features, like a scrubber tip that helps release stubborn food particles or a soap-dispensing design for a less cluttered sink area, can be a smart choice, as well.
Keep in mind, some manufacturers (and reviewers) report that natural bristles are a bit less flexible than plastic, making plastic a better choice if you're scrubbing any dishes with a nonstick coating. Amongst plastic dish brushes, nylon bristles are often the most common. But, if for any reason plastic isn't right for you, I've included two natural bristle brushes that will still get the job done.
Whichever dish brush you decide on, make sure to clean it at least once a week to prevent bacteria from growing, or replace it frequently. If you pick a dishwasher-safe design, it'll be sanitized via the heat in your dishwasher.
There's no guarantee that the best dish brushes will make you enjoy doing the dishes, but they can certainly make dish duty a little bit easier. Here are four options for you to consider.
1. The Overall Best Dish Brush
OXO's Good Grips dish brush may appear like a standard grocery store item, but if you look a little closer, it has a few key design features that make it one of the best tools out there. The brush's bristles are made of durable, flexible nylon that can reach into tight spots and effectively scrub away food and grime, yet are gentle enough to clean nonstick cookware. A built-in scraper on the backside of the brush head removes caked or stuck-on items, thus saving you from having to press down and flatten the bristles. The brush has a soft-grip handle that's easy to hold, even with wet or soapy hands, and can be sanitized at high heat in the dishwasher.
Helpful review: "You can't beat OXO products in my opinion. This brush is on my countertop at all times and gets used throughout the day. It lasts a good long time and is gentle on my acrylic glasses and blender parts while tough enough to loosen baked on food residue. I prefer this dish brush to other kitchen scrubbers that get smelly in no time and scratch up my kitchenware."
2. The Best Soap-Dispensing Dish Brush
If you have a stack of grimy dishes, glasses, and cookware to clean, Scotch-Brite's advanced soap control "dishwand" brush has a reservoir in the handle that dispenses your preferred cleaning liquid on-demand while you scrub, saving you time and creating plenty of suds to loosen stubborn, stuck-on messes. The brush's head is composed of two different bristle materials to clean effectively, and is treated with antimicrobial biocide to prevent odors. A twist-on cap at the end of the wand, and a valve on the brush's head keep soap contained so it won't leak onto your countertops or sink. The integrated design of the Scotch-Brite is a good choice for anyone who wants to keep their dishwashing area clear of bottles and clutter, and doesn't want to stop to reapply dish soap.
Helpful review: "Of all the sponge/brushes I've tried, this is by far the best. It's made of sturdy parts, has got a sleek design, and the SOAP NEVER LEAKS. That's very important. It's also compatible with the regular style sponge heads (the counterparts to the brush head that comes with it) so it's versatile!"
3. The Best Natural Fiber Dish Brush
This dish brush from Fox Run has a slim but sturdy beechwood handle and a head composed of Tampico fiber bristles. The natural material of the bristles are sturdy and stiff, making them ideal for heavy scrubbing jobs, such as on stainless steel and cast iron cookware, as well as durable glassware and narrow vessels. To prevent discoloration and damage to the wood head, the brush should be dried thoroughly between uses and never left in sitting water. The bristles in this brush aren't as flexible as the nylon bristles on the one above, so take care when cleaning nonstick cookware that can be prone to scratching. If you're looking to reduce your plastic use and still want an effective dish brush, Fox Run's design is an excellent choice. One note: While some reviewers say this dish brush is compostable, the manufacturer hasn't confirmed this and the use of metal in parts of this brush means it is not 100% compostable.
Helpful review: "This thing is awesome. So far it's stood up to months of use and shows nearly no signs of wear. It doesn't flex quite enough to fit into narrow bottle necks (think disposable water bottles) but functions perfectly for our cups, steel water bottles, etc. I love that, somewhere down the road, when this thing finally wears out we can just throw it in our compost heap. Win!"
4. Also, Great: A Bamboo Dish Brush And Ceramic Soap Dish
If you're primarily looking for a brush to clean cookware and serveware (as opposed to longer glasses or vases), Full Circle's bamboo dish brush fits neatly in the palm of your hand, and comes with an attractive ceramic base and soap reservoir. Inside the ceramic base is a spring-loaded mechanism to help dispense liquid soap for easy, one-handed operation. The small, handheld brush has an ergonomic design that's easy to grip, and allows you to use pressure to focus on stubborn, dried-on food particles. It is made out of a variety of sustainable materials, including bamboo, ceramic, and recycled plastic.
Helpful review: "I've always before used the plastic scrubby where you put the dish soap in the top and push the button to let the soap out. After about a week it gets clogged and doesn't release the soap anymore, so I decided to try this. Wow, what a great scrubber! I love how easy it is to use and how much soap you get from just two "pumps" on the spring. The bamboo brush does lose some bristles if scrubbing on something not smooth, such as a colander or air fryer basket, but other than that this is a perfect addition to my kitchen and makes dishes so much easier."