The 5 Best Dog Strollers For Pups Of All Sizes
We only recommend products we love and that we think you will, too. We may receive a portion of sales from products purchased from this article, which was written by our Commerce team.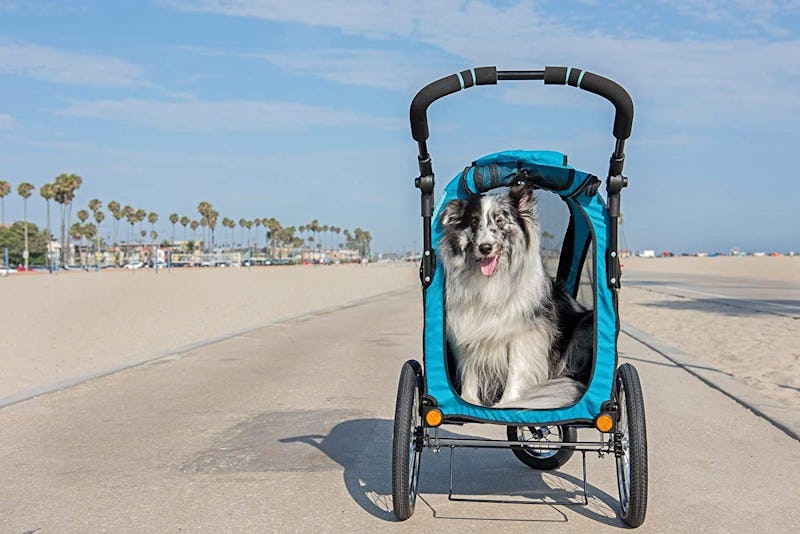 Amazon
If you're like most pet parents, you want the best for your dog. That may include the best dog strollers, which allow for easier travel and rambling walks. In terms of your pet's comfort levels, you'll want to consider the weight limit and cabin size — but also think about which extra features best suit your needs like one that can transform into a backpack or one that's designed for jogs.
As with any other crate or carrier, pet owners usually choose one depending on their dog's weight in pounds; since dog strollers have a maximum weight limit, this is a quick and easy way to narrow down your options. However, a dog's weight isn't always an accurate indication of their size, so if your dog is unusually small or large for their weight (think: extra fluffy), I've also listed the pet cabin dimensions when available for each product.
While your pet's comfort is likely at the top of your priorities list, dog strollers should make your life easier, too. Most of the top-selling options have convenient features, like removable linings, folding frames, additional storage, and waterproof fabric. Some even have special designs for jogging or vehicle travel. Whichever stroller you choose, be sure that past buyers are happy with the functionality and durability.
These five dog strollers come in all different sizes, and they have some really great features for convenience — but most importantly, every single one has hundreds (if not thousands) of reviews, and has earned at least a 4.5-star rating overall from pet owners.
1. The Overall Best Stroller For Small Dogs
The Pet Gear Travel Lite stroller is a best-seller, and a top pick for small dogs. (Even though it's well-made, it's also the most affordable option, which helps explain the 2,000-plus five-star ratings.) This one features large double wheels for easy rolling, mesh ventilation windows, safety brakes, a removable water-resistant liner, security straps, curved handles that are 38 inches high, and a 9-pound frame that folds up in seconds into a super compact size. While the cabin dimensions aren't listed, reviewers report that it's a great fit for breeds like Yorkies, Malteses, Shih Tzus, and Chihuahuas. (It's also a favorite among those who take their cats for walks, too.)
Weight limit: 15 pounds
Cabin size: n/a
Available colors: Black Onyx, Dark Sapphire, Jet Black, Rose Quartz
One reviewer wrote: "One of my top best buys this year! [...] The low price [and] the convenient security strap inside (very necessary for nervous dogs who jump at the drop of a hat) were the sweet icing on the cake!"
2. The Best Stroller For Medium-Size Dogs
For pets up to 25 pounds, there's this Pet Gear Happy Trails stroller. This pick has tons of brilliant features, including a no-zip design that opens at the press of a button, a panoramic-view window with a three-position shade canopy, and an underneath storage basket that holds a surprising amount of stuff like treats, toys, and more. In terms of the construction, the wheels are thick and smooth-rolling, the frame is sturdy and foldable, and the fabric is durable and washable — including the removable lining. It even has shock absorbers and a built-in cup holder.
Weight limit: 25 pounds
Cabin size: 22 by 11 inches
Available colors: Animal Print, gray (zippered), Jaguar, Juniper, Raspberry
One reviewer wrote: "This is a fantastic and very reasonably priced product. My dog is 11 years old and weighs 22 pounds. He fits comfortably with the ability to lie down, sit, and turn around. I love the zipperless closure!"
3. The Best Stroller For Large Dogs
Because of its roomy cabin and 150-pound limit, the Pet Gear No-Zip stroller is one of the only strollers on the market that's suitable for multiple dogs or large breeds. Thanks to its four well-spaced wheels and multi-position handle, it allows for easier, more stable portability despite the added weight. It also has a push-button entry that opens from the front or back, so you can secure and release your pet without fumbling for zippers. Finally, the window up top unzips to give your pet fresh air and visibility while they stay safe and secure, and the whole thing folds flat in seconds for easy transportation or storage.
Weight limit: 150 pounds
Cabin size: 32 by 22 inches
Available colors: Boysenberry, Candy Red, Dark Platinum, Fog, Midnight Blue, Mountain Lilac
One reviewer wrote: "This stroller is perfect for my [85-pound] 10-year-old lab. He has bad hips and elbows so walks are limited. With his new stroller, he just hops in when he is ready and we can keep going. I love the stroller's low profile and back door which make it easy for him to just walk in. It is very maneuverable and does well on dirt trails."
4. The Best Dog Stroller For Jogging
There are several reasons why the Petique Jogger-Blazin' stroller is the best pick for runners who want to take their pets with them: For one, this pick has three large, shock-absorbing tires with plenty of traction, so it works on sidewalk, dirt, and gravel, according to reviewers. "My 11.5 year old Cattle Dog mix (34 lbs) tore both back CCLs in the past year and one leg is slower to recover thus he cannot walk more than 20mins at a time. [...] Our first hike with the stroller was a 2 hour hike on mixed trail including gravel, dirt, and sand," one customer explained. For another, its low, streamlined profile is easy to push and fold flat. Finally, its EVA foam grip keeps your hands comfortable, its reflectors keep you safe in the dark, and its specialized pockets hold the essentials (like your phone and a water bottle). For your pet, it has large mesh panels, three adjustable leashes, and is made with removable, washable fabric.
Weight limit: 60 pounds
Cabin size: 16 by 24 inches
Available colors: Blazin' Berry, Sailboat
One reviewer wrote: "Love the quality, the storage bags large enough for keys and water bottle. The 3 seat belts hold pug in place. Great for running or walking in trails. I've even taken it to the beach."
5. The Most Versatile Dog Stroller
Finally, there's this five-in-one pet carrier for maximum versatility, which would especially come in handy while traveling. Yes, it functions as a stroller thanks to the sturdy frame that has easy-maneuver wheels, built-in storage, and cup holders. However, the cabin also comes off and has the necessary straps, handles, and wheels for use as a backpack, pet suitcase, car seat, or shoulder carrier. No matter which form it's in, your pet has ventilation and visibility with the mesh-zipper panels and air holes. However, this one is only suitable for small pets up to 16 pounds.
Weight limit: 16 pounds
Cabin size: 20 by 12 inches
Available colors: Blue, Brown, Green, Orange, Pink
One reviewer wrote: "Game changer for a dog stroller. Offers so [much] versatility, yet [provides] luxury comfort for my little Mikis (10 lbs). A must buy!"