The 5 Best Dust Mops For Hardwood Floors
We only recommend products we love and that we think you will, too. We may receive a portion of sales from products purchased from this article, which was written by our Commerce team.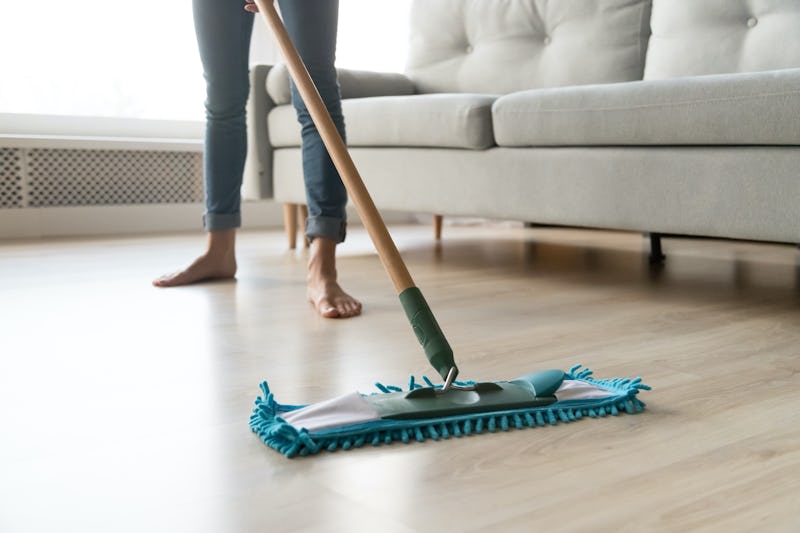 fizkes/Shutterstock
To keep your flooring clean and undamaged, the best dust mops for hardwood floors have removable mop heads made from natural and synthetic materials that attract dirt and dust particles using static energy. There are disposable mop heads, but most are reusable and can be washed in the machine or by hand. In addition, most dry mops feature swiveling heads for getting under furniture and into tight corners without you having to strain, and some also have telescopic handles.
What To Consider When Shopping For Dust Mops For Hardwood Floors
While each type of dust mop uses static energy to attract and capture dirt and dust, there are several mop head materials to choose from. Most options come with reusable microfiber heads which have a net-like surface that's excellent at trapping debris and cleaning in nooks and crannies. They're also durable and machine washable. Alternatively, long-lasting wool mop heads naturally attract dust particles. While wool mop heads may require hand-washing, they can be shaken out to release dirt in between washes. Or, if you prefer a disposable mop head, there are also options with one-time-use polyester pads.
Maneuverability is another consideration. If you want a mop that can get into tight corners, look for one with a flat head. On the other hand, a string head mop can cover a large surface area quickly. And while most mops have swiveling heads to make maneuvering across the room easier, pricier picks often have lightweight, adjustable aluminum handles with a comfy grip.
Finally, some dry mops can also be used wet and feature a built-in tank where you can add a cleaning solution or oil treatment. With all that in mind, scroll on for the best dust mops for hardwood floors to keep your floors clean and protected.
1. A Fan-Favorite Dust Mop With 16,000+ Positive Reviews
This dust mop has earned the approval of thousands of Amazon shoppers. It comes with two machine washable microfiber pads that are great for hardwood, as well as two scrubber pads for deeper cleans on other types of flooring. The mop head has protective edging to avoid scratching your hardwood floors and offers 360-degree rotation to easily maneuver through your space. While this mop doesn't have a built-in tank, the mop pads can also be used wet. Plus, the lightweight aluminum handle is telescopic and can be adjusted from 35 to 60 inches.
One fan's take: "I have wood floors throughout my home. This picks up fuzz like a magnet. It's very easy to use and is effortless cleaning."
2. A Multitasking Dust Mop That Can Be Used With Soaps & Oils
You can use this highly rated floor mop dry for dusting or wet for a deeper clean. The mop has a built-in 635-milliliter tank that can be filled with cleaning solution, and one press of a button will release a fan-shaped mist over the full width of the mop head. You'll get three machine-washable mop heads: two microfiber pads for picking up dust and debris and an absorbent chenille pad that can quickly sop up moisture and spills. Both types are suitable for hardwood floors. In addition, the mop has a 360-degree rotating head as well as an aluminum alloy pole with a comfortable grip, though it's not adjustable. It also comes with a scraper attached to the handle to remove hair and dirt from the pads themselves.
One fan's take: "This is perfect for the wood floors in my apartment! I like that I can use my own cleaning solution. The mop cleans really well and the spray has a good range. It's really easy to use and the mop head is easy to wash."
3. This Wildly Popular Dry & Wet Mop With Disposable Pads
Made by the brand synonymous with disposable mops, this Swiffer mop has more than 42,000 five-star ratings and counting. The mop itself doesn't have an adjustable handle, though it does have a 360-degree swiveling head that can reach under furniture and around corners. While the material of the handle isn't mentioned, it's made to be easy to grip. Along with the mop, you'll get 14 disposable dry cloths and five wet ones and refills are available, too.
One fan's take: "I have hardwood floors and getting out the vacuum cleaner just to get up the dust was tedious. Along comes the Swiffer! This thing is fun! Just grab a pad, attach it to the Swiffer mop head, and go at it! Dusting the floors, and walls was insanely easy! The clean up was easier yet, just remove the pad from the Swiffer and toss it in the garbage, all done!"
4. A Long-Lasting Wool Mop
This colorful mop is made with wool fibers, which naturally attract dust. Since the fibers cover a large surface area, this mop can clean a lot of floor at once, and it has a swiveling head for added maneuverability. Plus, the metal handle has a protective resin coating and extends between 34 and 59 inches. The removable mop head needs to be hand-washed, though you can also shake it out after uses, too. Another popular choice, this dust mop has a 4.8-star overall rating and more than 2,000 reviews.
One fan's take: "We have three big dogs and three boys in a big house with lots of hardwood flooring. Our floors are always dirty. I am loving having this sweet little dust mop for quick swipes throughout the day! SO much easier than pulling out the vacuum and WAY better than using a broom. It's cute and light and super easy to use. It really does grab all the dog hair! I am so impressed."
5. This Reusable Dust Mop For Less Than $20
Made with microfiber chenille, this budget-friendly reusable dust mop easily picks up dirt and hair, and the mop head is machine-washable up to 50 times. The head is also flexible, so it can get into tight corners, even up across baseboards. Though the handle isn't adjustable, it's made from a lightweight metal that's easy to push around, according to reviewers. Plus, the affordable and effective mop has also earned more than 4,000 five-star ratings.
One fan's take: "Not only does it dust hard floors and baseboards beautifully, but I used it to dust my kitchen cabinet exteriors. It gets into crevices very well."