The 3 Best Hand Mixers For Mashed Potatoes
We only recommend products we love and that we think you will, too. We may receive a portion of sales from products purchased from this article, which was written by our Commerce team.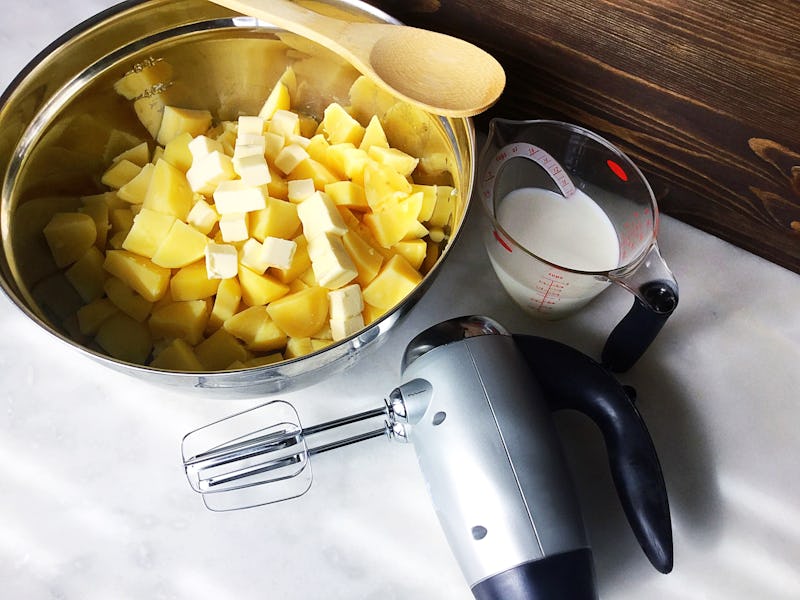 Shutterstock
If you want to make quick work of boiled spuds, butter, and milk, the best hand mixers for mashed potatoes have you covered. Not only will they offer at least five speeds, but some will even have additional features, like helix-shaped beaters for quicker mixing, a rechargeable battery so that you don't have to deal with a cord, or extra attachments for tackling other recipes. If consistently fluffy mashed potatoes are your goal, here are some things to look for as you shop.
The best handheld mixers have variable speed dials that allow you to start on low and ramp your way up to faster speeds to create smooth, whipped potatoes. And while most will have at least five speeds, additional settings will let you work your way up at the pace you prefer. Plus, more advanced mixers have a soft-start feature that prevents splatter when you turn on your mixer, which comes in handy if you also plan to use it for whipping liquid ingredients like eggs, cream, or cake batter.
As far as attachments go, all mixers come with a pair of beaters, which are versatile enough to take on a variety of tasks, but you may also want to consider dough hooks to streamline bread and cookie baking, or a whisk for sauces, batters, and whipped cream.
Finally, you'll want to consider convenience. The majority of hand mixers plug into the wall, but cordless, rechargeable appliances can upgrade the convenience factor. While they have a higher average cost, they offer a lot of flexibility, allowing you to mix anywhere in your kitchen, and you'll never have to deal with a cord getting in the way. Speaking of cleanup, dishwasher-safe parts can be helpful, and some mixers come with snap-on storage cases to keep accessories organized, so you can always find them when you need them. If you're ready to make the ultimate comfort food, pick up one of the best hand mixers for mashed potatoes below.
1. The Overall Best: A Powerful Hand Mixer With Reinforced Helix Beaters
What's great about it: For powerful mixing at a reasonable price, the Black+Decker Helix Performance Premium Hand Mixer offers excellent performance for heavy recipes like mashed potatoes. The beaters are reinforced with durable nylon to handle tough mixes, and the helix shape means they cover a larger surface area for fast and thorough beating, stirring, and whipping. With five speeds and a turbo setting, you'll be able to optimize the mixing speed and power for every recipe and ingredient, but since there's no slow-start feature, you'll have to pay a little extra attention from the get-go to prevent splatter. When you need to pause, you can use the mixer's heel to rest it on the side of the bowl.
The Black+Decker is available in a range of colors and also includes two dough hooks and a wire whisk. The attachments are dishwasher-safe and after use, a storage case snaps onto the bottom of the motor, so you never need to dig in a drawer to find them.
A reviewer wrote: "We put these to the test this year making mashed potatoes for Thanksgiving, and not only were they super easy-to-use, but I'm still getting compliments on the mashed potatoes. [...] Quick, easy, and super powerful. And because it's Black & Decker I feel confident that it's going to last me for years."
2. The Budget Pick: A Fan-Favorite Option With A Handy Storage Case
What's great about it: If a modest price-tag is what you're after, this hand mixer from Hamilton Beach is a very affordable option with more than 30,000 reviews on Amazon and a 4.6-star overall rating. It has six speeds and a "QuickBurst" button, so you can work your way up slowly, but there's no slow-start feature, which means you'll have to watch out for splatter when working with thinner batters. A stepped bowl rest feature on the bottom of the mixer's motor lets it sit on the edge of your mixing bowl, which will keep your countertop mess-free if you need to take a break or add another ingredient. This hand mixer comes with two traditional beaters and a whisk for creating a range of dishes and toppings, and all three accessories are dishwasher-safe for easy cleanup. The mixer has a convenient storage case for keeping the attachments tidy and organized between uses.
A reviewer wrote: "Great little mixer. Used it for mashed potatoes and it worked great. The price was exceptional."
3. The Splurge-Worthy One: A Cordless Hand Mixer With 7 Speeds
What's great about it: This cordless hand mixer from KitchenAid is powered by a rechargeable lithium-ion battery that's heavy-duty enough to mix up to 200 cookies on a single charge, and the clever, cord-free design allows you to move freely throughout your kitchen and mix directly into pots on your stovetop without having to plug in. And if you've forgotten to charge the mixer before diving into a recipe, no worries — it only take 10 minutes to get it fully juiced up.
Seven speeds give it great versatility, so whether you want to gently stir a quick bread batter, or whip up fluffy mashed potatoes, you'll be set. Plus, the mixer's slow-start feature helps prevent ingredients from splattering or popping out of your bowl, which is a great way to cut down on meal prep mess. And since there's no cord coming out of the back of the mixer, it can stand up on its end if you need to pause while processing ingredients. Available in classic colors like black, red, and white, the mixer comes with two stainless steel, dishwasher-safe beaters, but no whisk or dough hooks.
A reviewer wrote: "I didn't realize just how much a burden a cord on a mixer was until getting this! It's so nice to be able to just pull this out and start mixing. The corded one I have honestly was so much to get out, unravel the cord, plug it in-that I would generally mix things by spoons and whisks to avoid having to mess with that! Now that I have this mixer it's a game-changer and I just pull it out of the drawer and set to mixing! It works perfectly and has plenty of power! I'm extremely happy with this very well made mixer and definitely recommend it! I have been telling everyone how amazing it is!"