The 3 Best Hands Free Dog Leashes For Walkers, Runners, & Hikers
We only recommend products we love and that we think you will, too. We may receive a portion of sales from products purchased from this article, which was written by our Commerce team.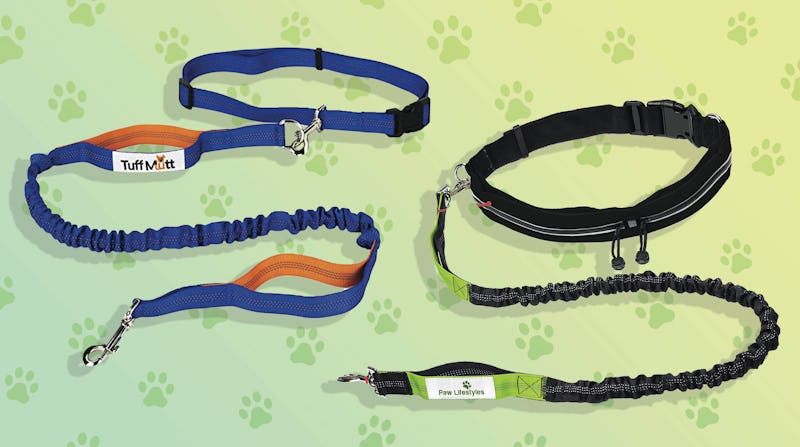 Amazon / Bustle
If using a regular leash strains your shoulders or if you want to walk with your pup without holding a leash, the best hands-free dog leashes attach to your waist and feature a shock-absorbing design so that you and your dog won't jostle each other around too much. For running, look for an adjustable waist belt with a stretchy bungee cord leash that has some give in case one of you pulls or stops short. Always ensure the leash is the correct size for your dog — most manufacturers provide guidelines for this.
If you need a belt-style leash for running or walking, look for one with a leash that has handles you can use when you need more control, or if you ever need to switch to using the leash in a more hands-on capacity. It's also advisable to look for a leash with reflective stitching to help keep your pet visible when it's dark outside, and weather-resistant materials are definitely a plus if you expect to encounter damp conditions. If you trust your pup with more freedom, look for a leash that connects to your belt with a clip that can slide from side to side, allowing the leash to shift as well. On the other hand, if you're worried your dog could break free, opt for a leash with metal security clips on the belt to take the tension off the buckle. Some hands-free leashes have pockets or pouches attached to the belt, so you can carry treats or small essentials like a phone or keys. While top-rated belt-style leashes are adjustable, they may not fit every body, so take note of whether the belt is the correct size for you before making a purchase.
If you want to bike with your dog, you might consider a bike leash, which mounts directly to the bike and keeps your dog safely away from the wheels. Biking with your dog can be dangerous if you aren't careful, so make sure you've studied the topic and properly prepared your dog before heading out for a bike ride with your pup in tow.
Before you buy any sort of hands-free leash, take note that these leashes are only recommended for well-behaved dogs familiar with loose leash walking and are not ideal for pet owners with large dogs that can easily overpower them. Always consult with a trainer before switching your dog to a hands-free leash.
Read on for for three super convenient leashes for hitting the trails, streets, or sidewalks with your pup — without holding a leash.
1. The Overall Best Hands-Free Leash
For easy hands-free walking, jogging, or hiking, this leash from Tuff Mutt is an easy choice. The leash connects to the adjustable 48-inch belt via a sliding clip, allowing your dog a little extra freedom to move from side to side or dodge your footsteps. The leash itself is 4 feet long to keep your dog close, but its shock-absorbing bungee can extend an extra foot if they pull. Two handles give you the option to easily grab your pup when necessary, or even to unclip the leash from your belt and use it as a regular hands-on leash. Reflective stitching keeps you and your dog visible at night, and weather-resistant material ensures the leash can withstand wet conditions. Tuff Mutt's lifetime guarantee promises you'll get your money back if you encounter any problems, but with a 4.7-star overall rating on Amazon, among over 3,100 reviews, you're likely to love it.
Choose from a bunch of fun colors. It's worth noting that the manufacturer suggests using with dogs between 30 and 100 pounds.
Positive Amazon review: "I got this for my goldendoodle so she can go running without me having to hang on to her leash. It's been great so far and we love it. I like that it's elastic so she can pull ahead a bit or stay right next to me. The two handles are really useful for when we have to stop suddenly or when I need to have her by my side quickly. I attach it to her easywalk harness and it works like a charm. She's learned to stay the perfect distance away as to not trip over it. That's the only downside to attaching it to a front-clip harness but we've got a great system going now and we both love this leash."
2. A Hands-Free Leash That's Extra Secure
If you're concerned about keeping your dog securely attached to your waist, this SparklyPets hands-free dog leash should give you peace of mind. The leash clips to a belt that can be adjusted from 28 inches to 47 inches in length and features stainless steel security clasps over the buckle to help reduce tension that could strain it, even when your dog pulls. That said, while it's a good idea to plan for a worst case scenario, remember that hands-free leashes are not safe to use with dogs that aren't reasonably well-behaved on the leash. And while the manufacturer recommends this leash for medium or large dogs (but doesn't give more specific sizing details), keep in mind that it's never a good idea to use a hands-free leash with a large dog that is able to overpower you.
This leash also features a shock-absorbing bungee cord that stretches from around 4 feet in length to about 5 feet and 8 inches. The leash is made from weather-resistant nylon with reflective stitching for nighttime visibility. There are two handles for extra control: one easy-grip handle on the bungee and an additional rubber handle that lets you switch quickly from a hands-free to traditional hands-on leash. It also comes with a carrying pouch.
With more than 7,000 reviews on Amazon and a 4.5-star rating overall, it's clear that this leash is a favorite for many. Choose between four different colors, plus two colors in a premium version (one of which is a shiny gold) that feature padded handles and pockets.
Positive Amazon review: "Love this hands free leash! We've used it mostly hiking, and it's been great! The extra stretch of the bungee leash feels more comfortable for both my dog and me. I really love the two handles on the leash so I can pull her closer when passing people on the trail. It all seems strong and well made, which is what I need for my dog (she's 105 pounds)."
3. A Hands-Free Leash With Belt Pockets
If you could always use some extra pockets, the Paw Lifestyles hands-free dog leash has two expandable zip pouches in its 48-inch adjustable belt so you can easily stash your phone, keys, or dog treats. A D-ring on the belt is also a handy place to connect a poop bag holder or clicker. All this added storage is a win (just ask the more than 1,700 Amazon reviewers who gave it an overall rating of 4.6 stars), but might especially appeal to runners who typically use a running belt.
The leash itself is around 4 feet in length, but has a shock-absorbing bungee that can extend up to 5 feet and 8 inches long. Dual handles offer additional control, or the option to unclip the leash and use it as a standard leash. Reflective stitching keeps you and your pet super visible in the dark, and a durable nylon construction can withstand any weather conditions you might encounter. The manufacturer suggests that the leash is ideal for dogs up to 150 pounds, making it a great choice for even large dogs. Choose from three different colors.
Positive Amazon review: "I absolutely love this leash and waist belt. I run every morning, and this is a huge lifesaver! It is a little heavy, but if my dog (who's 80 pounds) runs at a steady pace and keeps the leash fully extended, it takes the weight off the belt and keeps it from bouncing. I leave mine a little loose so the belt can move from side to side when he does. I'm a size 2-4 waist, and it will tighten enough so it'd be snug. I was concerned that my Samsung Note 8 wouldn't fit, but it does, and it has a pretty bulky case on it as well. I can also fit other items in the second pocket. Plenty of room."
Also Great: A Hands-Free Leash For Cycling
The 1-Running Dog bike tow leash is ideal for cyclists who want to ride with their dogs. The leash attaches to the left side of most bikes and even mobility scooters, and the manufacturer claims it can be mounted in under a minute and doesn't require any tools. It features a sturdy aluminum arm that keeps your pet from getting too close to the bike, and Amazon reviewers marvel over its ability to prevent their dogs from tipping or pulling their bikes. "The internal elastic absorbs all the tension so I often forget that I'm even riding with my dog," reported one reviewer, adding, "we were heading down a steep hill when all of a sudden an entire herd of deer darts out in front of us [...] I braced myself for SOME type of impact BUT nothing happened. Even with 100lbs of muscle pulling me in the opposite direction I hardly felt a thing." This feature also allows your dog to run alongside the bike without any excess jolting.
Designed for dogs weighing 10 to 185 pounds, both big and small dogs can enjoy coming along for your ride. Reviewers note that you should be careful not to ride too fast for your dog, and that you should be prepared for your dog to be able to tip or pull your bike when you aren't sitting on it.
The tow leash is available in a number of different colors and can be purchased with an included martingale collar.
Positive Amazon review: "I am in love with this gadget! Our VERY large and energetic German Shepherd loves to run, so I thought of having him run alongside the bike to save my knees. This keeps even our behemoth a good distance away from the bike for a full range of motion and keeps him at that distance even when I turn toward him. No running into the bike when turning."