The 7 Best Hide-A-Keys So You Never Get Locked Out Again
We only recommend products we love and that we think you will, too. We may receive a portion of sales from products purchased from this article, which was written by our Commerce team.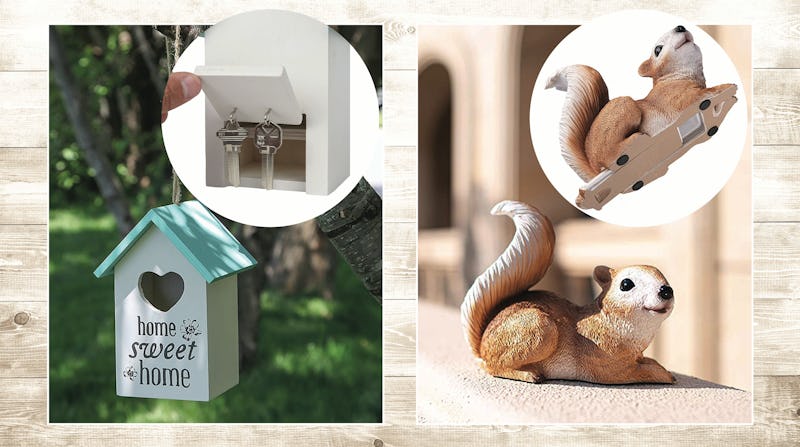 Bustle / Amazon
It can be really frustrating to realize you've locked yourself out of your own home. Fortunately, the best hide-a-keys can prevent it from happening at all. These products are equipped to keep your spare keys securely and discreetly stowed away to avoid future lock-outs. When shopping for a hide-a-key, choose one that can be tucked away out of view or that blends into the surrounding decor or landscaping (so that it's essentially hiding in plain sight). Many of the best hide-a-keys are made with durable materials like cast iron or resin, and equipped to take on more inclement weather. These are especially great if you live somewhere with heavy wind, rain, or snow.
Some hide-a-keys are designed to be disguised in the grass, among rocks, or in another hiding spot of your choice, while others look like figurines that you might display as decor. Certain hide-a-keys are even built into functional home accessories such as thermometers. In terms of size, some are compact, with just enough room for a spare key or two. Others are equipped with larger compartments, which can be used to safely stow credit cards, cash, and other small essentials, just in case.
Read on for a few of the best hide-a-keys you can buy on Amazon.
1. The Traditional Hide-A-Key Rock
This hide-a-key rock from RamPro has over 8,000 Amazon ratings and an impressive 4.6-star overall rating. Its durable poly-resin material is molded to look and feel like a real rock, and the manufacturer describes it as weather- and wind-proof, too. Just turn the rock over, place your key in the compartment, and close it with the provided plastic cover to secure your belongings. This hide-a-key is designed for house and mail keys measuring up to 2.9 inches long and 1 inch wide. One user commented on the compact size of the compartment: "Barley enough room to fit two regular size keys." This hide-a-key is not large enough for bulky car keys.
Promising Amazon review: "Perfect for what it is. Blends in with landscape. Really looks like a rock."
2. A Hide-A-Key That's Made From A Real Sprinkler Head
If you're looking for a camouflaged hide-a-key, it doesn't get much better than this one with an exterior that's actually made from a real sprinkler head. The plastic material is both waterproof and durable, and the interior compartment is roomy enough to hold keys, as well as a few other items like cash or cards. Plus, you don't have to pull the hide-a-key fully out of the ground each time you get locked out of your home. Just unscrew the lid and grab your key. This one's perfect if your landscaping includes grass or bushes where a sprinkler would naturally blend in.
Promising Amazon review: "Perfect hide a key. Took my a minute to realize you hang the key from the lid so you don't have to dig it out of the ground every time. Handy feature. Perfectly camouflaged behind my bushes."
3. An Adorable Squirrel Statue Hide-A-Key
This adorable squirrel statue isn't just cute: It also hides your spare keys. Made of durable poly-resin, this hide-a-key is both water- and wear-resistant. The bottom panel slides to reveal a small opening for a spare key or two. Reviewers also love how the statue looks just like a decorative garden or lawn decoration.
Promising Amazon review: "So cute! Great addition to the garden. And you wouldn't be able to tell that it has a hidden key."
4. A Hide-A-Key That's Disguised As A Birdhouse
This hand-painted wooden birdhouse features a secret door that houses two metal hooks to hold spare keys. It's also equipped with a secret interior shelf, which some reviewers have reported using to store their keys instead of the hooks. It's worth noting that some users — though not all — have mentioned that the wood didn't hold up in the rain over time. With that in mind, you might try placing it somewhere dry and covered, like under an eave, to extend its lifespan. While the manufacturer doesn't provide dimensions of the compartment, reviewers have described it as small. (Also, according to shoppers, don't be surprised if a neighborhood bird moves in!)
Promising Amazon review: "This birdhouse is the perfect way to hide a key, or any small object."
5. The Hide-A-Key That Looks Like Dog Poop
Do you have a dog at home? If so, this clever hide-a-key could be an ideal option. On the bottom, you'll find a compartment where you can insert your keys for safe keeping. The compartment is "very small [...] So only a single key or two can go in it. And reviewers have noted how realistic it is, too: "It really does look like poo. Nobody will want to pick this up," wrote one customer. (Just make sure to keep good track of the hide-a-key and not confuse it with the real thing — yuck!) The manufacturer doesn't specify what it's made of and some reviewers have claimed that the back cover is thin, so it's possible that this hide-a-key isn't as durable as some of the others on this list.
Promising Amazon review: "Definitely love my hide-a-key!! It doesn't look extremely fake like some do. It has texture to it so it could be mistaken as a real pile of poop!"
6. This Magnetic Hide-A-Key
Dozens of reviewers have confirmed that this durable magnetic hide-a-key from Nite Ize is strong and reliable. The interior compartment is large enough to hold spare keys and other small essentials, and the waterproof material is designed to keep everything safe and dry. It also includes an adhesive-backed metal plate, which you can adhere to non-metal surfaces to make them magnetic. Several reviewers have reported success with attaching this magnetic hide-a-key on their cars, too.
Promising Amazon review: "This is an excellent, well made small container to hide a key. It has a very strong magnet as well. Good value for the money."
7. A Hide-A-Key That's Also A Thermometer
Looking for a hide-a-key that can do double duty? This one from LaCrosse features a functional, mercury-free thermometer that won't look out of place on a patio or deck — plus, it has a hygrometer that displays the humidity of the air. The back of the thermometer features a little compartment you can slide your key into. "It looks very nice," one reviewer summarized, "and can hold 2 hidden keys in its back - quite useful, good idea."
Promising Amazon review: "For people like me that want to hide a house key somewhere other than under a mat. It does the job and is rather inconspicuous on the back patio."
Also Great: This Durable Combination Lock Box
While it's not meant to hide your keys, per se, you can use this Rudy Run Key Lock Box to keep them safe. The box itself is made of rust- and corrosion-resistant aluminum alloy and stainless steel, and it's spacious enough to hold at least five keys (or other small items like spare cash or a thumb drive). Set your own passcode and attach it to a door knob, railing, or pipe, or affix it directly to a wall using the four included screws and instructions. Meanwhile, the protective cover shields against dust, rain, and sunlight.
Promising Amazon review: "This is the second of these we have purchased. The previous unit stayed with the house we sold. This is easy to install, easy to set your combination, and easy to open. There is ample room for the spare key. I don't know whether this would withstand a determined invader, but it provides a secure spare-key place for most of us."