The 14 Best Manifestation Journals, For Getting What You Want Now
We only recommend products we love and that we think you will, too. We may receive a portion of sales from products purchased from this article, which was written by our Commerce team.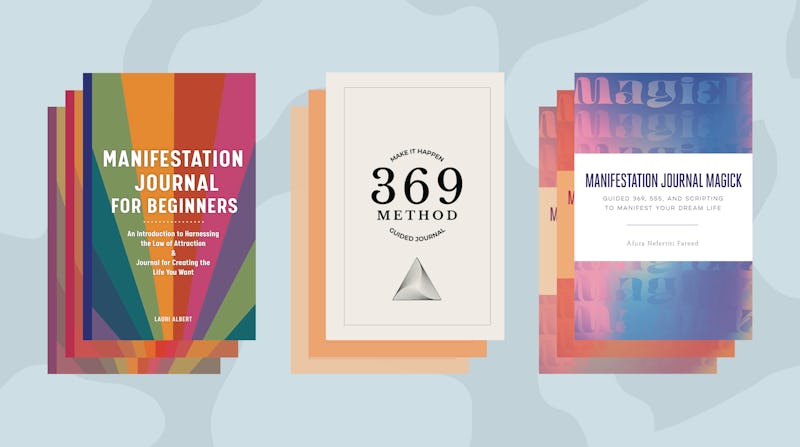 Bustle/Amazon
Writing in a manifestation journal can help you make real shifts in your life and assist you as you embark on a transformative journey. Whether you prefer a detailed guide, gentle prompts, or a more traditional diary format, the best manifestation journals speak a language that most resonates with you.
What Is A Manifestation Journal?
Therapist Lauren Korshak, LMFT, author of The Mindful Relationship, and founder of Lovewell tells Bustle, "A manifestation journal is a dedicated place to record thoughts, intentions, goals, desires, and plans that you want to manifest or to bring them out of the realm of dreaming and thinking and into the physical realm."
Korshak notes that a manifestation journal can help you gain more clarity about your goals and intentions, track your progress, and keep you accountable to yourself. "More specifically, it can help you get really concrete about your goals and intentions and the steps you need to take to get there," Korshak says. "It can help you stay focused on what you want."
One of the keys to manifesting is not getting distracted by all the other options that can take you away from what you truly want, Korshak adds. "It can also help you to recognize when you actually have manifested what you want," she says. "Without tracking our goals, we can perpetually focus on future wants, and forget to stop and recognize what we have already created or achieved."
How Do You Write In A Manifestation Journal?
"What I have clients do is start with a list (in pencil) of all the components of the thing they want to manifest, and to revisit this list daily and clarify or adjust the list over the course of a week," Korshak says. "The next week, I have them reflect on how this reflects their values and unique contribution to the world, and write a list of any obstacles that they observe getting in the way of achieving this."
Julie M. Barlow, editor of JMB Living, a female-led website with a mission of helping empower women through mindfulness, stresses the importance of being as clear as possible in your manifestation journal: "Being specific in your manifestations gives you a clear path of actions you can take while making your dreams come true."
Another key writing tip Barlow offers is to keep your voice in the present with phrases like "I have" and "My life is," rather than relying on future tense (i.e. I will have).
Types Of Manifestation Journals
Many manifestation journals rely on specific manifestation techniques that can help you achieve your goals. The most common you'll find is called the Daily Law of Attraction, which Korshak describes as "the idea that you will attract into your life what you are putting your energetic, mental, and emotional focus on." For example: if you are in a positive, joyful state as you focus on attracting love, you are more likely to attract a positive love partnership.
Other common manifestation techniques include:
If you prefer a simpler approach, a manifestation journal that provides plenty of space for traditional free-writing has been linked to an increase in awareness and clarity.
From journals with thoughtful prompts to those that take you on a year-long spiritual expedition, here are some of the best manifestation journals to help you on your personal journey of growth and transformation.