The 3 Best Latte Art Pitchers
We only recommend products we love and that we think you will, too. We may receive a portion of sales from products purchased from this article, which was written by our Commerce team.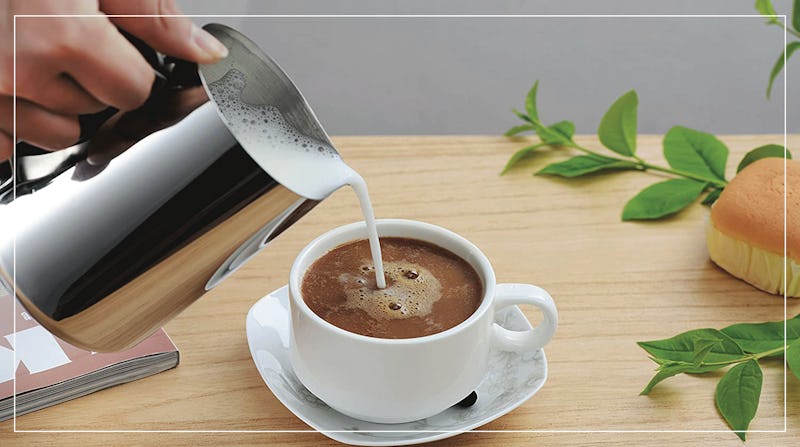 Bustle/Amazon
To try your hand at making latte designs at home, you'll need one of the best latte art pitchers, which are made of high-quality stainless steel and come in the spout design that suits your latte art style. Bustle got in touch with Gabe Venegas, Licensed AST Trainer (Authorized SCA Trainer) with the Specialty Coffee Association and an educator at Maru Coffee, to learn what to look for in a pitcher.
Spout Shape
"For latte art, a round spout is used for wider, bolder lines which create more color contrast with designs. This shape lends itself to producing designs such as "slosettas" a term that is used to call a classic "rosetta" design that has been poured in a very organic, and slow method creating big and bold lines with extreme hollow leaves," explains Venegas. "While on the other end, a narrow spout will be used to create sharp, and fine detailed lines for striking color infusion and very technical pours."
If you're new to latte art, a round spout may be easier to get started with. "[A] round spout is generally recommended for beginners since it is easier to learn on. A narrow spout is recommended for advanced baristas since it requires more technique to achieve better results," says Venegas, though he caveats that by noting it may also come down to personal preference. "There are more things to consider such as the artistic stylings of the barista and whatever pitcher shape they prefer."
Pitcher Material
In terms of materials, Venegas says, "Definitely the stainless steel pitcher is the most common and preferred type of pitcher." Stainless steel helps keep a consistent temperature when steaming milk for lattes and is dishwasher-safe and resistant to rust. There are some slight differences among the types of stainless steel: 18/10 stainless steel is the most elegant with a heavier but well-balanced feel and unbeatable shine and durability, but it can be more expensive. The more affordable 18/8 stainless steel is still strong and durable, though with a little less luster. Note: 304 stainless steel is 18/8 steel with the addition of carbon to give it increased resistance to corrosion and rust as well as hardness.
Pitcher Size
Milk pitchers for making microfoam usually have a capacity between 12 and 20 ounces. You'll need to allow some room to create a proper whirlpool when mixing; a 12-ounce pitcher should be filled to the 10-ounce mark and a 20-ounce pitcher should be filled to the 14-ounce mark. Measurement markings inside the cup are especially helpful for precision.
With all this in mind, get ready to get the most out of your latte machine with this simple but fun tool. Here are the best latte art pitchers, plus some delicious espresso beans for your next brew.
1. The Best Milk Frothing Pitcher With A Classic Round Spout
If you're new to the world of coffee art, this is a great latte art pitcher to start with — and it's a favorite with a 4.8-star rating and over 6,000 reviews on Amazon. Its classic spout, with a dripless design, is user-friendly and the entire vessel is made of sturdy 304 stainless steel. The handle can get hot, according to reviews, but it is also spot welded, which one reviewer reported keeps it from showing indentations.
The 20-ounce pitcher is dishwasher-safe and has measurement markings inside from 6 to 20 ounces for convenient guidance. This pitcher is also available in 12-ounce or 32-ounce sizes, as well as a modern matte black.
A helpful review: "It is affordable, sturdy, easy to clean and gets the job done. The handle is insulated from the body so [it] does not get hot while you heat the milk. It has markings on the inside. Big enough to get your hand inside to [easily] wash. The shape allows for the milk to achieve a proper roll while steaming it. If you're looking for something that will allow you to steam milk effectively without paying an arm and a leg [...] This is what I would recommend. I've made over 100 lattes and cappuccinos with it since receiving it. Looks as good as day one."
2. The Best Milk Frothing Pitcher With A Narrow Spout
This milk frothing pitcher enables coffee aficionados to make crisp and clear lines and designs with its sharper spout. Fellow, the company behind this pitcher, focuses specifically on coffee products and product design, and the result is a latte art pitcher as sharp-looking as the complex designs you can make with it; they compare the spout to the tip of a sharpened pencil.
Made of polished 304 stainless steel, this 18-ounce pitcher features an open-ended ribbon handle designed to accommodate the personal pouring styles of baristas. The angle of the pitcher's tapered body was created to produce microfoam that is consistently smooth. Measurement markings are laser-etched on the inside of the cup, so they won't fade or rub off over time. This pitcher is also available in a darker graphite shade in the same 18-ounce size or in a 12-ounce size.
A helpful review: "I used to use the milk pitcher that came with my Breville machine. While it got the job done, I wanted something more ergonomic and professional—and this is definitely it. When pouring latte art, the lines come out much more crisp, thin and defined. It's lovely! If you're wanting to do professional latte art, this product is perfect. If you're just looking for a pitcher to steam/froth milk in though, you can definitely find some cheaper options but at a cost of being not as ergonomic and not as good [at] latte art."
3. Worth The Splurge: This Premium Pitcher Made In Italy
If aesthetic is equally important to you as performance, consider this gleaming Italian milk frothing pitcher. It's made of premium 18/10 stainless steel, giving it an elegant shine and weight that feels good in your hand, and the pitcher was developed with the Italian barista association. It would look beautiful on a coffee bar cart.
The spout is not as sharp as the Fellow pitcher, but it is clearly more tapered than a classic spout for precision. It's worth noting this 17-ounce pitcher doesn't have measurement markings inside the cup. The body of the pitcher has a noticeably sharper angle than other pitchers, which closes in the space for the milk during frothing and creates superb microfoam.
You can also add this pitcher to your coffee collection in two modern finishes: matte white or matte black.
A helpful review: "So I was firmly in the camp that believed 'why do I need a fancy milk pitcher? this $15 pitcher will do the job...' However, I decided to finally give these nice Motta pitchers a try. There is obviously more mass to the pitcher, letting it come to temperature a bit slower and smoothly. This lets you judge the milk temperature by touch a little easier, and it gives you a bit more time to texture your foam. The finish of the stainless steel is flawless. The shape of the bottom lets your swirl your milk easily, and prevents the swirl from splashing out if you get overzealous. Also, the shape of the spout helps you pour latte art pretty smoothly with more contrast, since it helps you get closer to the surface before the milk starts to spread. [...]"
Nice To Have: Espresso Beans
Lattes are espresso-based drinks, and Black Cat Espresso is a classic from a brand that's been roasting coffee beans since 1995. These beans have notes of dark chocolate, ripe cherry, and brown sugar, a flavor profile the roaster notes is the perfect foil for a glazed donut.
Intelligentsia's direct-trade coffee means they purchase beans directly from producers as part of a focus on high-quality coffee and fairer wages and practices for farmworkers. This 12-ounce bag of medium-roast whole beans can be ground just before brewing for a fresher-tasting cup.
A helpful review: "I love the flavor of these beans. Not bitter or burnt, but has a smooth, chocolate, buttery taste that you want in a latte. [...]"
Experts:
Gabe Venegas, Licensed AST Trainer (Authorized SCA Trainer) with the Specialty Coffee Association and an educator at Maru Coffee