The 9 Best Litter Boxes For Large Cats
We only recommend products we love and that we think you will, too. We may receive a portion of sales from products purchased from this article, which was written by our Commerce team.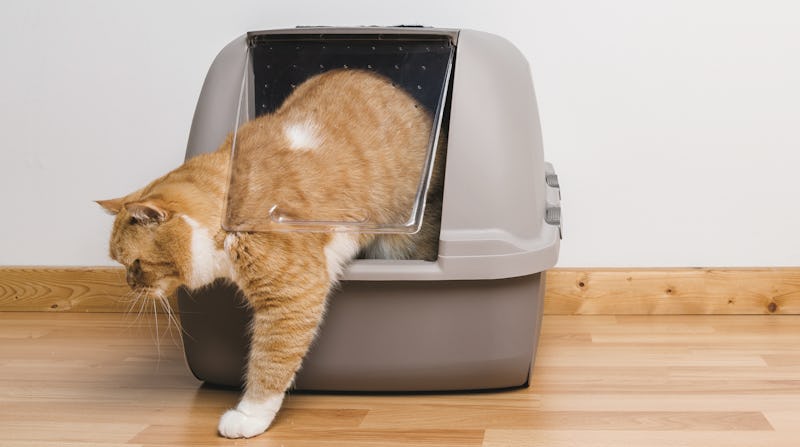 r.classen / Shutterstock
If you own a large cat, it can be a struggle to find a litter box that's spacious enough for your pet. The best litter boxes for large cats provide ample room for your feline to squat and comfortably move around in. When choosing an everyday litter box, opt for one with a smooth interior that allows you to easily scoop out waste without missing any clumps. It should also be made with a durable material that can stand up to deep-cleaning and retain its shape over time — a durable plastic is the standard material, but you may also opt for tough stainless steel. Alternatively, a budget-friendly paper litter box can do the trick when you need a disposable option.
When it comes to size, the litter box should be the length of 1.5 times your cat's body length from their nose to the base of their tail. Before you get shopping, use a measuring tape to find out roughly how long of a litter box your cat will need. If your cat is 20 inches long and needs more space than a standard litter box can offer, consider flexing your DIY muscles and opting for a storage bin that you can transform into a litter box instead.
Beyond size, you'll also want to determine the type of box you and your cat would prefer. Top-entry and hooded litter boxes can be better at containing litter and smells, but some cats dislike them. Alternatively, senior cats or cats with mobility issues might benefit from using a litter box with a low entryway. Automatic options can scoop the box for you, but they tend to be pricier. On the other hand, disposable options can be handy when you are traveling.
To help narrow down the options, I've narrowed down some of the best litter box options that you can find on Amazon to suit your large cat. Scroll down to check them out.
1. The Overall Best Open Litter Box For Large Cats
Size: 28 x 22 x 9 inches (length x width x height)
This open litter box might be designed for dogs, but it works just as well for a large cat. The pan is spacious, but its low entry point is just 3 inches tall, making it convenient for cats to enter and exit. It's made of plastic and suited to pets that weigh up to 30 pounds. Apart from the entryway, the sides are nice and high to contain litter and urine spray. A smooth nonstick surface makes scooping up waste clumps a breeze.
Positive Amazon review: "I have a 13 year old large cat that weighs 26 pounds. I could never find a large enough litter box for him until now. I know its expensive but well worth every penny. I spent too much on litter boxes that wouldn't work as well as puppy pads all around his litter box area because he was so big he couldnt stay in the box. Box is durable and easy to clean!"
2. The Best Budget Litter Box For Large Cats
Size: 25.6 x 18.3 x 10 inches (length x width x height)
Looking for a litter box on budget? This open litter box boasts a large size at a reasonable price. It's slightly smaller than the first option on the list, but it's still sizable enough for many large cats in need of extra room to do their business. Plus, the manufacturer specifies that the plastic litter box can hold up to 30 pounds of litter — a testament to its strength. The litter box features a wide base replete with high sides to keep litter from escaping onto your floor, as well as a smooth interior to make scooping waste quick and easy. It isn't designed with a cut-out entryway, but it's slightly sloped towards one end for easier access.
Positive Amazon review: "I have a big cat. He needs a big box. This fits the bill."
3. The Best Hooded Litter Box For Large Cats
Size: 24.8 x 20 x 16.5 inches (length x width x height)
Many humans and their cats are at odds when it comes to hooded litter boxes. You might like that the enclosed design contains litter, but your large cat might not fit comfortably in an enclosed box. Well, this litter box is jumbo-sized, with a large hood to match, to make both you both happy. Constructed from a sturdy plastic with a smooth finish, the box can hold two average-sized cats at once — or one sizable cat — and is big enough to fit your feline without them feeling like the walls are closing in.
Positive Amazon review: "I have a rather large cat, and this works perfect for him. He's a little overweight but he's also bigger than your average cat. I have been through so many litter boxes because they've been too small and his butt hangs out. This one is perfect. Super easy to clean and a cute color."
4. The Best Top-Entry Litter Box For Large Cats
Size: 17.3 x 21.3 x 16.5 inches (length x width x height)
If you prefer a top-entry litter box, this one should fit the bill. It provides ample room for your cat — and thanks to its enclosed design, it prevents litter from scattering onto the floor. Not only does it trap litter and the odor that accompanies it, it is also easy to clean. The lid folds and slides to the side, allowing you to quickly scoop out waste. As a bonus, Modkat offers tarp liners to help smoothen the process even more. But reviewers note that the litter box can be used effectively without it.
Positive Amazon review: "Lets just say, I wasn't expecting much when I ordered this cat box (as a 'veteran' cat owner, I have been let-down time and time again by litter boxes) however, this product exceeded my expectations — it's large enough to accommodate my Maine Coon but isn't bulky or an eyesore. Also it's very efficient at controlling cat litter from being flung from the box as well as containing the odor. [...] So far, I'm a huge fan!"
5. The Best Stainless Steel Litter Box For Large Cats
Size: 23.4 x 15.75 x 9.5 inches (length x width x height)
This stainless steel litter box is one of the smaller options on the list, but it's a great choice if you want a metal pan. Plus, stainless steel better typically resists resists odor and scratches than plastic. The surface features a nonstick coating to keep wet clumps from sticking to the bottom or sides. What the litter box lacks in length, it makes up for in its high sides: This particular model comes with an optional plastic enclosure you can stack atop the stainless steel to add another 6 inches to its height. This makes it a great option for cats with a tendency to dig to the bottom of the litter box or urinate on the walls. (You can also snag it without the plastic addition.)
Positive Amazon review: "We have a very large cat who always had difficulties fitting in an enclosed litter box. We were reluctant in getting this one because we were concerned it may smell, but then again our cat was peeing on carpets and in front of the door in protest so we caved. I am writing a review for such a simple object because it is truly a fantastic product. Not only does it NOT smell at all but it was immediately adopted by our big cat who hasn't peed anywhere but in his litter since. He has enough space to move around and he is genuinely much happier with this litter."
6. The Best Self-Cleaning Litter Box For Large Cats
Size: 27.4 x 19 x 7 inches (length x width x height)
If you want a product that scoops waste for you, consider this self-cleaning litter box. It automatically removes waste 20 minutes after your cat uses the box, saving you a lot of work when it comes to scooping and cleaning. The box works by using a rake to scoop waste into a leak-proof disposable tray, and when it's full, you simply remove the tray and place it in the trash. To minimize odors, PetSafe recommends using its crystal litter pellets, though many reviewers use litter of their choice.
Positive Amazon review: "We have two cats, one is a very large (Maine Coone). The large cat loves it (debunking other reviews). Takes 4 minutes to change two boxes. No really. 4 minutes. For the first year, with 2 cats and 2 boxes I would change every 2 weeks. Now I stir and empty once and we go 3-4 weeks."
7. The Best Large Litter Box For Senior Cats
Size: 24 x 20 x 5 inches (length x width x height)
For cats who are older or less mobile, consider this low-sided litter box. It's made specifically with senior cats in mind and features an entryway of 3 inches that allows them to easily climb in and out, plus a roomy interior for maximum comfort. Unlike other options on this list, the litter box has low sides (5 inches) to help reduce how much contact an older feline makes with the box, so they're more comfortable inside. It's made of plastic, and one reviewer described it as "easy to clean and maintain."
Positive Amazon review: "Our almost 17-year-old cat with hind leg weakness due to an illness took a few days to transition from his old box - which also had a low door for entry, but not as low - but now he uses the new box 100% of the time. It isn't just the low door that's so helpful - it's that the box is large, so no part of a cat's body has to touch the sides, which can cause pain for some cats. Our other cat has also started using it although she can easily get in the older box, so we're getting a second one. Our veterinarian recommended that we find a box with a low door, and we're going to let her know about this one."
8. The Best Disposable Litter Box For Large Cats
Size: 17 x 13.5 x 3.5 inches (length x width x height)
If you are on the move or in between litter boxes, these disposable litter boxes are a great option. Although it's the smallest product on this list and might be a tight squeeze for some big cats, it has a relatively spacious open-top design and is still 17 inches long. (Disposable options tend to run on the small side.)
Made of recycled paper, these litter boxes may seem deceptively flimsy, but they're actually leakproof, and one reviewer wrote that they are "super thick and sturdy." The lack of a smooth interior doesn't much matter when you can easily dispose of the whole box when it's dirty. You can use each one for up to about four weeks, according to the manufacturer — but this pack comes with three disposable trays, which means each order can last up to 12 weeks.
Positive Amazon review: "Apparently my newly adopted Maine Coon/domestic long hair hates plastic/litterbox liners but loves to paw, scratch at and use these! Have only been using for a week, have one inside another litter box and one using alone. Using with arm and hammer litter, no leaks yet but in the future will get a mat to put under it just in case."
9. The Best Extra-Large Tub You Can DIY As A Litter Box
Size: 43 x 21.3 x 17.9 inches (length x width x height)
Extra-large cats may not have a wide breadth of options where litter boxes are concerned, so you might have to think quite literally outside the box. For example, this very roomy plastic storage bin can be transformed into a litter box to accommodate your biggest feline friends. Aside from its spacious interior, it has the basic features that you might look for in a litter box: It's made of a durable plastic that's easy to clean, thanks to its rectangular shape and smooth interior. If you are in the mood for some DIY, here is a simple tutorial to walk you through the process.
Positive Amazon review: "High quality and lots of room as always. These are my favorite storage containers."
Also Great: A Large Litter Mat To Prevent Tracking
Size: 38 x 26 inches (length x width)
When you have a large litter box, a large litter mat can help contain the inevitable scattering of debris. It is big enough to sit partially underneath the litter boxes on this list. The mat's innovative design features a ridged surface and raised outer edge to catch litter and keep messes to a minimum. Plus, it's super easy to clean, according to reviewers — just wipe it clean with some pet-friendly disinfectant.
Positive Amazon review: "I have had 3 litter mats before this but am now very happy and so is my cat, Riley. It is a large mat so it fits under the box and allows ample coverage on all sides. It has ripples that allow him to clean his feet yet it is easy enough for me to either sweep up or you can fold it and dump the spillage out."