The 6 Best Magsafe Wallets
Secure, compact wallets in tons of colors for as little as $14.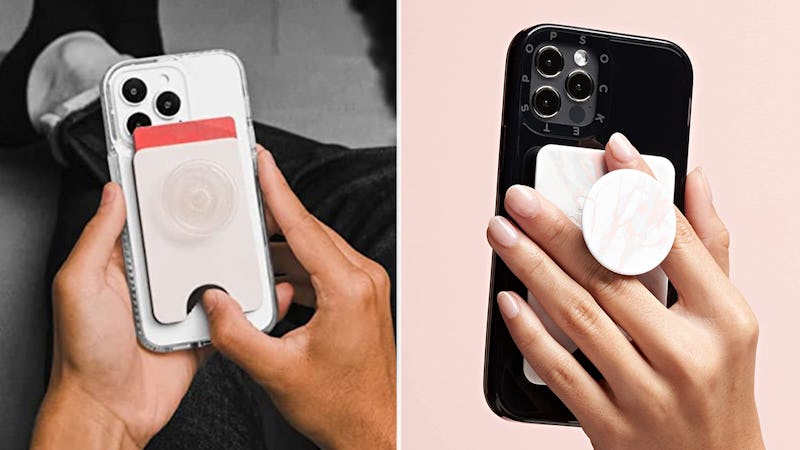 Amazon
We may receive a portion of sales if you purchase a product through a link in this article.
If you don't want to carry around a wallet in addition to your iPhone, the best MagSafe wallets attach directly to the back of your device via magnets (so long as you have a phone model that supports the technology), streamlining what you're carrying. Top picks will have enough space to hold all of the cards and IDs that you need without being overly bulky. Many options also boast helpful features like water resistance, location tracking, and more.
What To Look For When Shopping For The Best MagSafe Wallets
Card Capacity
When on the hunt for a MagSafe wallet, you'll first need to decide how many cards you'll want to carry. Most options can hold around three cards, but there are a few models that can fit up to seven cards plus cash. The tradeoff? The more cards a wallet can hold, the bulkier it will likely be. Wallets that hold more cards tend to have a latch or another feature to keep a smaller number of cards secure as well.
Features
Beyond card space, the features are what really sets different MagSafe wallets apart, so consider which (if any!) would make a difference for you:
Stand: If you'd like to be able to prop your phone up for easier viewing, many MagSafe wallets come with a built-in stand. Some are designed to be positioned in multiple ways for your convenience. You may also come across wallets that feature an expandable grip (for easier holding) that can prop up your phone.
Water-resistance: Keep your stuff from getting soaked by choosing a MagSafe wallet with water resistance.
Location tracking technology: If you'd like the added security, many come with built-in location tracking technology that will allow you to find your wallet if it accidentally falls off or you leave it behind somewhere.
Latched compartment: Worried about your cards sliding out of your MagSafe wallet? Opt for one with a card compartment that latches shut for added peace of mind.
RFID protection: Wireless theft (called RFID skimming) occurs when someone uses a reading device to steal your card information, and some MagSafe wallets are equipped with technology that aims to prevent that. (However, it's up for debate whether or not RFID skimming is still an issue today.)
One note: Make sure you don't place your credit cards in one of these wallets between a MagSafe charger and your iPhone as it could damage the cards.
Shop The Best MagSafe Wallets
In a hurry? Here are the top picks for the best MagSafe wallets:
On this list, there are slim wallets that hold just a few cards, options with a lot of bells and whistles and capacity for up to seven cards, and plenty of in-between picks to help you find the MagSafe wallet to match your needs.
1. A Budget-Friendly MagSafe Wallet Available in 22 Colors
Pros:
Less than $15
Available in 22 color options ranging from neutrals to vibrant hues
Cutout makes accessing cards easy
Con:
At less than $15, the price of this MagSafe wallet from TWZKG is nearly unbeatable. And the best part? Reviewers on Amazon love it, confirming that it's well-constructed and magnetizes strongly to your device. The non-slip material on the interior holds your cards firmly in place, though a cutout in the back makes it easier to slide them out for access. Note: The wallet only holds up to two cards, but the upside is that it's not bulky as a result.
The matte wallet is made from faux leather. And it's available in a surprisingly wide range of color choices — including blue, fluorescent yellow, white, and even rainbow — so you'll be able to find one you like.
One Reviewer Wrote: "Wallet attaches to phone super well. I've been using this for awhile now and it still keeps the cards inside securely. The hole on the back (where it attaches to the phone) is helpful in being able to take cards back out."
Made From: Faux leather | Holds: Up to two cards | Size: 3.7 x 2.5 x 0.4 inches | Weight: 1.1 ounces | Available Colors: 22
2. A Slim MagSafe Wallet With A Multi-Position Stand
Pros:
Its stand can be used in three positions
Slimmest and lightest option on this list
Con:
Only available in neutral color options
Despite being the lightest and slimmest available option on this list, this MagSafe wallet from MOFT can still hold up to three cards and it has an origami-inspired folding stand that can be used in three different positions — portrait, landscape, or standing. The wallet is made from flexible and soft faux leather material, and Amazon reviewers confirm it magnetizes securely to your iPhone.
One Reviewer Wrote: "I have used a handful of magsafe wallets and this is by far the best. The color is good looking and doesnt look "cheap". The magnet provides great "adhesion", i have dropped my phone and the wallet was not dislodged. The origami stand is surprisingly useful."
Made From: Faux leather | Holds: Up to three cards | Size: 3.9 x 2.5 x 0.2 inches | Weight: 0.6 ounces | Available Colors: 7
3. A Reviewer-Favorite Leather MagSafe Wallet Made By Apple
Pros:
Popular on Amazon; boasts a 4.4-star rating after 7,000-plus reviews
Supports "Find My" technology, allowing you to locate the wallet if lost
Genuine leather
Con:
Priciest option on this list
Made by Apple, this MagSafe wallet is a favorite on Amazon — boasting a 4.4-star rating overall after 7,000-plus reviews — with reviewers noting that the leather that it's made from is exceptional in quality and well worth the higher cost. Another big plus? The wallet supports "Find My" technology that'll allow you to locate your wallet should it ever accidentally detach from your phone — although this is unlikely; reviewers confirm it strongly magnetizes in place. This pick also boasts RFID-blocking technology.
One Reviewer Wrote: "This wallet feels nice, holds three cards, doesn't slide or fall off ever and is quite durable. It does alert me when I remove it that it's been detached."
Made From: Leather | Holds: Up to three cards | Size: 4.5 x 3.3 x 0.6 inches | Weight: 2.8 ounces | Available Colors: 7
4. A Hardshell MagSafe Wallet With Water-Resistance
Pros:
Made from heavy-duty hard plastic
Water-resistant
Latch closure for extra security
Holds up to four cards plus cash
Con:
Some reviewers report it's on the bulky side
This MagSafe wallet from Case-Mate is extremely protective. The hard-shell wallet is made from heavy-duty plastic and it latches shut for added security. It's also IPX4 rated, meaning it offers resistance to the splashing of water. The interior of the wallet features two separate compartments — up to four cards can fit on the right, while cash and other smaller items can be stashed on the left.
One Reviewer Wrote: "Durable, safe, strong, good magnet adhesion to phone. Fairly easy to open."
Made From: Plastic | Holds: Up to four cards & cash | Size: 4 x 2.8 x 0.5 inches | Weight: 1.6 ounces | Available Colors: 3
5. A MagSafe Wallet That Can Hold Up To 7 Cards & Cash
Pros:
Holds up to seven cards and cash
Stretchy elastic makes it easy to access your cards
Con:
When full, it can feel a bit bulky
Got a lot of stuff to carry around? Priced at less than $20, MagSafe wallet from ExtreLife features an elasticized main compartment that can accommodate up to seven cards (including credit cards, IDs, gift cards, insurance cards, etc.), plus cash. And to ensure your items don't accidentally slide out, this pick has a blocking leather strip at the top for security. You can use the keychain ring on the side for carrying or even hang it from a lanyard or your keys. This MagSafe wallet also boasts RFID-blocking technology.
One Reviewer Wrote: "I was looking for a wallet that fits more than 2 or 3 cards plus cash and this wallet does that with ease! I currently have 3 cards plus a license and about 10 bills folded twice (so 1/4 the width) and it fits without any issues. The [cards] seem very secure but easy enough to push cards up from the bottom."
Made From: Faux leather, elastic | Holds: Up to seven cards & cash | Size: 3.8 x 2.6 x 0.3 inches | Weight: 1.5 ounces | Available Colors: 4
6. A MagSafe Wallet With A PopSocket Expandable Grip
Pros:
Has a built-in PopSocket for gripping and propping up your phone
Comes in solid colors and unique patterns
The PopSocket top is swappable
Con:
PopSocket juts out slightly, even when not in use
This MagSafe wallet has an expandable PopSocket on the back, which allows you to comfortably hold your phone and even prop it up on surfaces for easier viewing. Like all PopSockets, the top is swappable if you want to change up the look. The plastic wallet has space for up to three cards, and Amazon reviewers noted that this pick has particularly strong magnets to ensure it stays put on your phone.
Choose from seven different design options, including some fun patterns like marble and smiley faces. PopSocket also carries a desk and car mount.
One Reviewer Wrote: "Works great and allows me to take 2 cards on the go without having to take my wallet. Really strong magnet and love the pop socket feature. Doubles as a stand and holding grip."
Made from: Plastic | Holds: Up to three cards | Size: 3.5 x 2.3 x 0.3 inches | Weight: 1.6 ounces | Available colors: 6