The 3 Best Menstrual Cups For Sensitive Bladders
We only recommend products we love and that we think you will, too. We may receive a portion of sales from products purchased from this article, which was written by our Commerce team.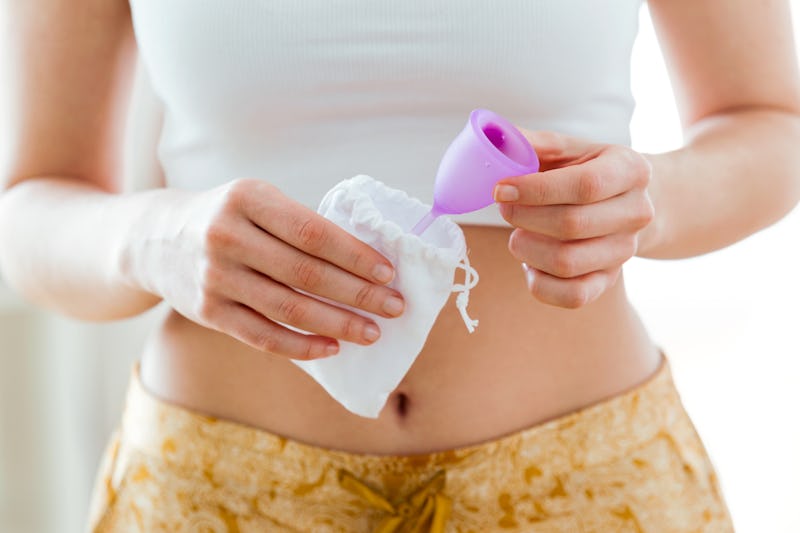 Shutterstock
There are a lot of great things about using a menstrual cup, but honestly, they can be a little intimidating if you're particularly sensitive. The good news is that as cups have become more popular, companies have started making tons of different options, including the best menstrual cups for sensitive bladders.
Dr. Jodie Horton, board-certified OB/GYN and Love Wellness advisor, explains that certain types of reusable menstrual cups are better overall for people sensitive to bladder pressure. "Consider a cup with a different shape or [one that] is soft, smooth, and does not have a prominent rim that may be irritating the bladder," she advises. Another thing to look for is a cup's shape. Menstrual cups that are really flexible and more conical tend to put less pressure on the vaginal walls, which means less of that have-to-pee sensation.
No matter which cup you go with, inserting it the right way is the most important factor. For those with bladder sensitivity, Dr. Horton has some tips for adjusting a flexible menstrual cup. "Try a different placement, either higher or lower in the vagina or flipping [the cup] inside out," she says. And if that doesn't work, you can always go with a different cup. Your comfort is key!
If you aren't sure where to look, check out these comfortable menstrual cups for sensitive bladders to get started.
Experts:
Dr. Jodie Horton, OB/GYN and Love Wellness advisor