The 7 Best Monitors For Photo Editing
Get the ultimate in color accuracy for true-to-life pics.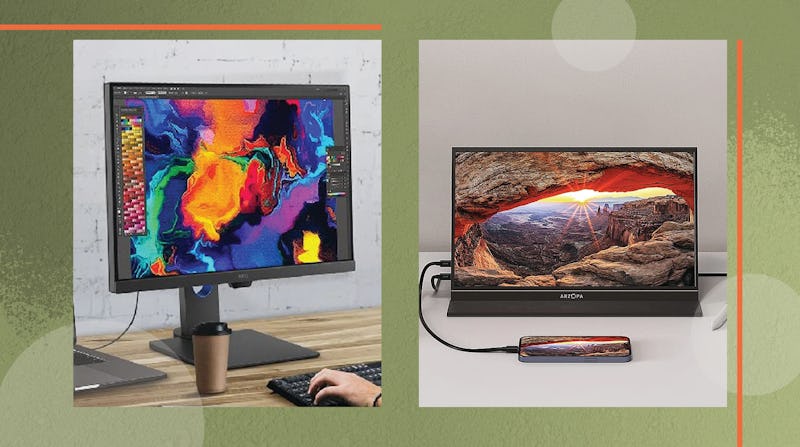 Bustle/Amazon
We may receive a portion of sales if you purchase a product through a link in this article.
When you're editing photos, having a clear picture with accurate colors and details is essential. According to expert photographer Tim Daniels, founder of the photography website Lapse Of the Shutter, the best monitors for photo editing display crisp, high-resolution images in a wide range of colors, and offer optimal viewing angles and color consistency. Finally, consider what bonus features might be helpful for you (and worth your money), such as rotating screens that are ideal for editing photos in portrait mode.
The Expert
Tim Daniels has over 13 years of experience in photography and is currently a professional photographer specializing in book cover and commercial photography. He's also the creator of Lapse Of The Shutter, a website offering guides, tutorials, and inspiration on all things photography.
What To Consider When Choosing A Monitor For Photo Editing
Scroll on for the best monitors for photo editing available on Amazon to create stunning masterpieces.
1. An Expert-Recommended Monitor
Daniels says, "I've used the LG 27UL500 connected to my main photo editing desktop computer for some years now and am still just as happy with it as when I got it." It boasts a 27-inch display, 4K 3840 by 2160 resolution, and covers 98% of the sRGB color gamut without extending into the Adobe gamut. Two HDMI ports, an audio port, and a display port lets you hook up multiple devices, and a rotation feature is handy for viewing photos in portrait mode. Plus, the sleek modern stand adds a touch of minimalist style.
One Reviewer Wrote: "Use it to view and edit photos fairly often. The picture is excellent and text is sharp at native resolution with Windows set to 175%. There are no dead pixels or color/light bleed around the edges. It's been the perfect step up solution to be productive all day and have an excellent display for pictures and video as well."
Screen Size: 27 inches | Resolution: 4K (3840 x 2160 pixels) | Color: 98% sRGB | Monitor: IPS | Ports: 2 HDMI ports, 1 audio, and 1 display port
2. A Monitor With A Rotating Screen
If you dabble in animation or web design in addition to your photo editing, consider this BenQ monitor with modes including darkroom mode, animation mode, and a CAD/CAM mode. The 27-inch IPS screen boasts 4K resolution, is both Calman and Pantone validated, and while it doesn't offer Adobe color gamut coverage, it does offer 100% of the sRGB color gamut. Anti-glare and eye-care technology help to reduce eye strain, while adjustable height, tilt, and pivot settings provide an optimal viewing angle. It can also connect and control two systems simultaneously (like your laptop and desktop). Plus, it's TCO certified to produce a lower environmental and social impact.
One Reviewer Wrote: "I purchased this monitor for color accuracy in my photo and video editing. The colors look great for that. One feature I like is I configured the monitor to autorun in Rec. 709 when using Davinci Resolve for video and sRGB when using Adobe Lightroom for photos. Setup was easy. I recommend this monitor if you need a color accurate monitor."
Screen Size: 27 inches | Resolution: 4K (3840 x 2160 pixels) | Color: 100% sRGB | Monitor: IPS | Ports: 1 HDMI, according to reviewers
3. This Portable, Budget-Friendly Monitor
If you enjoy being able to edit and view your photos on the go, consider this portable monitor that covers 100% of the sRGB color gamut. While it doesn't branch out into the Adobe RGB gamut, this 15.6-inch ISP monitor weighs just 1.7 pounds, comes with a protective case stand, and has a third-tier, high-definition 1920 by 1080 resolution which is generally acceptable for most photo needs. There are two USB-C ports and a mini HDMI port on the side, and it comes with a USB-C to USB-C cable, a mini HDMI to HDMI cable, and a USB-C to USB-A cable to connect your devices.
One Reviewer Wrote: "This isn't just another plastic monitor. It genuinely feels great in the hand and nice to hold. [...] I edit photos/videos and do some light gaming, and this works perfectly. I definitely recommend this product to anyone looking for a no nonsense solution to expanding their digital workspace."
Screen Size: 15.6 inches | Resolution: FHD (1920 x 1080 pixels) | Color: 100% sRGB | Monitor: ISP | Ports: 2 USB-C ports, 1 mini HDMI port
4. A Curved Monitor For An Immersive Experience
For the more casual photo editor or those who love black and white images, this curved VA monitor boasts an overall 4.7-star rating after more than 31,000 reviews thanks to its curved screen that creates a more immersive experience and helps reduce eye fatigue. The 27-inch screen has a mid-range 2560 by 1440 resolution (just one step under 4K while still providing sharp, detailed images), features 120% sRGB coverage and 89% Adobe RGB coverage, and boasts a bezel-free design on three of the four sides. The back of the monitor houses two HDMI ports, two VGA ports, and an audio line, and it comes with both a DP and an HDMI cable for convenience. Helpful features include a blue light filter, adjustable height, and swivel and tilt options. While many reviewers love the vivid colors and contrast of this monitor, some recommend calibrating the monitor for the best picture.
One Reviewer Wrote: "It has been amazing. I've got zero dead pixels, the picture quality is great, the colors are vivid, and the overall build quality is pretty top notch! For the price, you can't find a better 1440p 27" curved monitor than this."
Screen Size: 27 inches | Resolution: QHD (2560 x 1440 pixels) | Color: 120% sRGB and 89% Adobe color gamut | Monitor: VA | Ports: 2 HDMI, 2 VGA, 1 audio
5. A Large Monitor Under $300 With A Bunch Of Ports For Your Devices
This ASUS monitor boasts eight ports (including a DVI port, HDMI port, four USB ports, and a mini display port) for the ultimate in versatility. The 27-inch IPS screen covers 100% of the sRGB color gamut (without extension into the Adobe space), boasts 2560 by 1440 resolution, has anti-glare technology, and comes already calibrated. The monitor can swivel, tilt, and pivot and has adjustable height settings for getting the perfect viewing angle.
One Reviewer Wrote: "I bought this monitor to use with my Windows laptop as the primary monitor, but primarily for photo editing in Lightroom and Photoshop. After a week of use, it is nothing short of amazing. The color accuracy is just perfect. The white and black levels are superb. [...] For general use or photo editing, I wouldn't hesitate to buy this monitor. It is a very high quality display with very high value for the price."
Screen Size: 27 inches | Resolution: QHD (2560 x 1440) | Color: 100% sRGB | Monitor: IPS | Ports: 1 DVI, 1 HDMI, 1 display port, 4 USB, 1 mini display port, 1 audio, 1 earphone
6. This Monitor With A Place To Hide Your Cords
With a 109% sRGB color gamut, this 27-inch IPS monitor also boasts a convenient cord slot in the back to help keep your cables and desk looking nice too. The 4K resolution ensures the sharpest picture, while a low blue light setting helps reduce eye fatigue. It has two HDMI ports, a display port, and audio connectivity, and comes with an impressive four-year warranty for peace of mind.
One Reviewer Wrote: "This Philips monitor is STUNNING. The brightness, colour reproduction, viewing angles and insanely sharp resolution are absolutely ridiculous (in a good way). The bezels are super thin, the screen produces virtually zero reflections of ambient light, and the stand is about 50% the size of competing monitors. The built-in speakers are a bit of a bonus, especially if your computer is stored away and you don't want to clutter up the desk. I can't say enough about this monitor."
Screen Size: 27 inches | Resolution: 4K (3840 x 2160) | Color: 109% sRGB | Monitor: IPS | Ports: 2 HDMI ports, 1 display port, and 1 audio
7. This Monitor That Displays 99% Of The Adobe RGB Gamut
This splurge-worthy monitor has a bunch of cool features and is capable of producing some of the most accurate and vivid colors you can get with a IPS screen and 99% coverage of both the sRGB and Adobe RGB gamuts. It's both Calman- and Pantone-certified, has a shading hood to prevent glare, and has 2560 by 1440 pixel resolution. Each screen is factory calibrated, so it's ready to go right out of the box, and it even comes with a HotKey Puck G2 controller, which helps you navigate color modes and pre-set shortcuts.
One Reviewer Wrote: "Purchased this monitor because a colleague of mine (photographer) recommended it. I'm so happy I went with his recommendation and purchased it. It has been an amazing additional to my work station. I'm able to connect my 16" Macbook Pro via USB-C cable and work on all my projects. Its bright, the color is accurate, and I love the hood that comes with the monitor to block out additional light around the screen. I'd recommend this monitor to anyone who needs a great quality monitor for editing/working on a computer as a creative."
Screen Size: 27 inches | Resolution: QHD (2560 x 1440) | Color: 99% Adobe RGB and sRGB | Monitor: IPS | Ports: 1 USB-C and 1 HDMI
Expert:
Tim Daniels, a professional photographer, and owner of Lapse Of The Shutter