The 8 Best Moscow Mule Mugs That Keep Your Cocktails Crisp & Fizzy
We only recommend products we love and that we think you will, too. We may receive a portion of sales from products purchased from this article, which was written by our Commerce team.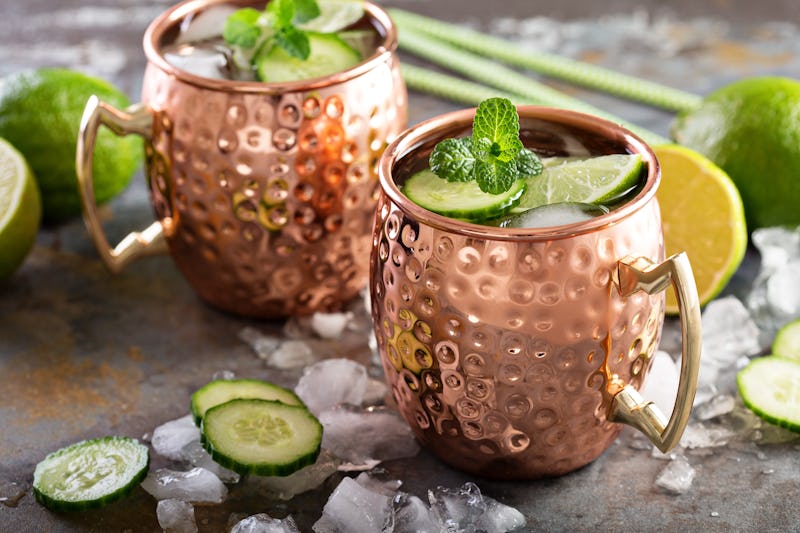 Shutterstock
Let's be honest, it's not a Moscow mule without the fancy mug. In fact, legend has it that the refreshing beverage — a combination of vodka, ginger beer, and lime juice — was created in part to highlight the allure of the vessel itself. The best Moscow mule mugs blend style and function, thanks to their sturdy handles and 100% copper construction, which works to keep your cocktail cooler for longer, and the ginger beer extra-fizzy — though copper-plated mugs lined in stainless steel are available as a more budget-friendly option, as well.
The original Moscow mule mug, created in the 1940s, was made of pure, smooth copper with a riveted handle, according to Moscow Copper. Since then, the iconic style has taken on a hammered look, but you can also find them with artfully embossed filigree, contrast-color handles, and in a wide array of capacities, ranging from shot glass to pitcher-sized.
As for the material itself, there was some controversy a few years back about whether drinking a highly acidic drink (like a Moscow mule) from a copper vessel could lead to chemical leaching, and then to copper poisoning. However, this has since been deemed highly unlikely — you would need to drink a lot of the beverage (as in, more than a liter) after letting it sit in copper for several hours. But if you're still not convinced, opt for a copper-plated, stainless steel-lined option, which also tend to be less pricey than their pure copper counterparts. Keep in mind, however, that stainless steel isn't as effective a temperature conductor as copper, so your drink may not stay icy-cold as long in a lined mug.
Either way, every pick on this list will provide you with the full sensory experience of sipping this zingy, fizzy drink. From single-serving mugs to full mixology sets and beyond, scroll on to shop eight of the best Moscow mule mugs you can get on Amazon.