The 7 Best Noncomedogenic Shampoos, According To A Derm
Clean hair without the pore-clogging ingredients.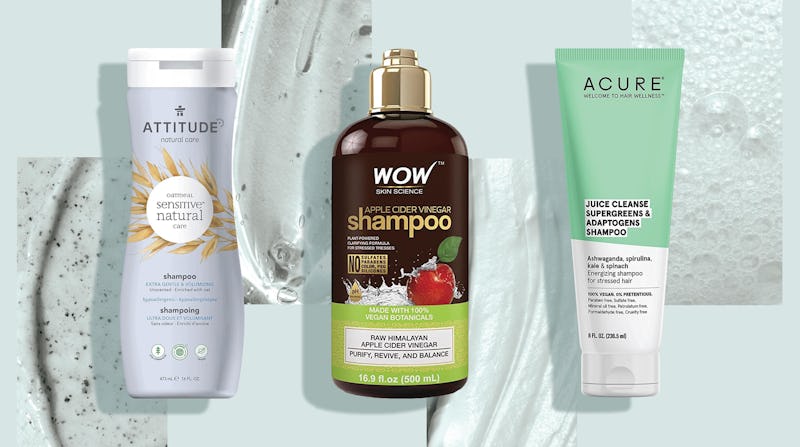 Bustle/Amazon
We may receive a portion of sales if you purchase a product through a link in this article.
Breakouts and clogged pores can show up anywhere, but when you notice them on your scalp, forehead, or the back of your neck, there's a chance it could be due to the ingredients in your shampoo. The best noncomedogenic shampoos are free from sulfates and silicones, according to a board-certified dermatologist Dr. Alpana Mohta. Additionally, consider ingredients such as salicylic acid and tea tree oil to help "control oil production, unclog pores, and reduce inflammation," Mohta tells Bustle, adding that, ideally, a noncomedogenic shampoo should also be pH-balanced, too.
The Expert
Dr. Alpana Mohta is a board-certified dermatologist and medical advisor for Better Goods. She earned her Doctor of Medicine in Dermatology from Government Medical College in Kota, Rajasthan, and has since written over 60 research publications featured in various scientific journals.
What To Consider When Shopping For A Noncomedogenic Shampoo
Ingredients To Avoid
Everyone reacts differently to ingredients, but to find shampoos that stand the best chance of not clogging your pores, Dr. Mohta says to look for ones that are free from "sulfates, silicones, jojoba oil, cocoa butter, shea butter, and petroleum-based products," such as mineral oil and paraffin wax. "Sulfates are harsh cleansing agents that can strip the skin of its natural oils, which can lead to dryness and irritation," Dr. Mohta explains, and silicones tend to build up on the hair and scalp, causing clogged pores over time. Other ingredients to keep an eye out for include artificial fragrances and alcohol, which may cause irritation and dryness for some people, and essential oils that could worsen breakouts on acne-prone skin.
Ingredients That Can Help
The good news is that there are a few ingredients that can reduce breakouts and leave your scalp feeling fresh and clean. Salicylic acid "can help to exfoliate the skin and unclog pores," says Dr. Mohta. Another ingredient to consider? Zinc pyrithione, for its "antimicrobial and anti-inflammatory properties that can help to reduce the symptoms of acne."
Scroll on for the best noncomedogenic shampoos available on Amazon to free your pores from irritants and acne-causing ingredients. They come in scented and unscented options available at multiple price points to suit your budget.
1. A Fragrance-Free Shampoo With Pyrithione Zinc
Great for all skin types, but especially sensitive skin, this anti-dandruff and noncomodegenic shampoo doesn't contain any of the ingredients Dr. Mohta says can clog pores, including sulfates, silicones, and heavy butters. It does contain 2% pyrithione zinc to reduce itching and dandruff, has been dermatologist tested, and because it's fragrance-free, it doesn't have an overpowering smell and there's less potential for irritation. It does contain some behenyl alcohol, commonly used as an emollient, emulsifier, and thickener, but the Environmental Working Group (EWG) indicates that this ingredient has a low chance of causing irritation. The brand also offers a shampoo and conditioner set without the pyrithione zinc.
One Reviewer Wrote: "I never had acne all through school until I hit late 20s. Almost 10 years later I'm still struggling with acne on my scalp, forehead, and around my hairline. Tried different acne stuff and shampoos with no relief..a new zit would pop up every couple of days. I've used this shampoo and conditioner for over a week and I am completely cleared up."
Free From: Sulfates, dyes, fragrances, botanical extracts | Helpful Ingredients: 2% zinc pyrithione | Fragrance: Unscented
2. This Expert-Approved Shampoo
Dr. Mohta recommends this Acure shampoo because it contains noncomedogenic ingredients, and is "gentle on the hair and scalp as well." The antioxidant shampoo is infused with herbs like ashwagandha and holy basil, as well as super greens including spinach and kale to nourish and energize strands. Nourishing ingredients such as aloe leaf juice, turmeric, and pomegranate extract revitalize and add shine, and the shampoo gets its glorious basil scent from naturally derived essential oils and extracts (something to keep in mind if you're sensitive to essential oils). One detail worth noting: it does contain cocamidopropyl betaine made from coconut oil and propylene glycol (a petroleum-based chemical), which has a low to moderate chance of causing irritation, according to the EWG.
One Reviewer Wrote: "Exactly what my hair needed! Overall my hair feels much healthier. Added shine and body. Love the smell."
Free From: Sulfates, mineral oil, petrolatum | Fragrance: Basil
3. This Cult-Favorite Shampoo That Uses Apple Cider Vinegar To Gently Cleanse Strands
Free from many of the ingredients Dr. Mohta suggests avoiding (except for artificial fragrance), this noncomedogenic shampoo uses raw apple cider vinegar to remove build-up and balance pH levels. It has sweet almond oil to strengthen and add shine to strands and uses nettle leaf extract to soothe your scalp. Although this shampoo does contain some artificial fragrance, it is also vegan, hypoallergenic, and cruelty-free, and is available in a set with a moisturizing coconut and avocado oil conditioner — just note that the conditioner includes some jojoba oil.
One Reviewer Wrote: "I really like this shampoo. I have a sensitive scalp and have a sort of scalp acne. This shampoo has helped to reduce this problem significantly."
Free From: Sulfates, silicone | Fragrance: Sweet apple
4. An Unscented Shampoo With Oat Extracts
If you love a rich lather and don't typically react to sulfates, this oatmeal shampoo for sensitive skin might fit the bill. It's been EWG verified for having clean ingredients, transparency, and good manufacturing practices, and is hypoallergenic, vegan, and cruelty-free. The unscented formula is enriched with oat extracts and grape seed oil for their soothing and moisturizing properties and is also free from parabens, butters, fragrances, and petroleum-derived products.
One Reviewer Wrote: "I had been breaking out around my hairline so decided to switch from salon products etc, to this. I really like it! I tried another fragrance one but this one is much better, doesnt make my hair feel plastic-y and also really helped with volume/fullness. And I no longer get acne around my hairline!"
Free From: Fragrance | Fragrance: Unscented
5. A Soothing Lavender-Scented Shampoo
If you're looking for a shampoo that won't clog your pores but don't want to sacrifice a luxurious scent, consider this noncomedogenic and pH-balanced shampoo that uses lavender essential oils and other naturally derived ingredients to create a lightly scented formulation. It's free from sulfates, silicones, jojoba oil, cocoa butter, and shea butter. However, this shampoo does include cocamidopropryl betaine and dipropylene glycol (a bi-product of propylene glycol), which are derived from petroleum, but the EWG considers these ingredients have a low risk of skin irritation. This shampoo is infused with argan oil, chamomile, and aloe vera for their calming, soothing, and moisturizing benefits, and it's both vegan and cruelty-free.
One Reviewer Wrote: "Wow, I'm so happy with this shampoo! I've tried so many "gentle" or "chemical free" shampoos on the market and none of them ever got rid of the itch. The rash on my scalp for years took a couple of months to go away, but it has not come back. Neither has the painful itch. My scalp acne has been reduced by about 80-90%. It leaves my hair soft, shiny and manageable. Truly a wonderful product!"
Free From: Sulfates, silicone | Fragrance: Lavender
6. This Bar Shampoo That's Also Great For Traveling
If you're intrigued by the idea of a shampoo bar, consider this one made with natural and organic ingredients. It's free from sulfates, silicones, and petroleum-derived products and uses sunflower oil, turmeric, chamomile extract, and a collection of other skin-loving ingredients to gently cleanse and nourish your scalp and strands. It is worth noting, however, that this shampoo contains organic cocoa butter and essential oils.
One Reviewer Wrote: "Right when I used this shampoo I immediately noticed a difference in my curls. It made my hair softer, lighter in weight, and defined. It lathered up nicely in the shower. I didn't have to scrub hard to see if it was working. My scalp is the healthiest it's ever been."
Free From: Sulfates, silicone | Fragrance: Lemongrass & sweet orange
7. An Aloe Vera-Based Shampoo & Conditioner Set
This noncomedogenic shampoo and conditioner set features moisturizing aloe vera as the first ingredient and is filled with beneficial herb extracts and natural oils such as vitamin E and tea tree oil to cleanse and nourish your scalp and strands. The volumizing, thickening, and moisturizing formula is hypoallergenic and free from most pore-clogging ingredients. However, the shampoo does contain cocamidopropyl hydroxysultaine. While the conditioner does include alcohol, many reviewers wrote that it doesn't cause dryness or irritation, and according to one user, "This shampoo and conditioner keep my scalp in good shape. Good mellow smell and great scalp results: less redness and less dryness."
One Reviewer Wrote: "Love the way it makes my hair feel and I love that it's clean. I get less breakouts on my back when I use this compared to other products. Highly recommend!"
Free From: Silicone, sulfates | Fragrance: Herbal
Expert:
Dr. Alpana Mohta, a board-certified dermatologist and medical advisor for Better Goods