The Best Odor Eliminators For Cars
We only recommend products we love and that we think you will, too. We may receive a portion of sales from products purchased from this article, which was written by our Commerce team.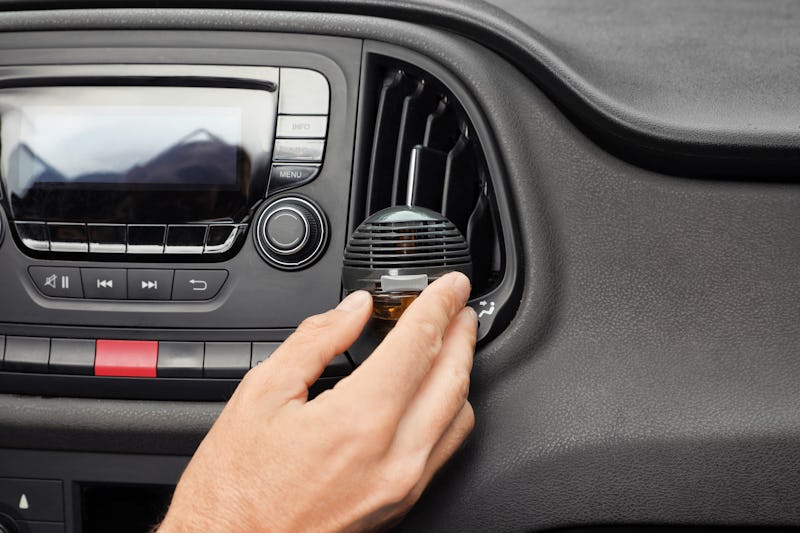 Shutterstock/New Africa
Sports equipment, pet dander, and long-forgotten snacks. They all leave behind their own not-so-pleasant odors in your car, and it can be way harder than you planned to get them out. But here's the thing: The best odor eliminators for cars work by neutralizing scents over time, not just masking it.
If you've spent any time shopping for cleaners, you've probably heard the word "neutralize" when it comes to banishing bad smells. And it's true, the best odor eliminators actually neutralize that musty, gym sock smell in your car with an ingredient called cyclodextrin, or a special kind of sugar molecule . Basically, this ingredient clings to and trapping odor molecules to eliminate them. Any product you pick up for your car (or home, for that matter) should contain this ingredient or emit negative ions, which work the same way (Charcoal is one such ingredient).
You also want to get really honest with yourself about the source of those pungent scents. If your car just had a bad run with some forgotten fast food, an odor-eliminating spray that blasts away strong scents with a single use is a great choice. But if this is a reoccurring issue, you may want to consider charcoal or gel packs that clear the air over time.
Not sure which way to go? Here's a roundup of some of the best odor eliminators for your car to help you find your perfect match.
This article was originally published on