The 4 Best Pans For Restaurant-Quality Steak At Home
We only recommend products we love and that we think you will, too. We may receive a portion of sales from products purchased from this article, which was written by our Commerce team.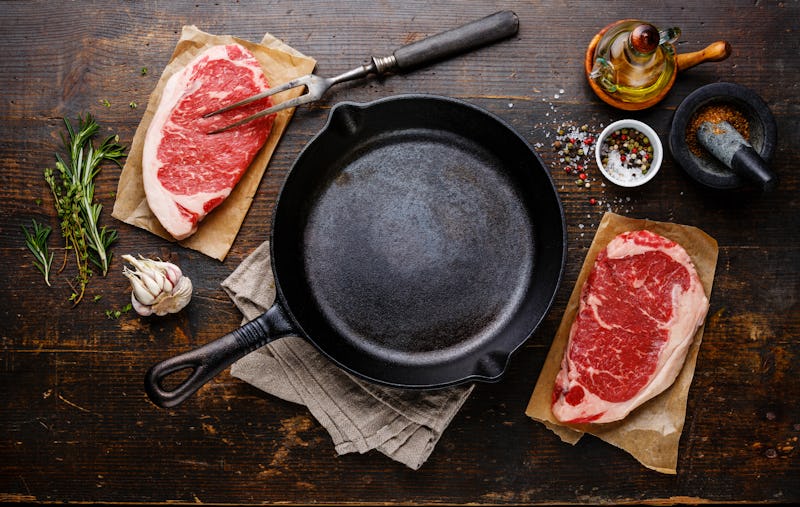 Shutterstock
When it comes to cooking a delicious steak at home, you can't go wrong (or get much easier) than using a pan — but the type of pan you use matters. When selecting the best pans for steak, your decision should depend on how you plan on cooking your meat. Some cast iron pans come pre-seasoned — and since they're heavy, their temperatures are more stable (and they stay hotter for longer periods of time). Stainless steel options adjust quickly to temperature changes and can handle acidic ingredients without damaging the finish. They're also dishwasher safe, whereas cast iron pans are not.
Cast Iron
Cast iron pans that arrive pre-seasoned — like the Lodge selections listed below — are nonstick, and the seasoning helps protect them from rust. (Some cast iron pans aren't pre-seasoned, though, and you'll have to season them yourself.) Either way, cast iron options aren't dishwasher safe and shouldn't be cleaned with harsh soap.
They're also reactive, which means they could be damaged by prolonged use of acidic ingredients like wine or tomato sauce. However, contrary to belief, they can handle such ingredients for short periods of time while the steaks cook.
Some cast iron options come with ridges to replicate a grill surface — but since the handles are often attached to the skillets and are made of iron, they can become dangerously hot, so you'll need an accompanying handle cover or a durable oven mitt.
Stainless Steel
Not only are most pans made from stainless steel safe to put into the dishwasher, but they're usually non-reactive and can handle acidic ingredients. Some models are also designed with metal cores made from either aluminum, which helps them conduct heat more evenly. These typically aren't nonstick right out of the package, so you might have to add some oil before cooking.
While you can use standard nonstick Teflon pans to cook steak, the high temperatures needed for a great sear also run the risk of breaking down the artificial nonstick coating. So if you want to play it safe, you might want to avoid nonstick pans.
Whether you're more focused on searing or seasoning, the best pans for cooking steak will still deliver a delicious meal. Keep scrolling to check out my top picks.