The 5 Best Paring Knives
We only recommend products we love and that we think you will, too. We may receive a portion of sales from products purchased from this article, which was written by our Commerce team.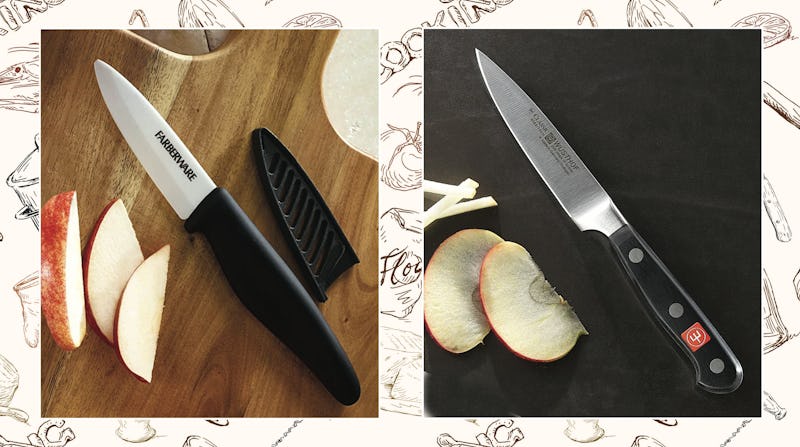 Bustle/Amazon
For small kitchen tasks, your trusty chef's knife can feel like overkill. A smaller knife is suited to making precise cuts, like segmenting an orange or thinly slicing garlic. The best paring knives have secure, nonslip handles and full-tang blades that are easy to maneuver, although the blade material you choose will largely come down to personal preference and budget.
Here's what to consider when selecting a blade type:
High carbon steel stands out for holding its extra-sharp edge especially well compared to other blade materials, and the strength of this blade makes it basically unbreakable. It's easy to sharpen but you won't need to do so often. However, you need to be committed to maintaining this knife, cleaning and drying it after each use to avoid stains (it easily discolors) and rust.
Stainless steel is reliably durable, stain- and corrosion-resistant, and relatively low-maintenance. Though a stainless steel knife can lose its edge more easily than high carbon steel, it's more affordable and easy to sharpen.
High carbon stainless steel brings the strength and superior durability of carbon steel and combines it with the more relaxed care of stainless steel. This best-of-both-worlds knife blade maintains a razor-sharp edge and resists stains and corrosion.
Ceramic blades are sharper than steel and hold that razor-sharp edge for a long time, and they resist corrosion and stains too. However, should the edge get dull, ceramic blades are difficult to sharpen. Perhaps their biggest drawback is that, because they're more brittle than steel, they're more prone to chipping and breaking.
Knife handles should be ergonomic for a comfortable hold with texture or a nonslip synthetic material for sturdy grip. A knife's tang indicates whether the blade extends fully or partially into the handle; a full tang knife offers more stability when applying force and overall durability, while partial tang knives offer a more affordable entry point.
There are a couple more details about the blade to consider. Most paring knives have straight blades, which make sense for most small tasks, including peeling. But there is a time and a place for serrated paring knives, and you'll be glad to have one when slicing tomatoes or want thin slices of citrus or garlic without crushing the piece of food. Either way, look for a blade that's 3 to 3.5 inches long for comfortable maneuverability.
Now, here are the five best paring knives to round out your knife collection.
1. The Best High Carbon Steel Paring Knife
This highly rated high carbon steel paring knife maintains an impressive 4.8-star rating with over 1,600 reviews on Amazon, and it's easy to see why. The sharp and sturdy 3.5-inch straight blade is made of forged high carbon steel (forging is a method that increases the strength of its metal), and it extends with a full tang into the synthetic handle with an ergonomic design. While this pick is high carbon steel, it was constructed to be resistant to stains, rust, and corrosion, making it a standout in this category.
The German knife's taper-ground edge boosts its stability and sharpness, and it has a heavy-duty bolster that offers excellent balance when holding the knife. Plus, this knife is NSF-certified, meaning its design meets public health standards set for the food industry. Keep it in great shape by hand washing it only.
A helpful review: "Let me join the crowd of happy people who have purchased this knife. Value and all is wonderful, but this is the best knife I have EVER used. This is also my first Mercer and I bought a whole set of 6 in a wood and glass block to go with this paring knife. Can you imagine using a paring knife to cut silver skin and unwanted tissue from steaks? This little knife was so sharp and so effective it was incredible. I grew up on a farm raising beef cattle and butchering from our own herd so I am spoiled by a good knife. This little Mercer broke all the records for me! Best knife by far."
2. The Best High Carbon Stainless Steel Paring Knife
For a top knife that is less susceptible to stains, invest in this high carbon stainless steel paring knife. It's a full-tang, 3.5-inch blade held by a synthetic handle riveted to withstand high impact. New technology from German brand Wüsthof creates a sharper angle on the straight blade, which promises to double its sharpness retention, according to the manufacturer. Like the first pick, this one should only be hand washed.
A helpful review: "This is a quality knife that you can use for life. Good knives are just more enjoyable to use. I bought one of these for myself years ago. When my millennial daughter got into cooking, I got one for her. Easy to sharpen, great edge retention, and a comfortable grip make this a knife a pleasure in the kitchen. Highly recommend!"
3. The Best Stainless Steel Paring Knife
This stainless steel paring knife is the most popular knife on my list with a 4.7-star rating and over 6,000 reviews, and that's likely a combination of its affordable price point and reliable performance.
The straight blade is 3.25 inches long and features a nonslip, synthetic handle that retains its sturdy grip even when wet. It should be noted that, unlike the first two picks, the blade here only extends with a partial tang, but at an under-$10 price point, you're still getting a lot for your money. This Swiss blade is tapered to help hold a sharp edge for longer, and it's conveniently dishwasher-safe.
A helpful review: "From the makers of the Swiss Army knife, a great little paring knife. It stays sharp and the size is perfect. I own several other Victorinox Fibrox knives and they are perfect for a value-conscious cook. I own a few other very expensive kitchen knives, some costing 2x-3x as much but for most of my kitchen cutting jobs these are the first ones I go for."
4. The Best Ceramic Paring Knife
This rust-resistant ceramic paring knife has a shorter 3-inch blade with a soft-grip synthetic handle with an ergonomic design. While no tang information is provided for this pick, that hasn't stopped more than 1,000 reviewers from giving it a perfect five-star rating. It comes with a protective sheath that makes it especially easy to travel with, for say, camping or picnicking. It comes in two colors: classic back or trendy aqua and is top rack dishwasher-safe.
A helpful review: "Love this knife! One of the best knives I've bought. It was a great deal and has kept its sharp edge through all the cutting I've done. I would highly recommend this knife and other ceramic knives like it."
5. The Best Serrated Paring Knife
For slicing — not squishing — a tomato or other soft fruit, this serrated paring knife is a must-have. The stainless steel blade's serrated edge effortlessly cuts into delicate items, and the knife's synthetic handle has a nonslip and ergonomic grip.
It isn't clear if the 3.25-inch blade extends fully or partially into the handle, but the affordable price may indicate it's a partial tang. Still, it maintains a 4.8-star rating with over 3,000 reviews. Also, it comes in six colorways, including black and red, so you can choose an option that makes it obvious which knife is serrated at a glance. This pick is dishwasher-safe.
A helpful review: "This is a terrific little knife that I reach for everyday. It is serrated so it slices easily through tomatoes, fruits, baguettes, rolls, etc. And it stays sharp forever (so it seems!). It's lightweight with a comfortable and secure grip. Keep it handy -- you'll use it [all] the time!"