The 5 Best Patio Umbrellas
We only recommend products we love and that we think you will, too. We may receive a portion of sales from products purchased from this article, which was written by our Commerce team.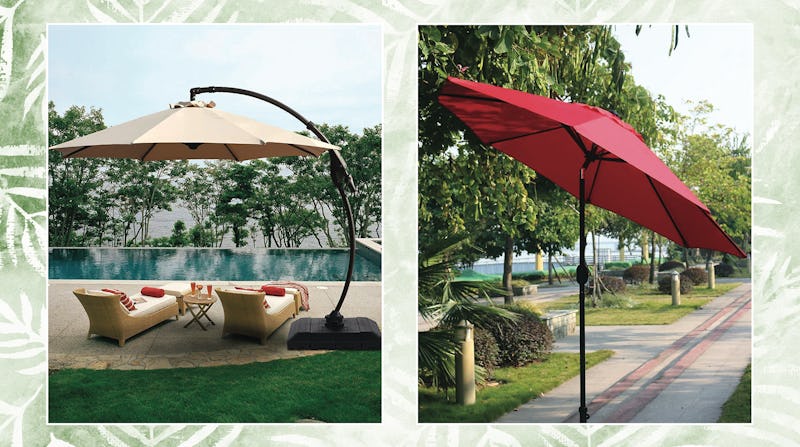 Bustle/Amazon
On a warm day, nothing beats dining al fresco or relaxing with a book in your backyard. With the right gear, you can protect yourself from getting too hot so you can stay there longer. The best patio umbrellas are made of weather-resistant fabric and will come in a style that suits your space and preference.
Size
The most common patio umbrella size is 9 feet, which covers tables up to 48 inches. For point of reference, that's typically a gathering area that's small to medium in size. If you need an even larger umbrella, an 11-foot option covers a 60-inch table.
Materials
You'll want to choose a reliably water- and UV-resistant material. Sunbrella acrylic fabric is the gold standard and is recommended by the Skin Cancer Foundation: it can hold up to sun and rain, not to mention mildew, mold, and abrasions. Olefin, which also goes by the name polypropylene, is another highly recommended umbrella material for its ability to resist the elements, but it is more prone to stains than Sunbrella. Polyester umbrellas are an affordable option, though colors may fade over time.
As for the umbrella pole, aluminum is popular for being affordable, lightweight, and resistant to weather conditions. Steel is similarly sturdy but more susceptible to rust. Wood is a third option, and while it looks nice, it can discolor over time and snap in high winds so you won't find it here.
Market Vs. Cantilever Styles
Market umbrellas are designed to go directly through a hole in the center of a patio table or stand. Cantilever, aka offset, umbrellas fit into larger, sturdier standalone bases that may hold up better in high-wind areas. The cantilever style doesn't take up table space and pivots more easily, but is typically more expensive. For either style, make sure it has a tilt function for keeping up with the sun's changing angles.
Lift Types
There are three ways to open an umbrella. A crank handle is the most convenient open-and-close method. A push lift mechanism opens like an umbrella you'd use in the rain, which is plenty simple to use but can be tough to extend all the way to the top. With a pulley umbrella, you raise and lower cords to control the canopy, although it's not a style included here since many consider it more of a hassle.
Now, here are the five best patio umbrellas to spruce up your outdoor space.
1. The Overall Best Patio Table Umbrella
If you love hanging out in your outdoor space, invest in this durable market-style patio table umbrella for plenty of shade. The Sunbrella canopy offers UV protection and resists the elements, including fading, water, and mildew for up to 5 years. The powder-coated aluminum pole resists rust and measures 1.5 inches in diameter.
The umbrella pole is adjusted and opened with a crank handle, and there's a push button to tilt for adjustable shade, which makes this pick an easy one to maneuver. Though the umbrella is vented for wind, it's best to tie it up when not in use using the canopy's strap. This 9-foot umbrella, with over 1,500 reviews on Amazon, comes in more than a dozen colors, including beige, blue, and red.
A helpful review: "This is the third umbrella we've bought from them. The yellow adds so much color to the backyard and the quality is outstanding! Previously purchased two red ones for another home and [they] withstood all of the weather and never faded. Will be buying these for our backyards at all of our future homes!!!"
2. The Runner Up: A Patio Umbrella With Three Tiers For Airflow
This market umbrella has a canopy made of reliable Olefin fabric with UV protection and resistance to fading for three years, and it is supported by a steel pole that measures 1.5 inches in diameter.
This sturdy umbrella stands out for its unique 3-tier canopy design that, in addition to its top vents, is built for better airflow. It features a crank handle for opening and closing and a tilt joint at the top that can be adjusted to suit the changing angles of the sun. The umbrella also comes in a 2-tier option.
A helpful review: "I really like this umbrella. the poles and the fabric are are sturdy, the crank works great and is easy to turn, it has an extra small pole pull thingy on the inside to help you pull the umbrella back up if you tilt it to the side. The fabric can be taken off to wash, just slide the ends off the rods on the outside of the umbrella. Perfect color. Love the Velcro close [...]"
3. The Best Full-Size Umbrella On A Budget
Patio umbrellas can certainly require an upfront investment into your outdoor space, but there are budget-friendly picks to consider. This affordable patio umbrella stretches 9 feet for ample shade with a polyester canopy that resists water and fading. While the manufacturer says it resists UV light, some reviewers say it does a great job of protecting you from the sun, but that the fabric is susceptible to fading over time. For its reasonable price and coverage, it's no wonder this umbrella is a favorite with over 21,000 reviews.
The aluminum pole measures 1.6 inches in diameter and a wind vent in the umbrella design adds support when the breeze picks up. A crank handle to open the umbrella is user-friendly, and it's easily tilted using a button on the pole. This umbrella is available in seven colors, including beige and green, as well as two cute stripe patterns.
A helpful review: "I love the fabric, which is lightweight and dries quickly. I also love the color (red) and the sturdiness of the umbrella itself, even on windy days. Overall, it's a very good value for the money."
4. Worth The Splurge: An Extra-Large Cantilever Umbrella
By far the biggest option on this list, this offset patio umbrella extends 11 feet and is a great shade provider for poolside or even over multiple bistro sets.
The canopy is made of a double-coated polyester that is water-resistant, UV protected and fade-resistant, with a powder-coated aluminum pole, though the base for this umbrella is not included. A crank lift makes it easy to open the umbrella despite its size, and it can be tilted or rotated 360 degrees to shade where needed. For the added coverage and weight of this extra-large umbrella, add this heavyweight umbrella base that can support it
A helpful review: "This is a huge patio umbrella. 11ft and a strong sturdy umbrella. My patio is 10X10 and this umbrella is perfect for my patio. It covers the entire patio. [...] Three position tilt is very helpful. The umbrella hangs from the top but still I didn't notice any swing from wind etc. It stands sturdy and effective in any weather, rain and shine. [...] Its is costly but the price is worth the quality. It does stand sturdy in heavy winds. I would say no doubt, [this is a] one-time investment but worth the money spent [...]"
5. The Most Portable: A Small Umbrella You Can Also Take To The Beach
There's no need to pay for a bigger umbrella than your space calls for, and this small patio umbrella is the perfect 5.5-foot size for shading a 30-inch table or a bistro table set with two to four chairs. The table umbrella's polyester shade is held up by a steel frame and pole.
The push-lift opening mechanism opens like a standard umbrella, and this pick is also adjustable for tilting as the sunlight changes. Reviewers report the canopy resists fading somewhat over a couple of seasons, though the manufacturer doesn't go as far as saying the fabric is UV-resistant.
This smaller umbrella has a pointed end that can also be used to provide shade at the beach. But to get it to stay still in a base, one reviewer suggested purchasing a base with screws that secure it into place or even popping out the pointed end with a flat-head screwdriver so that it sits flat in the base. A drawstring tote with a carry strap is included for storage and portability. Choose from nine colors, including blue and green.
A helpful review: "I've been looking for a simple umbrella to give us some shade on the balcony. Most umbrellas were 7ft or wider. This 5.5 left umbrella was perfect for my needs. This has been a very hot summer and even my balcony plants were getting sad and dry. [...] The umbrella was very easy to set up. Overall I'm very satisfied with my purchase. "
Nice To Have: A Sturdy Umbrella Base
A lot of patio umbrellas don't come with the necessary base, so here's a standard patio umbrella base you can pair with your new shade provider. It's made of dense and durable plastic that resists weather, rust, and corrosion. With over 1,200 reviews, you can count on it to support your new patio umbrella.
The 50-pound base supports the 9-foot umbrellas on this list. Two tightening knobs help secure the umbrella pole into the base. For larger 10-foot umbrellas or added support in extra-windy conditions, here's a more heavy-duty 70-pound umbrella base.
A helpful review: "I live in south Florida where we have wind, often without advance notice. This heavy duty stand has done very well in very windy conditions! I filled it with water from a hose AFTER I put it in place. It has NOT moved one inch from its original location! I am VERY happy with the quality and double screws and dependability of this stand."