The 7 Best Peel-And-Stick Backsplashes
We only recommend products we love and that we think you will, too. We may receive a portion of sales from products purchased from this article, which was written by our Commerce team.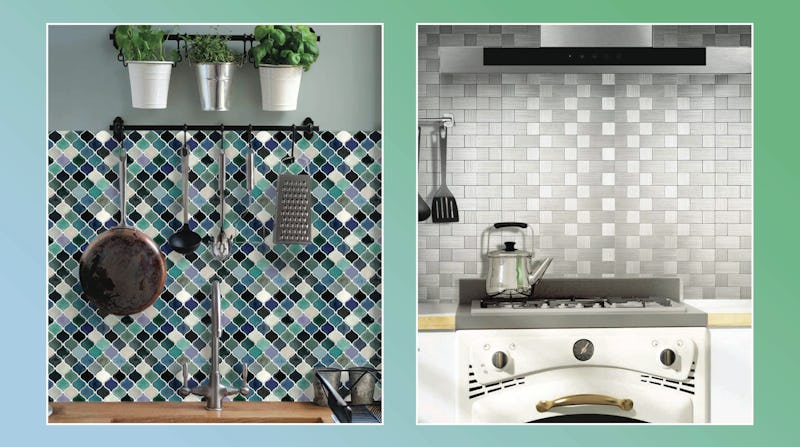 Amazon / Bustle
If you're looking to add some flair to your bathroom or kitchen, a backsplash is the perfect way to do it. The best peel-and-stick backsplashes are super easy to install on your walls, with strong adhesive to ensure they'll stay put. Peel-and-stick backsplashes come in tons of color and style options, so choose one that'll upgrade your space exactly as you've envisioned, whether you want to liven up the room with a pop of color or a fun pattern, or seamlessly blend your backsplash with your existing look.
Before purchasing a peel-and-stick backsplash, you'll want to figure out how much product you'll need. This style of backsplash is usually sold in sheets that are around 12 by 12 inches in size. However, pay super close attention to the actual specs because some picks have an overlap area for the pieces to connect, which technically makes them smaller than the overall measurement. If the manufacturer lists the total coverage area in square feet, this is what you should go off of.
Peel-and-stick backsplashes can mimic many traditional tile materials, but they're typically made from lightweight materials like vinyl, gel, or plastic (and sometimes natural substances like shells, too). The number of tiles per sheet, as well as the size and shape of these tiles, can vary. Just be sure to choose a look you like!
If you're installing your backsplash above your stove, prioritize finding one that's heat-resistant and that the manufacturer does not warn against installing as a stove backsplash. For a bathroom backsplash or one that's going behind the kitchen sink, look for a tile that's moisture-resistant. If you're seeking an extra-budget friendly option or you need something that can easily be removed, skip the traditional peel-and-stick tiles and opt instead for easy-to-use contact paper designed to look like a tile backsplash. Just know that contact paper can be tougher to hang, and it might not look quite as realistic.
These peel-and-stick backsplashes will totally transform your space in a snap.
1. A Fan-Favorite Subway Tile Backsplash
Subway tile vibes well with so many different decor styles, and this pick from Art3d will give you the real look of it, but in a peel-and-stick form. The backsplash is a favorite on Amazon, boasting a solid 4.2-star rating overall among 4,700 and growing reviews, and reviewers indicate that it has strong adhesive and is easy to install over a smooth surface or even directly on existing panels. You don't need a lot of experience to get good results either — one reviewer even wrote, "I am not a crafty person and don't do much DIY beyond painting, so the fact that they were easy for me is really saying something." The 3-D tiles are made from a gel-like material that's heat- and moisture-resistant, though the manufacturer recommends against installing them any less than 16 inches away from the top of your stove.
This pick comes with 10 sheets that are 12 by 12 inches in size, but the total coverage area is around 8.2 square feet when you consider overlap. The tiles themselves are 3.3 by 1.95 inches in size. Choose from a handful of color options, all of which have a white faux grout in between each tile to make them pop.
Enthusiastic Amazon review: "I'm very pleased with this product. They are very shiny and look beautiful in natural light. They are textured and look very real. Honestly I didn't do the best job installing them but you can't see any mistakes unless you really stare at them up close! So even if you don't have a diy thumb you can do it!! The white 'grout' on the white tile helps hide mistakes as well! Definitely would recommend:)"
2. A Backsplash With A Herringbone Pattern
This backsplash from STICKGOO features white marble-look tiles that are laid out in a trendy herringbone pattern for an elegant, clean look. Made from a vinyl material, the 3-D backsplash is actually thicker than most other peel-and-stick options (around 2 millimeters) so it looks incredibly realistic. And since it's both waterproof and heat-resistant, you can utilize it wherever you please, even behind your stove.
This pick comes with 10 sheets of backsplash that are 11.4 by 10.6 inches each, though it's also sold in a smaller 10.6 by 9.3-inch size as well. However, the measurements of each individual tile isn't listed.
Enthusiastic Amazon review: "Completely transformed my kitchen in just a few hours! These were so easy to work with- I was able to cut them with kitchen scissors and they stuck so well, no need to add any additional adhesive. Any spots where I wasn't able to line up pieces perfectly I caulked with no trouble. My friends can't believe they're peel and stick because they look so good! Highly recommend."
3. A Mosaic Tile Backsplash
This peel-and-stick backsplash from LONGKING is a serious stunner, adding plenty of visual interest to your space with its different tile sizes and shades. And since each tile is raised, it totally looks like the real thing, not a DIY-friendly pick. But don't just take my word for it; Amazon reviewers are wild about this backsplash, giving it a solid 4.4-star rating overall on the site, after more than 2,500 reviews.
The mosaic tiles are made from a gel-like material that's resistant to both heat and moisture, so it'll make a great addition to your kitchen or bathroom, though you shouldn't install it less than 16 inches from your stovetop. Multiple color options mean you can opt for a backsplash with brown tones and a shiny finish or versions with gray, white, or black marble-look designs. This pick comes with 10 sheets of tile, and each sheet is 11.6 by 11.6 inches in size.
Enthusiastic Amazon review: "Love it! Changed the whole decor of my kitchen. Had ordered 3 packs to cover the whole backsplash area. Very easy to cut to size with my ordinary kitchen scissors. Sticks well. I did it alone. I had ordered another similar thing from another company but this is way cheaper, better & easier to clean."
4. A Backsplash With Tuscan-Inspired Tiles
Colorful, high-shine, and visually stunning, this Tuscan-inspired backsplash from In Home will surely make a big impact in your space. Made from a vinyl material, the backsplash is lightweight and easy to install with a super strong adhesive backing that ensures it won't budge once it's up on your walls.
This pick comes with four sheets of backsplash, and each one is 10 by 10 inches in size for a total coverage area of about 2.7 square feet. The individual square tiles each measure 2.5 by 2.5 inches in size, and the manufacturer indicates that they should be installed 15 inches or more above a stove or other heat source. The manufacturer doesn't specify whether they are resistant to moisture, but multiple Amazon reviewers indicate they have successfully installed the backsplash in their bathroom.
Enthusiastic Amazon review: "These tiles are just what I needed to create a backsplash above my sink. Bright beautiful colors on thick plastic tiles, they were easy to install and easy to line up perfectly. They arrived on time and well packaged. Very happy with my purchase."
5. A Natural Shell Backsplash
If you're looking for a peel-and-stick backsplash that's made from natural materials, this pick from KASARO is the way to go. The backsplash features real mother of pearl shells that shine and shimmer in the most gorgeous of ways. And while this pick is on the pricier side, that doesn't seem to deter Amazon reviewers in the slightest; they give this pick a knockout 4.5-star rating overall on the site, among 500 and growing reviews.
This pick comes with 10 sheets of backsplash that are 12 by 12 inches in size, but the true coverage area of each sheet is actually about 0.96 square feet due to overlap. Each sheet has tons of small square tiles; each one is approximately 0.78 by 0.78 inches in size. This pick comes in three subdued color options — ivory white, nature, or "colorful" — and is also sold as individual sheets or in a pack of six. Amazon reviewers indicate that the tiles are heat resistant, but since the manufacturer doesn't specify that the tiles can handle proximity to heat sources, it's best to keep this backsplash a few inches away from your stove.
A quick note about installation: While you can trim the backsplash sheets along the gaps with scissors or a utility knife, just know that you can't cut directly on the shells (unless you have a cutting machine).
Enthusiastic Amazon review: "Used for backsplash on newly installed master bathroom sink. OMG! It is so beautiful. Really easy to install. Adhesive is really strong. It's been up over a month now and no problems with it at all. I made a very small bead of caulk where it meets the sink top, so no leakage down the back of the cabinet.[...] Will definitely be using when I renovate the second bathroom. LOVE!"
6. A Tile Backsplash That Looks Like Stainless Steel
While this backsplash from Yipscazo is actually made from lightweight plastic and brushed aluminum, it looks so similar to stainless steel. The peel-and-stick backsplash features super sturdy 3M adhesive on the back, so you can rest assured that it won't budge once installed. And the best part? This heat- and moisture-resistant pick can actually be installed behind your stove if you so choose. Plus, it's super easy to clean in case any food splatters end up on it — just give it a quick wipe, and you're good to go.
This pick comes with five sheets of tiles, each sheet of which is 12 by 12 inches in size, for a total coverage area of 5 square feet. The size of the individual tiles aren't listed, but they're relatively small.
Enthusiastic Amazon review: "We used these in our kitchen for the backsplash. They look awesome! They were easy to install and can be cut to any size making it nice for outlets and light switches. The adhesive on the back is suuuuper sticky which is nice because it will hold, but also means you will want to be more careful when placing on the wall."
7. An Art Deco-Inspired Backsplash
This peel-and-stick backsplash from STICKGOO features art deco-inspired tiles that are such a unique and interesting shape — use this pick as an accent or as your entire backsplash, either way it'll look amazing. The backsplash is made from a thick vinyl material that has a gel-like, shiny finish, and the individual tiles feature a variety of bright hues like teal and green, as well as some neutral colors, too.
This pick comes with 10 sheets that are each 12 by 12 inches in size, and each individual tile has a diameter of 1.85 inches. If the colors of this backsplash don't vibe well with your style, this pick comes in other options as well, including pure white, marbled white, or pink. Each one features faux grout in between each tile.
Enthusiastic Amazon review: "This product is AMAZING! From the adhesive to the workability to the finished product I cant say enough! I helped a friend install in her new house and I will be replacing my outdated backsplash SOON! You won't regret it, well worth the money!"
Also Nice: A Roll Of Budget-Friendly Contact Paper That Looks Like A Tile Backsplash
For an easy-to-remove backsplash solution, this contact paper from Fiula is the perfect pick — and it's super cheap, too, since the $19 roll can cover a whopping 48.4 square feet. Made from a thicker vinyl, the wallpaper has adhesive already on the back, so all you need to do is make any necessary trims, peel off the backing, and stick it to the wall. While this pick may not look quite as much like real tile as some of the other options on this list, one thing is for sure... it's super stylish with its white background and hexagon design.
This pick is available in two additional sizes — a smaller roll that can cover 9.7 square feet and a larger option that can cover 96.6 square feet.
Enthusiastic Amazon review: "Beautiful modern easy to use peel and stick wall covering. I am using this as a backsplash in my grey Scandinavian inspired farmhouse kitchen."