The 6 Best Record Sleeves — Both Inner & Outer
We only recommend products we love and that we think you will, too. We may receive a portion of sales from products purchased from this article, which was written by our Commerce team.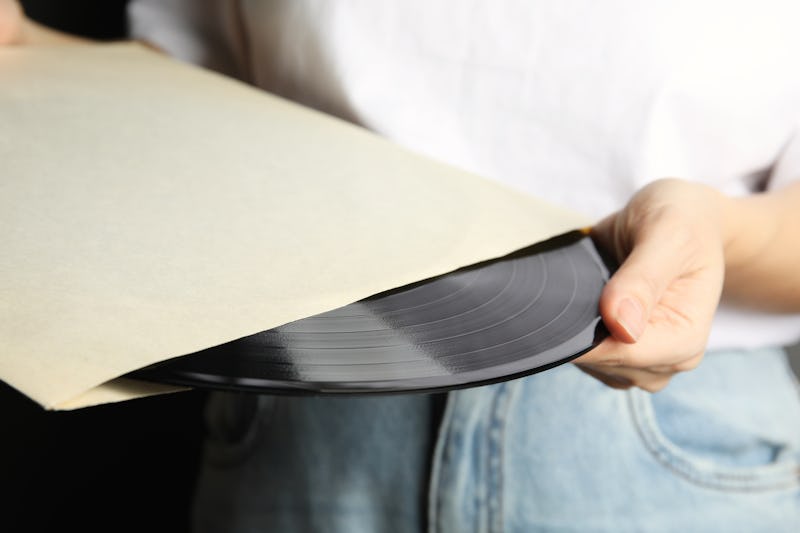 Shutterstock
When you've invested ample time and money into your vinyl record collection, you probably want to keep your pieces in great shape. Plus, it never hurts to have a few backup sleeves since they tend to go missing. The best record sleeves prevent scratches — but first you need to ask yourself: Are you looking for outer sleeves, inner sleeves, or both?
Outer sleeves protect the album's jacket, so you can better preserve the cover art and prevent the cardboard from getting damaged. Most of them are made from clear plastic, so you can still see your collection — but the thickness of the plastic matters. Most buyers prefer 3 mil plastic, which is thicker, so it's more durable and better holds its shape. For most standard albums (33 RPM), you'll be looking for dimensions around 12.75 by 12.5 inches. For 7-inch albums, also known as a 45 RPM or a single, the dimensions should be about 7.42 by 7.42 inches. (Finally, there're also a 10-inch records size, commonly 78 RPMs, which is the earliest kind of the three, but now one of the least common and isn't included here.)
Inner sleeves protect the vinyl album itself. These can be made from paper, plastic, or even polyethylene fabric. No matter the material or the size, they should be thick enough for protection against dust and scratches, but thin enough to prevent snagging when slid into the jacket.
Here, I've rounded up the absolute best picks for both outer and inner record sleeves, as well as two more affordable picks in case you're preserving your record collection on a budget.
1. The Overall Best Outer Record Sleeves
With more than 5,000 reviews and a near-perfect rating of 4.8 stars, these Invest In Vinyl outer sleeves are definitely the fan-favorite option. They use thick, 3 mil polyethylene to protect single LP, double LP, and gatefold vinyl jackets — all with a snug fit that results in no excess plastic at the top. They're also fully transparent and acid-free so you can enjoy your record collection without having to worry about damage.
One reviewer wrote: "The best sleeves. Period. [...] A snug fit (but not too snug for easy access) and durable materials make these my new go-to."
2. The Best Budget Outer Sleeves
For a more affordable alternative, you've got these outer record sleeves from Square Deal Recordings & Supplies. They're not quite as thick as the top pick, but according to the more than 400 five-star ratings, they get the job done just fine. The 2 mil polypropylene is acid-free, static-resistant, and transparent — and since they're significantly cheaper than the competition, reviewers really appreciate the value.
One reviewer wrote: "Have used almost all of them and only 1 has ripped at the seam. For the price I paid, it was the best deal I could find."
3. The Best Outer Sleeves For 45s
These Big Fudge outer sleeves measure 7.42 by 7.42 inches to protect your 7-inch records — and their 7,500-plus reviews and 4.7-star rating overall make them the most popular option on Amazon. The high-density polypropylene is 3 mil and crystal clear, so you can protect your jackets against dust, moisture, and chemical wear. Thanks to the specialized size, reviewers report that the tight fit minimizes bulk.
One reviewer wrote: "The perfect sleeves for our 7" singles. We have been looking for a new alternative for outer sleeves that match the quality of the ones we use for our full-size vinyl records. Big Fudge gave us the perfect option. These are much more durable than the ones we had used in the past."
4. The Overall Best Inner Sleeves For Records
These high-quality inner sleeves have been used in Mobile Fidelity's LP packaging for more than 30 years, and they're considered some of the best in the industry when it comes to protecting your records. They're made from three-ply material that resists static (a paper layer is sandwiched between two sheets of high-density polyethylene), and they have a translucent front for dust-free visibility.
One reviewer wrote: "I have to say that these MoFi sleeves are simply the best in terms of protecting the records, while keeping the static away. I am not sure how they do it, but it's just a fact - slide a record in and out, and somehow it DOES NOT end up covered with dust ... pure magic."
5. The Best Budget Inner Sleeves
Made from acid-free paper, these sleeves help to protect your records inside of their jackets — and they do so for a great price. They're designed to fit 12-inch LP albums, and they have a center window so you can see the record's logo. Finally, they're durable and the rounded corners ensure that they slide in and out without hassle. Currently, they have a 4.8-star rating after more than 300 reviews.
One reviewer wrote: "These inner sleeves were perfect. They were quite durable and well worth the price. Thanks!"
6. The Best Inner Sleeves For 45s
When it comes to protecting your 45s, these Big Fudge inner sleeves are one of the most trusted options. They feature three-ply polyethylene on one side and archival, acid-free rice paper on the other, plus they utilize negative ions to minimize both friction and dust. Since the fit is snug and the material is smooth, reviewers report that they slip into the outer jacket without issue.
One reviewer wrote: "[I] was recently thrown for a loop when I purchased a 7" single. Luckily, I found these sleeves. Now I can get the same high-quality sleeve in a smaller package and start expanding into collecting 45s as well. They provide a great fit, both for the record and the jacket it slides into."