The 5 Best Running Shoes For Treadmills
We only recommend products we love and that we think you will, too. We may receive a portion of sales from products purchased from this article, which was written by our Commerce team.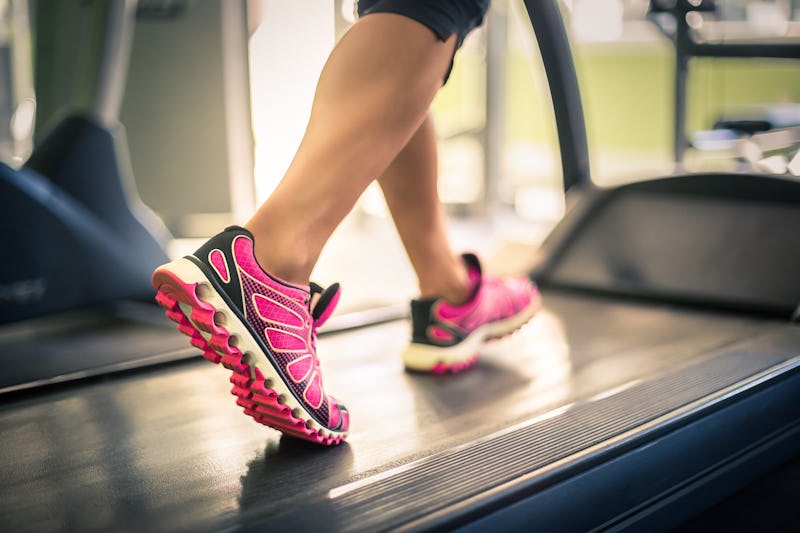 Shutterstock/Viktoria Gavrilina
While you can use most running shoes on your treadmill, there are a few things to look for when purchasing a new pair. First, for the best running shoes for treadmills the name of the game is breathability and cushioning. Think of it this way: When you're running outside, there's plenty of natural airflow to help keep your feet cool, but when you're indoors, the air is much more stagnant. To help keep you cool, look for running shoes with a breathable upper and plenty of flexibility.
Another thing to consider is padding. There's a chance that your stride may naturally change while you're on the treadmill, which can cause some discomfort at first. Be sure to look for running shoes with a lot of cushioning. Even better: Running shoes that have a memory foam insole. That way, they'll naturally conform to the shape of your foot to prevent any pain. Of course there are some exceptions to the foam insole. For example, one brand featured here, adidas, has their own patented Boost cushioning which, while not foam, will still give you the padding and responsiveness you need to pound the treadmill. Similarly Asics designs some of their best treadmill sneakers with a gel technology that, when coupled with foam insoles, absorbs even more shock than foam alone.
When it comes down to it, there are a ton of different running shoes on the market. Here's a roundup of some of the best running shoes for treadmills to help you narrow down your options.
1. These Breathable Shoes With Tons Of 5-Star Ratings
The Brooks Ghost 13 come highly rated by experts and runners alike, and are a great daily trainer for hitting the pavement or the tread. The "air mesh" upper is designed with breathability in mind, and they also have Brooks' signature DNA Loft cushioning, which cradles your foot at the midsole, giving you a secure hold. Plus, with a highly textured outsole, these premium shoes give you tons of grip so you don't have to worry about slipping on the treadmill. These come in 24 different colors.
According to one reviewer: "5 stars!!! Love these shoes. Right out of the box no. pain great support and great on treadmill. Wore them 12 hours and still could have kept them on. Working out I feel a spring in my step and can go longer than usual on treadmill. Also like them for weight training and walking in the house on hard floors."
Available in sizes: Women's 5 - 13 (including narrow and wide sizes)
2. These Cushioned Sneakers With A Breathable Knit Upper
These adidas Pureboost sneakers feature a flexible outsole that bends easily to allow you to go full speed ahead on the treadmill. The sneakers are designed with adidas' signature Boost cushioning, which is actually a material made from closed-cell thermoplastic polyurethane particles, specifically designed to absorb shock and return energy to your stride with every step. The upper is designed with a breathable knit fabric that is great for indoor running and also fits to your foot. These come in eight different colors for you to chose from.
According to one reviewer: "This shoe is lightweight and stylish, the perfect shoe for my runs! I feel supported yet very light. Love this shoe, want another pair in a different color!"
Available in sizes: Women's 5 - 11.5
3. These Supportive Shoes With Gel & Foam Padding
If you prefer a lot of padding, these gel-cushioned shoes have an insole that your foot actually sinks into, helping to relieve pressure while you're running. Underneath that, there's a luxe layer of shock-absorbing foam that adds a bit of structure to the shoe. These shoes also have won over many reviewers with conditions like tendonitis and plantar fasciitis. One reviewer says, "I bought these shoes because I have plantar fasciitis. The shoes are very comfortable and I have no heel pain after wearing them all day." Plus, with a breathable engineered mesh upper and supportive outsole, these shoes are great for long distance runs inside. Choose from one of 26 different styles and colors.
According to one reviewer: "I love the additional padding in the heel area since I suffer from Achilles tendonitis. The heel is very padded and the there is plenty of gel in the sole to absorb the shock while running or playing a sport."
Available in sizes: Women's 5 - 13 (including standard and wide sizes)
4. These Dual-Layer Cushioned Shoes That Feel Like A Cloud
These cloud-like shoes feature a double layer of foam to absorb shock from all angles. The midsole is made from EVA foam to give you plenty of structure and support, while the Fresh Foam insert adds even more cushioning. On top of that, the wide heel and flexible outsole allow for a ton of bounce back to give you a little boost when you're sprinting on the treadmill. The soft, mesh uppers are breathable and comfy, and the material cups to the back of your heel for even more support, according to reviewers. These come in nine different colors to match your style.
According to one reviewer: "If I could marry a pair of running shoes, I'd choose these. They are PERFECT. The first time I put them on (while still injured), it felt like putting little pillows on my feet. They're so comfortable! I started out putting miles on them walking while I recovered, and I was shocked at how great they felt even without a breaking in period."
Available in sizes: Women's 5 - 13 (including narrow, standard, wide, and extra-wide sizes)
5. These Affordable Nikes With A Breathable Upper
These Nike running shoes have a neutral fit, which means that they will feel comfortable for just about any type of runner. They also feature a cushioned midsole (reviewers say the entire sole is made of a foam material) and arch support, as well as a drop heel which holds your heel in place for added stability. Plus, the upper is made from lightweight, breathable mesh to allow for tons of airflow so you can stay cool and comfy on a jog. These come in a range of colors, from the black and white pictured here to pale pinks, grays, and multi-color designs.
According to one reviewer: "I have been using it to the gym doing my cardio work out and it's very comfy. It's really light when running to the treadmill doing sprint cycle."
Available in sizes: Women's 5 - 12 (including standard and x-wide sizes)