The 4 Best Self-Watering Planters That Plant Parents Swear By
We only recommend products we love and that we think you will, too. We may receive a portion of sales from products purchased from this article, which was written by our Commerce team.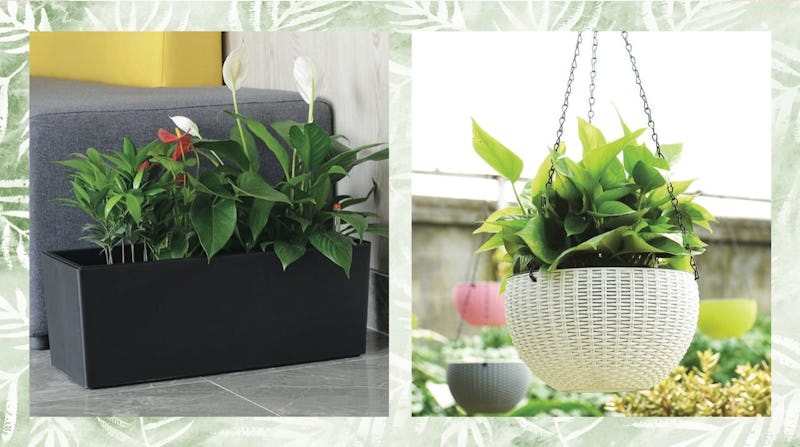 Amazon / Bustle
One of the biggest hurdles to growing healthy plants is watering them correctly. The best self-watering planters can help both novice and experienced gardeners give their plants the water they need to thrive without overdoing it. When you're shopping, look for pots with water reservoirs that are easy to fill and allow water to pass up to the plants' roots. Also make note of the planters' individual dimensions and double-check that they're a suitable size for your plants, as photos can sometimes be misleading. If you'd prefer to take a fairly hands-off approach, you may want to try a high-tech indoor garden that self-regulates both the water and light, rather than a basic self-watering pot.
Standard self-watering planters typically feature two layers — an interior liner and an exterior pot. At the bottom of the exterior pot, you'll find a water reservoir which steadily draws up water through the soil to the plants' roots. One of the major perks of self-watering planters is that they distribute the water over time, which means you don't have to water your plants as often. (This comes in handy when you're away on vacation, for example.) Some planters come with watering ports and water-level indicators, which aren't strictly necessary but can make watering easier and help you keep track of how full the reservoir is. Alternatively, you can add terra-cotta stakes to transform your existing planters or garden beds into self watering ones.
From a sleek automated grow system to pots of different shapes and sizes, here are the best self-watering planters you can snag on Amazon.