The 7 Best Shower Chairs
We only recommend products we love and that we think you will, too. We may receive a portion of sales from products purchased from this article, which was written by our Commerce team.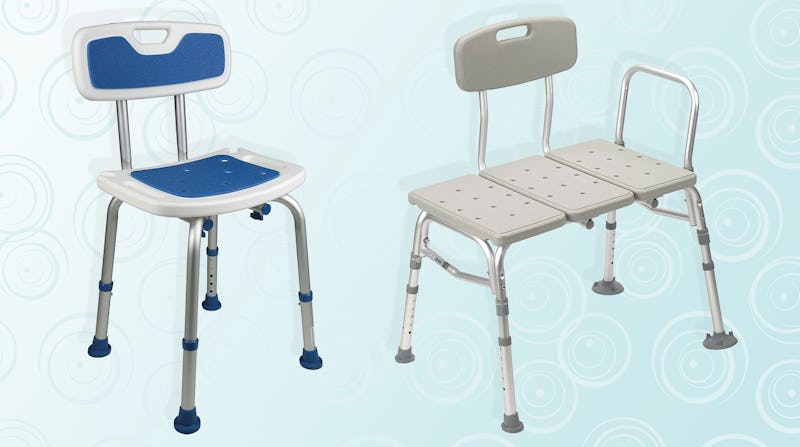 Bustle / Amazon
Whether it's a temporary or long-term need, a supportive shower chair can help you stay safe and secure while you bathe. The best shower chairs are built to withstand at least 220 pounds and boast features that make them easy to adjust and move as needed. Beyond that, a few other factors can help maximize your comfort.
For example, many shower chairs have seats with drainage holes or even cutouts that prevent water from pooling beneath you. The majority also have built-in handles on the seat or backrest that provide grip and make it easy to carry the chair in and out of the shower. On that note, the chairs on this list weigh between 3.5 and 10.5 pounds, so they're all fairly portable, and some options have removable armrests and backrests for adjustable accessibility and easy storage.
As for design, you have a choice between chairs, stools, and transfer benches. Most styles on this list are height-adjustable and made from lightweight, rust-resistant aluminum with water-resistant plastic seats — although there's one pick in the more aesthetically pleasing, though less fully waterproof, bamboo. Whichever material you prefer, you'll want to consider the seat dimensions and weight capacity to make sure it will work for your needs. Below you'll find models with a weight-bearing capacity ranging from 220 to 400 pounds. For safety, all of these chairs have nonslip feet.
With all that in mind, read on for the best shower chairs that'll instantly make your bathroom more functional and comfortable.
1. The Best Shower Chair With Arm Supports
Footprint: 21.25 inches wide x 19.25 inches deep
Weight capacity: 300 pounds
Product weight: 6.7 pounds
This shower chair offers support with a backrest and padded arms, but it's still lightweight and can be assembled in minutes with zero additional tools. It also disassembles quickly for convenient storage, and the built-in handle makes it easy to move. Both the back and individual arms are removable so the chair can be configured as needed, and the contoured seat has drainage holes and a surface that's 15.75 by 13 inches. The frame is made from rustproof aluminum and has adjustable rubber-tipped legs to help it stay in place in the tub or shower. And you can adjust the legs with one click to get the perfect seat height ranging from 16 to 20.75 inches.
One helpful review: "At 6'2" I needed a bath chair that I could sit in and lean on when I was in a cast that I couldn't stand or balance on when showering. The leg extensions are almost automatic to adjust and the chair is more than sturdy enough to lean on for support."
2. The Best Shower Chair For Small Showers
Footprint: 16.25 inches wide x 15.25 inches deep
Weight capacity: 300 pounds
Product weight: 4 pounds
With a 16.25-inch width, this armless shower chair has a smaller footprint than the pick above, but still provides great support. The padded seat has drainage holes and measures 16 by 11.5 inches, and there's also a padded removable backrest. The legs have nonslip suction feet to help prevent the chair from slipping in the shower. What's more, the seat's height can be adjusted from 14 to 18 inches with a simple click. The aluminum rustproof frame and molded plastic parts are easy to assemble without any tools. Plus, the chair features a unique seat that's made with notched corners to hold a showerhead in place. There are also side and top handles for easy carrying and grip in the shower.
One helpful review: "It was hard to find one narrow enough to fit my narrow tub! The cups on the feet don't slip, the seat padding is comfortable ... the well-designed hand-holes make it easy to position, and the back is very comfy."
3. The Best Cushioned Stool
Footprint: 15 inches wide x 13 inches deep
Weight capacity: 350 pounds
Product weight: 4 pounds
Not only does this highly portable bath stool have a cushioned seat, but it also comes with a 12-inch shower handle that uses suction to attach to the bathroom wall for added safety. The stool also has suction cup-tipped legs to help keep it firmly in place. Plus, the curved seat — which has a surface area of 10.6 by 17.3 inches — boasts built-in handles and drainage holes, and the cushion is removable for easy cleaning. The seat's height can be adjusted from 13.5 to 18.5 inches. Like the other chairs above, assembly is tool-free and takes just minutes.
One helpful review: "Both the handle and shower chair were sturdy. Obviously test the handle every time, but it's been up for quite a while now and seems to be gripped on the tile very well. The chair was extremely easy to assemble."
4. The Best Budget-Friendly Bath Stool
Footprint: 12.5 inches wide x 12.5 inches deep
Weight capacity: 300 pounds
Product weight: 3.5 pounds
Though fairly basic, this easy-to-assemble shower stool is an affordable and popular option that's received more than 5,200 five-star ratings on Amazon. The impact-resistant seat has a diameter of 12.5 inches, and the lightweight aluminum legs can be adjusted for a seat height between 13.5 and 21 inches. The legs also have grippy rubber feet to help keep the stool in place while you shower.
One helpful review: "I recommend this stool often to home health clients who have small shower stalls. Because it takes up less floor space, it allows for more space to safely step into the shower than the other style shower stools. It is also sturdy and easy to adjust the height."
5. The Best Shower Bench For Bathtubs
Footprint: 32 inches wide x 23 inches deep
Weight capacity: 400 pounds
Product weight: 10 pounds
With more than 12,000 five-star reviews, this shower bench is a dependable option to help you safely transition onto the seat while outside the tub. The bench straddles the side of the tub, so once you're seated, you can slide over into a comfortable position in the bathtub. What's more, the supportive backrest and arm handle can be installed for left or right entry, depending on your tub. The aluminum legs are adjustable for a seat height between 17.5 and 22.5 inches, and each leg has a strong suction cup to help prevent slipping. The seat measures 32 inches wide and about 19 inches deep, and there are drainage holes to allow water flow. Plus, the bench is easy to assemble without any tools and the top handle makes it easier to move. As an upgrade pick that offers even more accessibility, you might also consider this sliding transfer bench with a swivel seat.
One helpful review: "Great bench for the bathtub. I have a garden tub and I was not sure if this would fit properly. The legs are adjustable, so once we got it level to the floor outside the tub and the tub bottom, it's been great. I especially like that you can tuck in the shower curtain so the shower water does not get outside the tub. And everything drains great through the holes in the seat."
6. The Best Chair With A Cutout Seat
Footprint: 22 inches wide x 21.5 inches deep
Weight capacity: 300 pounds
Product weight: 7.5 pounds
This shower chair with a hygienic cutout seat makes it easier to get a full-body bath while sitting down. The lightweight chair features a padded seat that measures 17.5 by 14 inches, and there are drainage holes for water flow. What's more, the removable backrest has a built-in handle for grip and easy portability. The durable aluminum legs have nonslip rubber feet and offer adjustable seat height between 17 and 21 inches. Also great: This chair is easy to assemble with no tools required.
One helpful review: "The blue padding on seat makes it more comfortable & the large indentations along center of seat allows easy access to wash & rinse bottom, front & back, without standing up. This is very sturdy even on slightly uneven small tile flooring. The hand grip opening on back is a great plus."
7. The Most Stylish Shower Bench
Footprint: 19 inches wide x 9.8 inches deep
Weight capacity: 220 pounds
Product weight: 10.5 pounds
This bamboo bench offers seated support and storage space. The mold-resistant bamboo frame has antislip rubber feet, and the seat — which measures 9.8 by 19 inches — is curved to maximize comfort and has slats that allow for drainage. There's a built-in storage shelf where you can stash toiletries, and the bench comes with a squeegee you can use to clean the shower. Assembly is fairly straightforward, and the bench comes with all necessary hardware. The seat height is 17.8 inches, and although it's not height-adjustable, this bench is a good option if you want to combine function and style.
One helpful review: "[Easy] to put together, with a nice solid construction. the bench is small enough that it doesn't take up a ton of space, but still substantial enough that you feel sturdy and safe sitting on it. the rubber feet help to keep it in place as well. great bench! the squeegee is a nice added bonus! love the bamboo!"