The 9 Best Sleeping Pads For Car Camping
We only recommend products we love and that we think you will, too. We may receive a portion of sales from products purchased from this article, which was written by our Commerce team.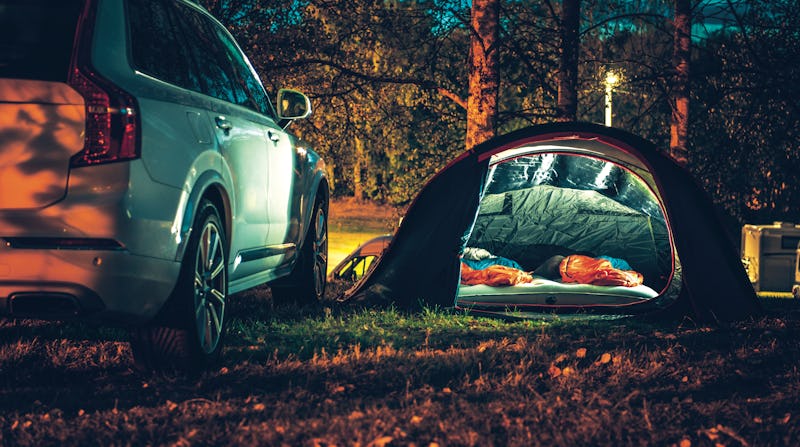 Virrage Images / Shutterstock
Making sure you have one of the best sleeping pads for car camping can make or break your trip. Nobody wants to get stuck using a pad that's uncomfortable and wind up with a bad night's rest. Luckily there are tons of camping mat options with a variety of constructions, insulation levels (aka R-values), and sizes to suit all kinds of sleepers.
What Criteria To Consider
Types Of Sleeping Pad For Camping
There are tons of different types of sleeping pads, but the ones best suited for car camping are inflatable pads and self-inflating pads, since they're generally the most comfortable and readily available — especially since weight and compressed size are less important than with backpacking. Some kinds of foam pads will also be great specifically for car camping though. More on that below:
Inflatable pads are exactly what they sound like and are filled with air, keeping you elevated off the ground. As you're largely suspended in inflatable mats, they can be very comfortable. I can personally attest that as a side-sleeper, I usually sleep more comfortably on an inflatable pad than a self-inflating one. They're generally also light and pack down to a small size, which is nice if you don't have much room in your car or want your car camping sleeping pad to work double-duty as a sleeping pad for backpacking. The trade-off is the possibility of them popping, leaving you with no cushion at all. To combat this, look for an inflatable pad that comes with a patch kit.
Self-inflating pads are a bit of a misnomer. Filled with both open-cell foam and air, these mats blow up mainly on their own by being rolled out and allowing the foam to expand. However, you do need to top them off with extra air to get them to the right firmness level for you. They're often heavier and bulkier than an inflatable one, which isn't much of an issue for car camping, but it will likely prevent them from also being an option for lighter-weight trips. They're often made of more durable material and are less likely to pop than inflatable pads — and even if they do spring a leak, the foam should still provide some comfort.
Foam pads can be suitable for car camping, depending on the type of foam. Closed-cell foam pads are extremely cost-effective and common but can be uncomfortable on the joints, and their benefit of being lightweight isn't super necessary when car camping so there aren't any included in this list. But specialty foam mats like memory foam pads can serve as a super comfortable mattress-like sleeping pad for anyone who doesn't mind traveling with a bit more bulk.
R-Value Of Sleeping Pads
Another important consideration when choosing a sleeping mat is its R-value, or how much insulation it provides. A pad with an R-value between 1 and 2.5 is only insulating enough for camping in the heat of summer, while a pad with an R-value between 2.5 and 4 is considered a "three-season" option comfortable for summer, spring, and fall. This will likely suffice for most casual campers, but if you're planning on doing some winter camping, going somewhere cold or with an especially high elevation, know you run cold when sleeping, or are planning on using a thinner sleeping bag or no sleeping bag at all, opt for a mat with an R-value above 4.
Here are some of the best sleeping pads for car camping, ready to help you slumber comfortably on your next venture into the great outdoors. Weights and prices reflect that of "regular"-sized pads where applicable, though many come in different length and width options, too.
About The Recommender:
Rachel Dunkel has been a commerce writer since 2018, specializing in product reviews across all categories with a particular love for gear and outdoor products. While she grew up car camping on family vacations, she's found a new love for the outdoors in recent years, testing gear while section hiking the Appalachian Trail and backpacking closer to home in Michigan.