The 7 Best Slow Feeders For Cats
We only recommend products we love and that we think you will, too. We may receive a portion of sales from products purchased from this article, which was written by our Commerce team.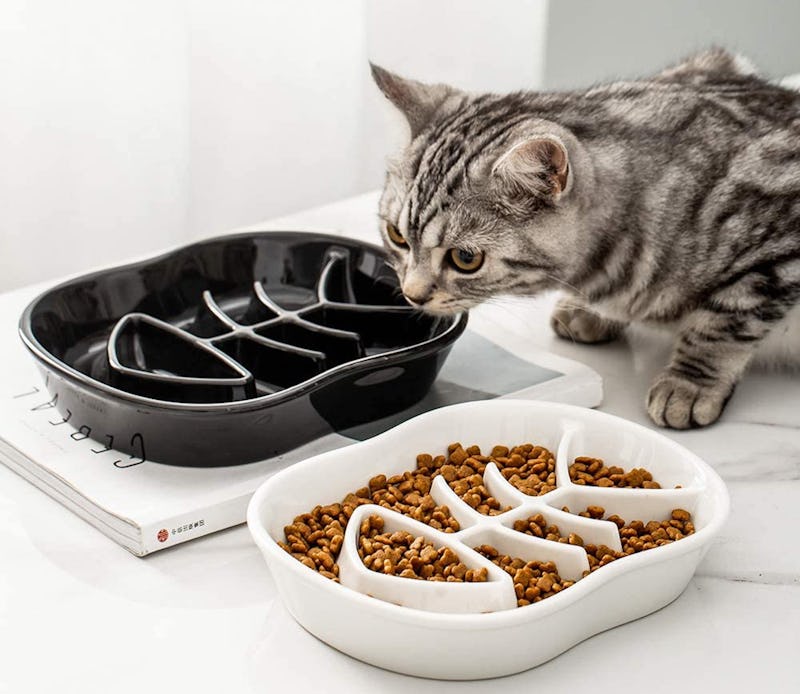 Amazon
To help your kitty avoid digestion issues, the best slow feeders for cats feature grooves and ridges that prevent pets from eating too quickly, and they're dishwasher safe so cleanup is easy for you. You can find quality slow feeders made from ceramic, stainless steel, or silicone, and they come with simple designs or lots of nooks and crannies. And if your cat experiences whisker fatigue or is sensitive to acid reflux, there are also slow feeders specially designed to suit kitty's needs.
What To Consider When Shopping For Slow Feeders For Cats
As you shop, the first thing you'll want to consider is the material. Slow feeders made from stainless steel are lightweight, durable, and may be less likely to harbor bacteria than other materials. Ceramic bowls are heavier (and less likely to get flipped over if your cat is a messy eater), and they're also resistant to bacteria unless the enamel becomes cracked or chipped. Lastly, food-grade silicone is a lightweight option with antibacterial properties, but because it's soft, you may want to avoid it if your cat likes to chew off-limits items. All three materials are dishwasher safe, which makes keeping them clean a breeze.
All slow feeders are designed to promote healthy digestion, prevent vomiting, and provide mental stimulation to some degree. The feeders on this list vary in complexity, so you can choose one with more ridges if you want to provide more of a challenge at mealtime.
Finally, senior cats or those with mobility limitations, and kitties that experience acid reflux, might find an elevated bowl more comfortable. A slow feeder with low sides can help prevent whisker fatigue, which sensitive cats can find uncomfortable.
Take a look at the best slow feeders for cats below and find your feline's favorite new bowl.
1. This Slow Feeder With A Playful Fishbone Design
This ceramic slow feeder has tall sides to help keep messes contained, but it's still wide enough so your cat's whiskers won't bump against it too much. The bowl features a cute fishbone design that will encourage your cat to eat more slowly, and it can be used with wet or dry food. It's top-rack dishwasher safe and also available in black.
One cat parent's take: "Solid ceramic construction and ability to clean in dishwasher top rack is a big plus. It has significantly reduced our two year old cat's previous near-daily scarf and barf routine."
Material: Ceramic | Colors: 2 | Dimensions: 8.6 inches x 6.6 inches x 1.5 inches
2. A Sturdy Bowl That Comes In Fun Colors
In addition to the flower design featured here, this slow feeder comes in four other bright colors and designs, including a green clover and an orange sunburst. The ceramic bowl can be used with wet or dry food and it's earned a 4.7-star overall rating from pet owners on Amazon. Plus, it's dishwasher safe and has a nonslip base to keep it from sliding around.
One cat parent's take: "I was concerned that it would be too big for my little man, but it's the perfect size to keep him circling the bowl as he eats. The bowl is also endlessly durable—other than my clumsiness, it'll last us forever. And it's easy to clean by hand or throw directly into the dishwasher."
Material: Ceramic | Colors: 5 | Dimensions: 8 inches x 1.8 inches
3. This Minimalist Slow Feeder Bowl That's Extremely Durable
More than 3,000 reviewers have given this stainless steel bowl a five-star rating. Though the bowl is lightweight, it also has a nonslip bottom to keep it from moving around. It features a simple doughnut design and can be used with wet or dry food. In addition, the durable feeder is top-rack dishwasher safe and comes in three sizes, though the small size featured here is recommended for cats and small dogs.
One cat parent's take: "This helped my cat slow down her eating significantly. I bought the small one and spread her kitty pate around the bowl. She figured out how to use it very quickly. No more vomit from eating too fast."
Material: Stainless Steel | Colors: 1 | Sizes: Small — Large | Dimensions: 7.58 inches x 1.97 inches (featured)
4. A Basic Feeder With 3 Food Rings
Made with a simple, raised three-ring design, this ceramic feeder encourages your kitty to slow down at mealtime. It works with wet or dry food, and the shallow design is meant to be whisker-friendly. Like all the other picks, the bowl is dishwasher safe.
One cat parent's take: "Low profile and heavier than plastic so they can't flip it over. Cats love it, don't appear to have issues with whisker fatigue, slows them down while eating."
Material: Ceramic | Colors: 1 | Dimensions: 5.8 inches x 1.1 inches
5. A Feeder With Lots Of Challenging Ridges
With a swimming fish design that incorporates lots of ridges, this ceramic slow feeder is the most challenging option on the list. The feeder encourages your feline to use their paws and their mouths to get every last morsel of dry food, though it can also be used with wet food. It's dishwasher safe and has earned more than 500 five-star ratings on Amazon.
One cat parent's take: "We've tried a number of slow bowls, to no avail. He can flip them or outsmart them [...] This is just right. He loves the challenge, but doesn't get frustrated with it."
Material: Ceramic | Colors: 1 | Dimensions: 8.7 inches x 1.6 inches
6. A Silicone Slow Feeder With A Honeycomb Design
With many small compartments, this silicone slow feeder encourages cats to take their time. The silicone material is BPA- and phthalate-free, and the bowl has a nonslip bottom to help it stay in place. You can use it with wet and dry food, it's dishwasher safe, and it comes in two sizes.
One cat parent's take: "Perfect suction, perfect size, easy to clean, works great for my ferociously fast eater!"
Material: Food-grade silicone | Colors: 1 | Sizes: Small, Large
7. An Elevated Slow Feeder For Cats With Acid Reflux
If your cat finds elevated bowls more comfortable, this ceramic slow feeder comes with a wooden stand for extra height. It features a playful fishbone puzzle design that encourages cats to eat more slowly, and the dishwasher-safe bowl can be removed from the base for easy cleaning. Also great: The wooden base works at two different heights, so you can choose what's best for your feline.
One cat parent's take: "This is an awesome slow feeder! It is very sturdy, just the right height, and works great for helping my kitties slow their roll!"
Material: Ceramic | Colors: 1 | Dimensions: 8.5 inches x 1 inch (bowl), stand is 2.4 inches tall