The 8 Best Spoon Rests To Keep Your Stovetop & Counters Mess-Free
We only recommend products we love and that we think you will, too. We may receive a portion of sales from products purchased from this article, which was written by our Commerce team.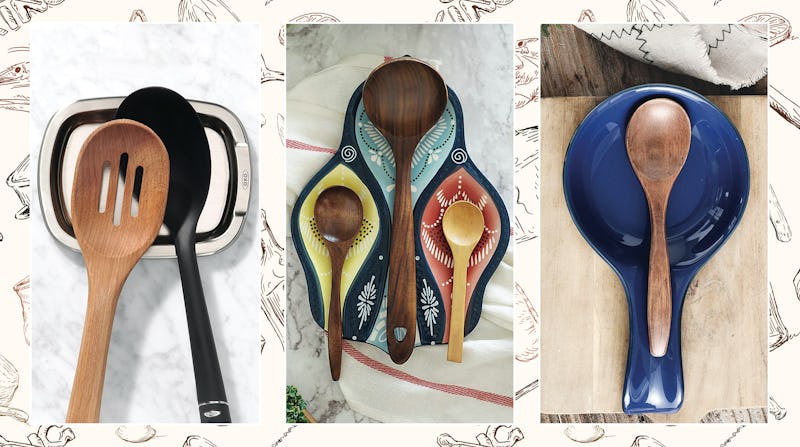 Bustle / Amazon
Whether you're cooking up sweet sauces or hearty soups, a spoon rest can make cleanup a whole lot easier. The best spoon rests offer a heat-safe place to set your utensils without dripping ingredients all over your stovetop or countertop. And since they're made to get messy, they should be easy to wash (either in the dishwasher or by hand). As you shop, also consider how much counter space you have, as spoon rests include options that just hold one spoon as well as those that hold multiple utensils at once. Plus, the options on this list reflect a wide assortment of aesthetic styles, so you're sure to find one you'll want to display in your kitchen.
You don't want your spoon rest to melt or burn when you place a hot utensil on it, so opt for one made of a heat-resistant material such as ceramic, marble, and silicone. Although most wood will begin to burn at temperatures upwards of 570 degrees Fahrenheit, it doesn't conduct heat well, making it another solid option for spoon rests. Stainless steel is a durable, sleek choice that won't be damaged by heat (hence why it's a popular choice for cookware) — but since metal does conduct heat well, choosing a stainless steel spoon rest with a heat-resistant base can help ensure that your countertops stay cool.
Additionally, if you have delicate countertops, take a look at what's on the bottom of the spoon rest: Nonslip rubber or silicone feet can prevent a spoon rest from sliding around and protect surfaces from accidental scratches.
From a sleek stainless steel option to ones that comfortably hold multiple utensils at once, I've narrowed down the best spoon rests you can buy on Amazon.
1. A Nonslip Stainless Steel Spoon Rest
The OXO Good Grips nonslip spoon rest is made of stainless steel with a heat-resistant silicone base to protect countertops from high temperatures and scratches. While it measures just 5.8 inches in length and 4.5 inches wide, reviewers note that the stainless steel spoon rest is sturdy. Use it longways for one spoon, or turn it sideways to hold more than one utensil at a time. It's also dishwasher-safe for easy cleanup.
Promising Amazon review: "Love that it doesn't move!! Really helpful when trying to cook multiple dishes at once. Easy at the end of the night to just throw in the dishwasher too...great buy!"
2. This Pretty Porcelain Spoon Rest
This spoon rest from KVV is made with porcelain, a type of ceramic known for its durability, strength, and delicate look. Reviewers have attested that this spoon rest, which measures 9.3 inches long and 5 inches wide, is spacious and sturdy. One reviewer wrote that "the spoon portion is so large that it can handle 2 - 3 utensils," and another reviewer confirmed that it's wide enough to fit spatulas. It has a traditional ceramic foot rather than a nonslip bottom, but users describe it as "sturdy" and "heavy." Choose from three dishwasher-safe colors: blue (pictured), gray, and a white-speckled version.
Promising Amazon review: "Very nice! [...] Great quality, beautiful color. Larger than I thought, and It easily holds 2-3 spoons."
3. A Compact Wooden Spoon Rest
Described as "beautiful and functional" by one reviewer, this acacia wood spoon rest is super durable and has even been designated as "non-breakable" by the manufacturer. Of the options on this list, it's the smallest — just 4.7 inches by 4.5 inches in size — and is just designed to hold just one utensil at a time. But, according to one reviewer, it's versatile in the types of utensils it can hold: "Large spoons, tongs, spatulas rest very well in between use. [...] Perfect size. I love it!"
The silicone feet prevent slips and scratches, while the lacquer coating protects against damage. And, while it's not dishwasher-safe, you can clean it by hand. The manufacturer recommends rubbing olive oil on it to ensure its longevity. (Beechwood and ash options are also available.)
Promising Amazon review: "This spoon rest is exactly what I was looking for. I tried several before settling on this one. Large spoons, tongs, spatulas rest very well in between use. Blends well in my kitchen. Perfect size. I love it!"
4. This Mason Jar-Inspired Spoon Rest
Palais Dinnerware's mason jar-inspired spoon rest adds a whimsical touch — and a vibrant pop of color — to any space. The ceramic spoon rest measures 7 inches in length and 5.5 inches wide, and one reviewer described it as "large enough for 2 or more utensils." Some reviewers have noted that the bottom surface of this spoon rest is unglazed, so it might be worth considering an option that features nonslip grips if you have delicate countertops. However, it's dishwasher-safe and available in bright aqua (pictured) and red.
Promising Amazon review: "I leave this on my stove as our spoon dish and it does the job! It has yet to chip or break which is an extra plus for me! Super cute as well."
5. A Marble Spoon Rest With A Modern Look
This chic handmade spoon rest is made with high-quality marble, which the manufacturer describes as dishwasher-safe and safe to use with hot utensils. Reviewers appreciate how heavy the 8-inch-long, 3.5-inch-wide spoon rest is — its weight combined with padded dots on the bottom surface prevent it from moving around or scratching your counters. One reviewer raved, "Large enough for multiple utensils at a time if needed and feels like it will last a life time." While it's not dishwasher-safe, you can easily wipe it clean. Not a fan of the onyx marble? You can also snag it in white.
Promising Amazon review: "Bigger than I had anticipated, but in a good way. Very heavy, easy to wipe down. It has little pads on the bottom so it doesn't scratch my stovetop. Love it!"
6. This Playful Ceramic Spoon Rest
This ceramic spoon rest features charming cursive writing — plus, it's scratch-resistant, according to its manufacturer. While it clocks in at 8 inches long and 3.9 inches wide, reviewers have reported that the spoon rest is best for holding one utensil at a time. While the manufacturer doesn't specify if this spoon rest has any kind of protective grips on the bottom, one reviewer described it as "very heavy [...] it doesn't move around on my countertop." When it's time for a cleaning, simply throw it in the dishwasher with the rest of your utensils.
Promising Amazon review: "Seriously love this little guy! Spent so much time looking for a cute spoon holder and this did not disappoint. Perfect size to fit big and small spoons, don't have to worry about it melting and it matches perfectly on my black stove. Highly recommend."
7. A 3-In-1 Ceramic Spoon Rest
This hand-painted ceramic spoon rest from Kreative Kitchen can comfortably hold up to three utensils at once thanks to its practical design and large size (it's roughly 11 inches long and 7.8 inches wide, according to one helpful reviewer's measurements). One fan called it "so much prettier in person," and another raved: "Useful and a decorative piece. Beautifully made, easy to clean." Not only is it lovely to look at, it's dishwasher-safe, too. The manufacturer doesn't specify if this product has nonslip feet, but it does offer to refund or replace the spoon rest if you're not happy with it.
Promising Amazon review: "I really like this spoon rest. Looks great. We have a small kitchen with limited counter space, so we keep it right on the stove behind the burner and pan. So far no issues."
8. This Silicone Spoon Rest For Up To 4 Utensils
With more than 14,000 Amazon ratings and a 4.7-star rating overall, this slotted utensil mat is a clear fan-favorite. The square spoon rest measures 5.25 inches on each side and is designed to hold up to four utensils at once. It's made with heat-resistant, dishwasher-safe silicone that's available in more than a dozen colors. Reviewers have also noted that this spoon rest is great for avoiding cross-contamination when cooking — for example, if someone in your home is vegetarian, dairy-free, or kosher.
Promising Amazon review: "Great product! Easy to clean. I like that we can use it for multiple utensils compared to a normal spoon rest holding just one at a time. Would recommend this product to anyone."