The 4 Best Squirrel-Proof Bird Feeders, According To Reviewers
We only recommend products we love and that we think you will, too. We may receive a portion of sales from products purchased from this article, which was written by our Commerce team.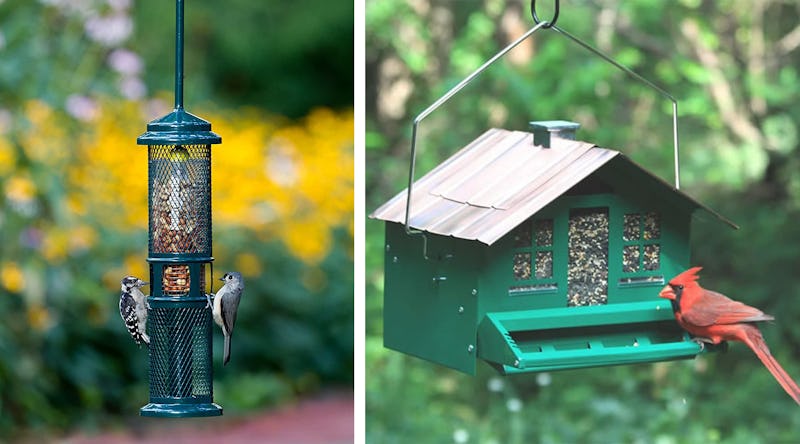 Amazon
A good feeder will lure neighborhood birds in and keep them coming back — as long as pesky squirrels don't gobble up the seed. Luckily, the best squirrel-proof bird feeders use weight limits and ingenious hacks to keep squirrels at bay, without blocking the birds from accessing their meal.
You want to keep in mind the types of birds you're trying to attract. If you tend to get smaller species, like swallows, in your yard, you may want to go with a weight-restricting feeder or a caged bird feeder that has small enough spaces for birds to slip through, but not squirrels. On the other hand, if you're looking to attract larger birds, like woodpeckers and cardinals, you may want to opt for feeder that can hold larger chunks of nuts and seed while still managing to keep the squirrels away.
Keep in mind how many birds you tend to get in your yard — the size of the bird feeder, how much feed it can hold, and the amount of perches and feeding holes are all subject to your birds' specific needs.
If you aren't sure which feeder is best for your yard, I've got you covered. Here's a round-up of some brilliantly-designed bird feeders to choose from.