The 11 Best Squishmallows
Add these squishable picks to your collection.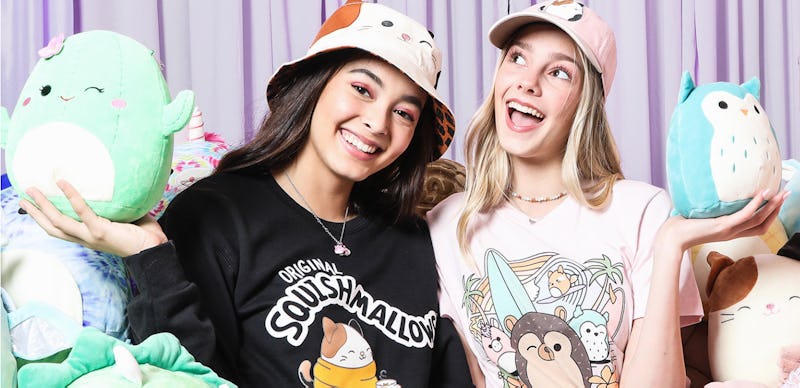 Amazon
We may receive a portion of sales if you purchase a product through a link in this article.
The allure of Squishmallows isn't just something kids understand. The best Squishmallows feature ultra-soft materials, adorable creature designs, and an irresistible, squishy, marshmallow-like texture, so it's not hard to see why adults are obsessed, too. To find your next fave, think about which types of character(s) you'd most love to have in your collection, as well as the size that you prefer.
There are over 1,000 Squishmallows available — yes, you read that right — so to narrow down your hunt, think about these factors:
Characters: Squishmallow characters fall under various themes (and they're often organized into "squads"), including animals, fruits, fantasy creatures, sweet treats, and more. There are even Squishmallow versions of characters from some of your favorite movies and shows.
Size: The size of Squishmallows varies greatly, so pay close attention to this when purchasing one. The smallest Squishmallows are just a few inches for easy carrying (some are even attached to a key chain that you can hook on a bag), while the biggest (and cuddliest) picks can be more than a foot tall. Many people use larger Squishmallows as pillows, so think about whether you'd a larger one for lounging.
One important note: Did you know that you should never put your Squishmallow in the washing machine? Instead, spot-clean them with a damp cloth to avoid ruining the stuffing.
Shop The Best Squishmallows
In a hurry? Here are the top picks for the best Squishmallows:
Grow your Squishmallow squad with these 11 delightful additions — you can't go wrong with any (or all) of them.
1. A Fan-Favorite Disney Squishmallow
The next time you have a Disney movie marathon, you'll be glad to have this Goofy Squishmallow on hand to give a tight squeeze. And you're not alone — this popular pick boasts a near-perfect star rating on Amazon after over 4,000 reviews. The Squishmallow features Goofy's signature floppy ears, two-tooth grin, and droopy green hat. Daisy Duck, Donald Duck, Dumbo, and Pluto are also available to add to your crew.
One Reviewer Wrote: "Never squished a squishmallow before I bought Mister Goofy for my 2 year old niece, but as soon as my husband and I got to squish one we needed some of our own! I'm betting that within a year the bed will be 100% squishmallow. [...]"
Size: 14 inches | Characters: Goofy, Daisy Duck, Donald Duck, Dumbo, or Pluto
2. The OG Squishmallow
The first Squishmallow ever released, any fan of the brand surely needs Cameron the Calico Cat as a member of their squad. The classic cat's smiley expression will melt hearts. And the petite eight-inch pick can be carried around with ease.
One Reviewer Wrote: "I got this for a friend who owns cats and she loved it! Very soft and plush, would buy again!"
Size: 8 inches | Character: Cameron the Calico Cat
3. A Mystery Box With 5 Little Squishmallows
While you don't know which five of these 5-inch characters you'll receive in this Squishmallows mystery box, one thing is definitely true — they'll all be adorable and ready to hug. This pick is a fun idea to grow your own personal collection or gift to a friend.
One Reviewer Wrote: "Wonderful product. Squishmallows [were] soft, hand held size, and real! This is a perfect collectors surprise gift. Came packaged nicely and not squished together!"
Size: 5 inches | Character: Random
4. A Large Cheeseburger Squishmallow With All The Toppings
He might feel like a marshmallow, but this deliciously adorable Squishmallow looks like a cheeseburger. Named Carl, he features a hamburger patty topped with all of the fixings … tomato, lettuce, and of course, cheese. Pair him with the Squishmallow french fry (named Floyd), and you'll have a complete fast-food family.
One Reviewer Wrote: "This burger is absolutely perfect! Big, soft, squishy, and cute as a button. My teen son loved it and I'd definitely buy it again."
Size: 16 inches | Character: Carl the Cheeseburger
5. A Stackable Squishmallow
This sweet squirrel is a member of the Squishmalllows stackable collection, so she is longer with a near-flat top — which allows you to place multiple characters on top of one another (check out the equally adorable seal or bunny that are also available in the same listing for a toy tower. Named Sydnee, this squirrel is lavender in color, and she beams with happiness.
One Reviewer Wrote: "Love the stackables and the color is pretty [...] Wonderful addition to my bed squish pile."
Sizes: 12 or 20 inches | Characters: Odiles the Seal, Sydnee the Squirrel, or Rima the Bunny
6. A Mystery Axolotyl Squishmallow That's Scented
This mystery bag contains one of six sweetly scented axolotl Squishmallows measuring eight inches tall. Characters include Caslina, Ally, Aika, Caprina, Avana, and Gawa, which vary widely in color and pattern. Note that reviewers reported these are "very fragrant."
One Reviewer Wrote: "Great as presents but also as a quick neck pillow!"
Size: 8 inches | Characters: Varies
7. A Squishmallow That's Part Bunny Part Unicorn
When bunny meets unicorn, you get Legacy the Bunnycorn. A member of the fantasy squad collection, Legacy features a gold horn, the floppiest of ears, and a shimmery pink-speckled belly. She's popular on Amazon — rocking a 4.8-star rating overall after 700-plus reviews — one reviewer described her as "the cutest Squish ever!!"
One Reviewer Wrote: "Let's Just Say I Have A New Best Friend [...] This just might be the most adorable little squishmallow ever. I love her so much. Her name is Legacy."
Size: 12 inches | Character: Legacy the Bunnycorn
8. A 14-Inch Kiwi Squishmallow For Just $20
With a price tag of just $20, the kiwi Squishmallow is definitely a good deal — particularly because it is 14 inches in size for plenty of squeezing and squishing. Named Kachina, this kiwi is green and brown in color, and she displays an endearing smile to brighten your day.
One Reviewer Wrote: "Came perfectly soft and fluffy. Was a great gift to give to a friend and a very reasonable price for a squishmallow this size!"
Size: 14 inches | Character: Kachina the Kiwi
9. A Panda Squishmallow
This Squishmallow panda might just become your new best friend. Named Stanley, the panda is black and white with a big-eyed expression to capture your attention. He's oh-so-cuddly with one fan remarking, "I didn't know stuffed animals could be this soft."
One Reviewer Wrote: "So cute and soft!! [...] I got this as a gift for my fiancé because he loves pandas. It's just as soft and squishy as the big ones and came in perfect condition!"
Size: 8 inches | Character: Stanley the Panda
10. A Squishmallow That's Designed For Hugging
With its wide open arms, this Squishmallow owl is inviting you to give it a hug — and I don't know about you, but I'd happily oblige. Named Winston, the 10-inch pick is part of the hug mees collection that includes a variety of other adorable creatures including an owl, lemur, and duck. Once you get your hands on one of them, it'll be near-impossible to not buy them all.
One Reviewer Wrote: "Cute as heck [...] Bought for my daughter, she loves stuffed animals, but this was the best squishy ever!"
Sizes: 5, 10, or 14 inches | Characters: 7 options including Avery Duck, Raina Penguin, and Cherish Elephant
11. A Cupcake Squishmallow For Your Sweet Tooth
This cupcake Squishmallow is cute as a button. Her name is Diedre, and she features the most delightful details like pink frosting, rainbow sprinkles, and a blue wrapper. And that smile? Well, let's just say she's too sweet to eat.
One Reviewer Wrote: "Adorable and squishy [...] I bought this for a five year old who aspires to be a baker. I was really happy to find this Squishmallow style when searching. It's perfect for the giftee, definitely 14" plus, well stuffed and well made."
Size: 14 inches | Character: Diedre the Cupcake
Also Nice: A Squishmallow Key Chain
Want to always have your Squishmallow with you? Then you must scoop up this tiny squishy character that's conveniently attached to a clip — hook it onto your purse, or backpack. Its 3.5-inch size makes it petite enough to not get in the way. Choose from an abundance of character options, including this bright rainbow fox.
Size: 3.5 inches | Characters: 40 including Xenia the Fox, Denton Chameleon, and Fania Owl