The 4 Best Tabletop Radios That Look & Sound Good
We only recommend products we love and that we think you will, too. We may receive a portion of sales from products purchased from this article, which was written by our Commerce team.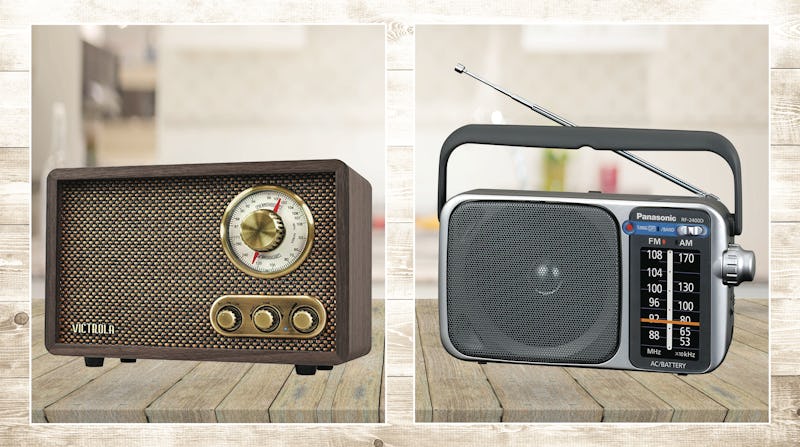 Amazon / Bustle
When you simply want to listen to the radio, the best tabletop radios have intuitive controls and an attractive design. Most options plug into wall outlets for stationary use, though you can find battery-operated radios to use on the go if needed, too. And while old-school analog radios are classic for a reason, many radios come with an assortment of digital features, such as the ability to stream music wirelessly — so you'll need to decide which ones matter most to you.
If you're in search of a retro-look radio, an analog-style model is likely calling your name. For a true old-school experience, look for radios controlled via tuning dials that feel satisfying to turn. Style is everything when it comes to this type of radio, so keep an eye out for attractive details like a smooth wood finish and streamlined shape.
On the flip side, there are also digital radios that look more modern. These radios may have some analog-style features, like knobs to control the volume, but they also tend to have button controls for conveniences like station presets, along with other extras like a digital display, built-in alarm clock functionality, and remote controls. More portable, battery-powered radios may not be as attractive or as full of features like many tabletop radios, but they'll let you carry them around while still fulfilling the basic radio function.
No matter which style you go for, consider any additional features that may come in handy for you. Some radios can be plugged into an amplifier, cassette player, or other recording device so you can record what you're listening to, and some may even double as Bluetooth speakers. Regardless of which digital features a device offers, the best models also usually include ports for other audio devices and accessories such as headphones, speakers, and MP3 or CD players.
Ready to tune in? These four tabletop radios have got you covered.
1. A Simple Analog Tabletop Radio
Backed by over 3,700 Amazon reviews and a 4.6-star overall rating, this analog radio from Sangean is an attractive vintage-style piece you'll be proud to display in any room. The radio comes with a walnut-veneer finish and has a rectangular build that won't overwhelm side tables or nightstands. The design is streamlined and uncomplicated, with just three dials for tuning, volume, and switching between FM/AM bands. There's also an easy-to-read tuning display and a handy LED indicator on the tuning dial. Plus, the band indicator will let you know where you've landed.
It also offers an input for audio players like smartphones, as well as a headphone jack and external antenna terminal. If you like to make mixtapes, the WR-11 also provides users with the option to record audio via the REC Out port. The radio is powered by plugging into a wall outlet.
Depending on your aesthetic preferences, you can choose to purchase this radio with either a tan or gold face. It's also available bundled with a matching vertically-oriented tabletop radio.
Positive Amazon review: "This is a beautiful item that sounds as good as it looks. It makes a great addition to any room or office. The build quality is excellent. The knobs turn smoothly but are not loose. The materials have a tactile quality that makes them easy to grip. The receiver picks up signals from distant radio stations much better than my cheap clock/radio. I did not need to attach the external FM antenna. The sound is also excellent for such a small speaker."
2. A Retro-Look Radio That Doubles As A Bluetooth Speaker
This Victrola Bluetooth radio, which has over 2,600 reviews on Amazon with an overall rating of 4.6 stars, may look like an artifact of the past — but it's actually Bluetooth-enabled to allow for wireless streaming from a smartphone or other device. Encased in your choice of walnut- or espresso-stained wood, this compact radio features dials for powering the radio on or off and controlling the volume, band, and tuning, as well as adjusting the amount of treble and bass to your liking. You can power it by plugging it into a wall outlet.
There's no question that this tabletop radio has a distinctive retro design, which many Amazon reviewers report is part of its appeal. If you're interested in taking your audio setup further, it is also available bundled with a Victrola record player.
Positive Amazon review: "This is the coolest radio! I'm so glad we purchased this, it looks so old and cool and the sound quality is great. I also love the fact that it has Bluetooth! A touch of innovation in a product that looks old, is so interesting and cool!"
3. A Budget-Friendly Portable Radio
If portability is your main priority, you can't go wrong with this battery-powered Panasonic radio, which has drawn over 11,000 Amazon reviews and an overall rating of 4.5 stars. It's super lightweight at only 1 pound, and comes with a convenient carrying handle for easily toting it around. This device also keeps the user experience simple with just a few dials and buttons to interact with. It has a single switch on its face to power it on or off and switch between AM and FM bands. Two dials — one to control volume, the other for tuning — on the side of the radio round out the controls. In addition, the radio has an external antenna and headphone jack.
While this petite radio runs on four AA batteries (not included), you can also operate it by plugging the included power cord into the wall for stationary use.
Positive Amazon review: "I have owned many radios in my life. Both big and small. This is the best small radio I have ever had. I like that the tuning dial has large easy to read numbers. The volume control is smooth and adequate. I usually run these on batteries [...] and I like the portability."
4. A Bluetooth Alarm Radio That's Worth The Splurge
The Sangean WR-50 is a modern digital radio brimming with features. While that means it also comes at a splurge-worthy price point, if you're a serious radio fan, there are plenty of reasons to buy in. The WR-50 plugs into a wall outlet and packs in tons of features, including 10 FM station presets or 18 FM/AM presets (nine per band), an LCD screen that displays important system information, Bluetooth connectivity for streaming from a smartphone, and controls for adjusting bass and treble, volume, and tuning. You'll also receive a handy remote control, inputs for external accessories like an MP3 player, subwoofer, or headphones, and the option to use this radio as a bedside alarm. If you're interested in the alarm functionality, you'll be glad to know this radio has a clock, two alarm timers (with buzzing or radio settings), a sleep timer, and snoozing functionality.
According to the manufacturer, this product offers superior sound compared to most radios on its own, and while many Amazon reviewers agree, it's also available in a bundle with a Sangean speaker, which is something some Amazon reviewers suggest is well worth the splurge for a full stereo system setup.
Positive Amazon review: "This radio is very attractive, provides great reception for both AM and FM and the sound quality is excellent especially considering the compact size of the device. The remote control is a very handy feature. I'm very pleased with this and you will be too."