The 4 Best Tailgate Grills, According To Amazon Reviewers
We only recommend products we love and that we think you will, too. We may receive a portion of sales from products purchased from this article, which was written by our Commerce team.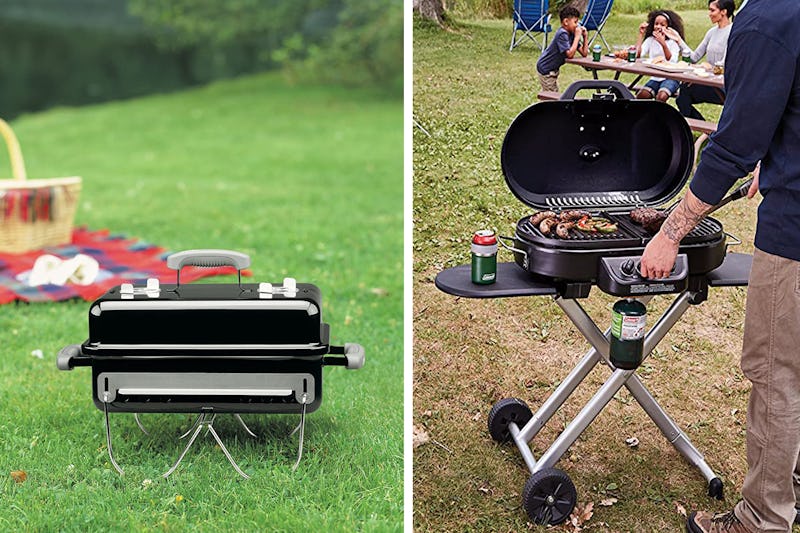 Sports games, beach barbecues, days at the park — no matter where you spend time outdoors, a tailgate grill is an essential piece of equipment. The best tailgate grills are compact models that transport easily and are designed with a variety of fuel sources to suit your grilling preference. To help guide your search, here are a few things to keep in mind as you shop:
Your grill's fuel source is a matter of preference, and propane is a clean, convenient option. Propane tanks are readily available and take up minimal space if you keep a spare. Grill manufacturers provide BTU ratings (British Thermal Units, essentially a measurement of a grill's power), and, generally speaking, grills with higher BTUs get hotter faster than ones with lower BTUs. Keep in mind, that a grill's size will also affect how quickly you can prepare the amount of food that you're grilling, simply do to the the amount of cooking space. Some purists like using charcoal to get that classic charred flavor, and you have plenty of options there, too. Just remember to take the proper precautions when it comes to fully extinguishing and disposing of hot coals to prevent dangerous situations or fire.
You can find tailgate grills that are raised on legs, which should work on most stable surfaces, or tabletop models without legs that sit directly on sand, pavement, or heat-proof tables. Accessories such as fold-down prep surfaces, interchangeable cooktops, and rolling carts are bonus features, so decide which, if any, are important to you. Lastly, consider the weight of the grill when shopping, as any grill you choose should be one you're able to easily lift and carry.
Wherever you take them, the best portable grills make it easy to get outside and cook with friends.