The 4 Best Tamale Steamers
We only recommend products we love and that we think you will, too. We may receive a portion of sales from products purchased from this article, which was written by our Commerce team.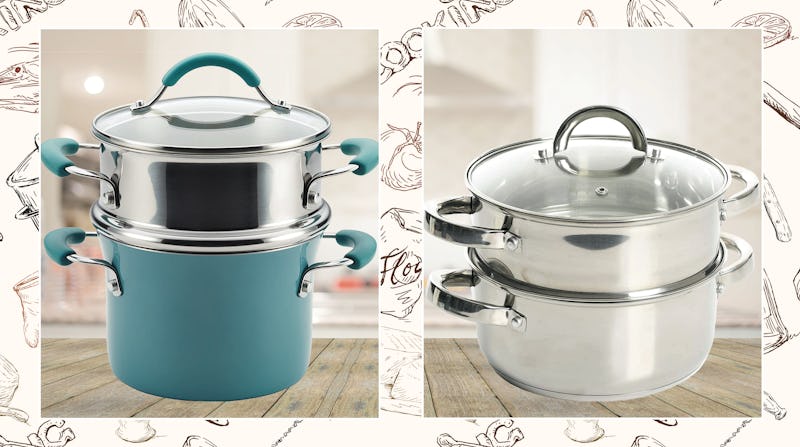 Bustle/Amazon
Whether you fill your masa with meat or cheese and beans, tamales are a seriously comforting and delicious meal. The best tamale steamers are large pots made of stainless steel with steamer inserts that easily heat up a dozen or more tamales. And if you regularly eat tamales for dinner or make it a family affair around a holiday, there's a steamer in the right size for you here, too.
Materials
A stainless steel tamale steamer is the most reliable choice for its durability and nonreactiveness with acidic ingredients, plus it's dishwasher safe. Stainless steel on its own doesn't have great heat transfer and distribution, which is fine if you're just heating up water to steam tamales, but if you want to cook more in this pot, consider upgrading to one with an aluminum core for even heat distribution. For a more affordable pick, aluminum pots are lightweight with excellent heat conductivity. Though they may react with acidic ingredients like tomatoes or lemons, they're fine for just steaming tamales, though keep in mind aluminum is not dishwasher safe.
Size
As a guide for finding your right fit, a 3-quart pot holds about a dozen tamales, and a 32-quart pot easily steams up to 120 tamales. For somewhere between those two sizes, a 12-quart pot holds about 34 tamales. It's also worth noting that while the picks below are excellent for steaming batches of tamales, their versatile designs lend themselves to cooking all kinds of things, like pasta, stew, chili, steamed vegetables or dumplings, and more.
Features
For steaming tamales, you're essentially shopping for a stockpot with a perforated steamer basket or insert designed to sit above the rim of the pot itself, so it's easy to lift out when the tamales are ready. You'll appreciate any pot with stay-cool handles. A tight-fitting lid is essential for evenly steaming the tamales inside the pot and cooking them more quickly, and a glass one will make it easy to see inside at a glance.
Now, here are the best tamale steamers, plus a couple of must-have ingredients for your next tamalada.
1. The Overall Best Tamale Steamer
For steaming tamales and more, consider this 12-quart stockpot and steamer set with two steaming inserts. The stainless steel pot has an aluminum inner core for even heating, on top of all the advantages you get with cooking with stainless steel. This versatile pot is compatible with all cooktops, including induction, and it's safe to use in the freezer, broiler, and oven up to 550 degrees Fahrenheit.
The tight-fitting lid and pot come with two inserts: a deep steaming insert that can hold about 34 tamales (or easily cook pasta and function as a colander), and a smaller steamer basket that's sized for steaming vegetables, shrimp, dumplings, and more. Both the large steamer insert and the stockpot have riveted stainless steel handles that stay cool while cooking and the steamer basket has a swinging handle that folds out of the way to fit under the lid. The pot's tapered rim allows for drip-free pouring, too. The only downside here is that the lid isn't glass, so visual check-ins won't be easy unless you lift it and peek in. That said, this versatile pot maintains a 4.7-star rating with over 2,000 reviews on Amazon.
A helpful review: "I purchased this item to make my tamales in...it features a deep steamer insert that is perfect for tamales. I made about 3 dozen tamales that filled up this insert. They turned out perfect. Anxious to use the smaller insert for veggies soon. The lid is stainless and fits tightly...beautiful finish on the stockpot and lid...very heavy duty, quality product...would recommend."
2. The Best On A Budget
With over 10,000 reviews on Amazon, this is the best tamale steamer for steaming up to a dozen tamales at a time. This 3-quart pot is made of stainless steel and is dishwasher safe, though the manufacturer recommends washing it by hand.
The steamer insert comes with wide handles that don't stay cool (so be sure to have oven mitts or a dish towel on hand) thatcan be easily lifted out of the pot when steaming tamales, and the tight-fitting lid is made of vented tempered glass that allows for monitoring while cooking. You can also use the pot and lid on its own as a Dutch oven, or make a one-pot meal by cooking a grain in the bottom pot and steaming vegetables in the insert. Keep in mind this affordable pick isn't compatible with induction cooktops.
A helpful review: "I needed a pot like this to warm up tamales I buy on the street from my favorite vendor and freeze for days when I don't make it to her stand. But, I started using it for steaming vegetables while cooking rice below. It's perfect! Love this pot!"
3. The Best For Large Batches
For some, tamales are party food, and to serve a hungry crowd you'll need a huge steamer. This 32-quart aluminum pot comes with a matching steam rack and lid that hold up to 120 tamales. It's an affordable pot for its size and essential for dozens of holiday tamales. Plus, the pot's riveted handles conveniently stay cool while cooking. Keep in mind this one is not compatible with induction stovetops.
If you love the idea of a 32-quart pot for making tamales, but prefer a more premium material, this stainless steel option boasts a 4.7-star rating.
A helpful review: "I make tamales a lot. I used to steam them in my soup pot, but only could steam like two dozen at a time. This pot is huge. I just made 6 dozen tamales and they all fit. Also the water reservoir - due to being such a big pot means you no longer have to concern your self with the water level. [...] Keep in mind this pot is very large - I have to store it on top of the refrigerator as it doesn't fit in my cabinet."
4. The Most Stylish Tamale Steamer
Here's a pot with a steamer insert that has a little more flair than other options. This 3-quart aluminum pot has an enamel exterior in light blue with matching stay-cool, soft-grip material covering the handles on the lid, insert, and pot.
The steamer basket is made of polished stainless steel and the combination is oven-safe up to 400 degrees Fahrenheit. The pot's glass lid is tight-fitting and shatter-resistant, and this pot works on all stovetops except for induction. This highly rated pot with nearly 1,000 reviews also comes in red.
A helpful review: "I wanted a small steamer to Occasionally make tamales. This one did the trick. I love the hue of blue as well. [...]"
Nice To Have: High-Quality Masa Harina
Bob's Red Mill is known for its high-quality whole grains and flours, and their masa harina comes in this conveniently resealable 22-ounce bag. Made from nixtamalized corn (corn soaked in limewater), this is an essential tamale ingredient that can also be used to make tortillas, pupusas, and more. With a 4.7-star rating and nearly 1,000 reviews, shoppers consistently note the quality of this flour.
A helpful review: "Purchased these to make tamales at a little tamale party with friends. It was a 'bring your own masa' gathering, so we had several types of masa there. I think the Bob's was the most popular and easiest to work with."
Also Great: A Pound Of Corn Husks
Corn husks are another essential tamale ingredient, and with this 1-pound bag of corn husks you'll be set to wrap about 4 dozen tamales. They're wide, so wrapping the husks around the masa filling is easy.
A helpful review: "The majority were large, and when I was done making a little over 4 dozen, I still had a bunch left over. I just used the half width or less pieces to tie my tamales. Overall, I'm super satisfied and will be ordering these for my next batch."