The 3 Best Travel Steam Irons For Unwrinkling Clothes On The Go
We only recommend products we love and that we think you will, too. We may receive a portion of sales from products purchased from this article, which was written by our Commerce team.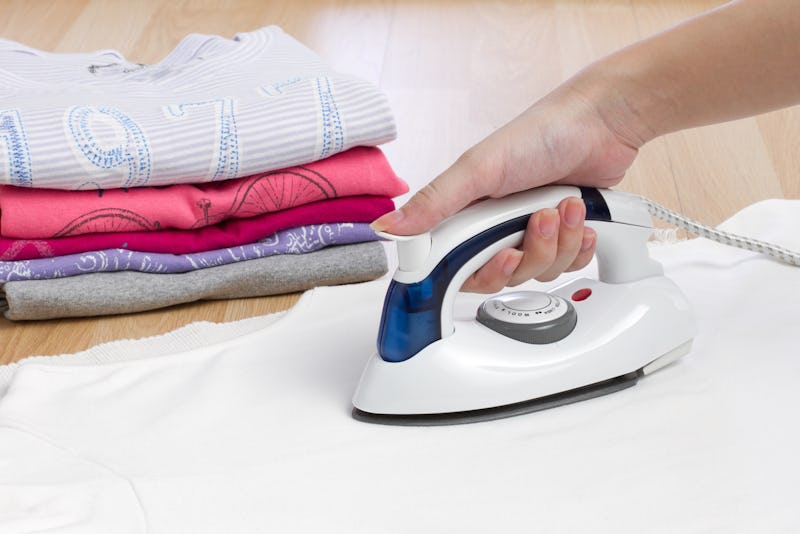 Venus Angel / Shutterstock
Living out of a suitcase is part and parcel of traveling — and unfortunately, so is dealing with wrinkled clothes. That's where a travel steam iron comes in handy. The best travel steam irons are lightweight (clocking in at a little under 2.5 pounds), won't take up too much room in your bag, and feature dual voltage so that you can use them practically anywhere.
Travel steam irons have similar features to the standard steam iron you'd use at home. As you shop, you'll come across a variety of soleplate materials (the part that comes in contact with the fabric) — popular options include ceramic, stainless steel, and soleplates with nonstick coating. Depending on the model, uncoated stainless steel and ceramic might glide over fabric better, but there are great nonstick options as well. Any travel steam iron you choose should have multiple heat settings to help you avoid accidentally burning delicate fabrics.
Generally, the higher the wattage of an iron, the more heat and steam it can produce. While full-size steam irons typically clock around 1,200 to 1,400 watts, smaller models tend to have lower wattages. The options on this list range in wattage from 420 to 1,000 — this might not be enough power to quickly unwrinkle thick fabrics like denim, but reviewers have attested that they still work well. Ideally, an iron should heat up within a few minutes, but you can find irons that can do so in as little as 15 seconds if you're in a rush.
Since you don't often know what your space will look like until you arrive at your destination, you'll want to look at the power cord, too. The best options come equipped with a power cord measuring around 8 feet long, so you have enough room to work even when outlets are limited.
Ahead, you'll find three travel steam irons to accompany you on the fly, as well as a travel steamer, just in case you land yourself somewhere without an ironing board. (No matter the model you choose, don't forget your universal outlet adapter!)
1. The Overall Best Travel Steam Iron
Dimensions: 8.6 x 3.9 by 4.9 inches
Weight: 1.5 pounds
This dual-voltage travel steam iron isn't the lightest or smallest option out there, but it's a great one if you want a model with plenty of power and a stainless steel soleplate in a compact package. The 1,000-watt iron has a tapered nose with 200 steam holes located along the perimeter of the soleplate. It features a dial to adjust between three heat settings and a "Burst-of-Steam" button. As for heating time, the manufacturer states that users should allow two minutes for the iron to heat up. Its handle even folds flat so you can easily store the iron in its included travel bag and pack it in a suitcase.
The 8-foot power cord is convenient when outlets are far and few between, and if there is no ironing board in sight, it works as a vertical steamer, too. Some reviewers have written that the iron isn't as effective when used as a steamer, but it does the job (albeit more slowly) when you're left in a pinch.
One reviewer wrote: "Best little iron out there [...] It has a nice long cord, which you need for traveling, since you never know where the outlet will be. It's very compact and provides lots of steam. Works great! Just remember to push the 'Push' button to put the handle down."
2. A Compact Steam Iron That Heats In 15 Seconds
Dimensions: 5.3 x 2.9 x 3.1 inches
Weight: 0.96 pound
With over 12,000 five-star ratings, this small steam iron has won over the hearts of many a jet-setter. At less than a pound, it is small and light enough to pack into your suitcase or inside a carry-on. One thing many reviewers have appreciated, though, is that the 420-watt iron manages to heat up in 15 seconds — a manufacturer claim that has been confirmed by reviewers, including one who estimated, "This iron is hot by the time I'm ready to use it. Maybe 10 seconds!" Another fan wrote, "This is a mini iron and heats up fast (in 15 seconds)!"
Like the other models, you can use it dry or set it to the steam function. It features a soleplate with a nonstick coating, a 7.5-foot power cord (just a few inches shy of 8 feet), and three preset temperature settings to help you tackle a wide variety of fabrics. The iron comes with its own travel bag, and is designed with dual-voltage for international outlets.
One reviewer wrote: "Bought this for travel & also for craft projects [...] Worth every penny! Gets HOT fast, super convenient for travel and fits into small spaces. My only warning would be to empty the water from the unit before storing."
3. A Cute Travel Steam Iron With A Trivet
Dimensions: 10 x 5 x 6.5 inches
Weight: 2.2 pounds
If you have room in your suitcase for a larger model, check out this dual-voltage travel steam iron, which comes with a silicone pad, where you can rest your iron while it is running. It offers 1,000 watts of power to get wrinkles out of stubborn clothing, and the model features a ceramic soleplate. There's a dial to adjust the heat between three settings, and it also has a "One-Press Steam Control" button to emit a powerful blast of moisture for the toughest of creases. The iron heats up in about 45 seconds, and the 8-foot swivel cord allows you to use the iron seamlessly in either hand. If you're not a fan of this purple version, you can snag the iron in blue, yellow, or pink.
One reviewer wrote: "I took a risk in ordering this mini-iron, sight unseen, and have been so pleased with it! It is adorable...so easy to use, and easy to store. I mainly purchased this iron for my crafting, however it has become a perfect travel size iron for use in our RV. Highly recommend this nifty little iron....comes with its own cradle, which with a quick flip over, becomes its own little heat protectant pad."
Also Great: A Dual-Voltage Travel Steamer
Dimensions: 4.5 x 4.5 x 9.5 inches
Weight: 1.2 pounds
If you find yourself somewhere an ironing board is unavailable, a travel steamer can come in as a convenient alternative. This model weighs 1.2 pounds and features a foldable handle and cylindrical shape which you can easily squeeze into a small carry-on. The 8-foot-long power cord is also convenient in situations where there's a lack of outlets. With 450 watts of power and a runtime of about 10 minutes, it is especially ideal for lightweight fabrics. The steamer doesn't feature a power button, but emits a continuous stream of steam soon after it is plugged in.
Aside from its compact size, it still has dual-voltage capabilities, which allows you to take it on international travels. If you aren't traveling outside the U.S., though, this highly rated steamer may serve you better. It's lightweight, runs continuously for 15 minutes, and has 700 watts of power to bust wrinkles effectively, plus a 9-foot long power cord — all for a few dollars less.
Positive Amazon review: "I will never travel again without this steamer. It is takes up little room in my luggage and in a few minutes I can look completely pressed and fresh. On a recent 13 day trip which included time on a cruise where irons are not readily available, I used the steamer with both voltages and noticed no difference in operation. In a far fewer minutes than using an iron, the steamer produced superior results (three to four minutes total for both the shirt and pants). Two women in a closed group remarked on different occasions that I my clothes were amazingly neat. One guessed that I had a steamer, but the second one wondered how I could pack clothes and not have wrinkles like everyone else."