The 4 Best Vacuum Storage Bags To Make The Most Of Your Space
We only recommend products we love and that we think you will, too. We may receive a portion of sales from products purchased from this article, which was written by our Commerce team.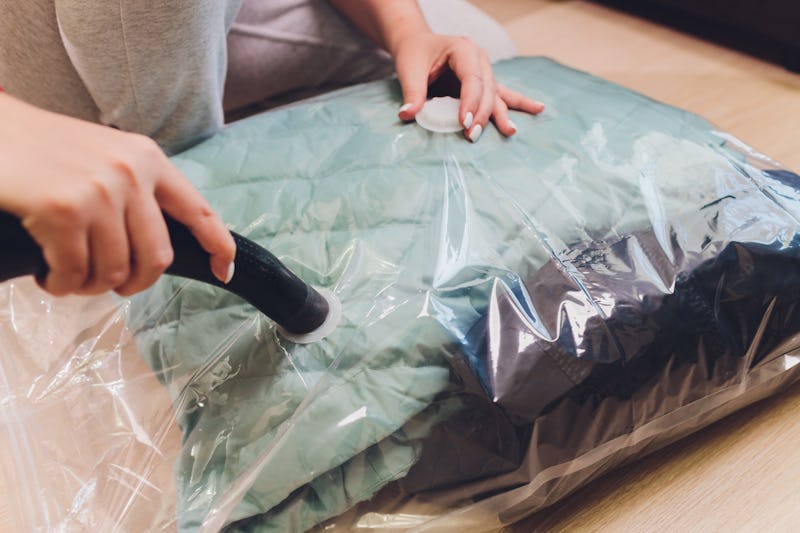 Vershinin89 / Shutterstock
When you're looking to store bulky bedding in a closet or squeeze more clothing into your suitcase, the best vacuum storage bags are made from thick, durable plastic with a heavy-duty double zipper seal and an airtight valve to ensure they won't rip or bust open as you use them. Vacuum storage bags come in many different sizes in order to fit everything from small items like clothing and thin linens to jumbo-size items like winter coats and bulky comforters. You can usually buy them in sets with one size only or multipacks with a few sizes to choose from, so consider the size of the items you need to store and choose the most suitable option accordingly.
Most vacuum storage bags utilize the suction hose on a vacuum to quickly and easily remove air from around your stuff, compressing the bag to a much smaller size, but if you're using your storage bags for travel, look for ones that can be used with a compact hand pump (sometimes included with the vacuum bags) or opt for a bag that rolls to get rid of excess air, rather than a traditional vacuum bag. If you're tight on space in your closet or wardrobe, some vacuum storage bags are actually designed to be hung on a rod thanks to a hanger hook at the top. Hanging bags with several tiered loops inside of them will allow you to easily hang multiple items in each one.
These four vacuum storage bags all have rave reviews on Amazon, with reviewers confirming that they're sturdy, durable, and — most importantly — effective at compressing the items that are stored inside. These picks cover a variety of sizes, so you'll totally be able to find the appropriate options for your stuff.
1. A Pack Of Fan-Favorite Vacuum Storage Bags
With an incredible 37,000 and growing reviews on Amazon and a 4.4-star rating overall, these vacuum storage bags from Spacesaver are highly regarded on the site, and reviewers report they're effective at maximizing storage space. The manufacturer claims the bags can reduce the volume of items stored inside by up to 80%! They're also super durable since they're made from a thick plastic material and seal with a sturdy double zipper.
The storage bags are also super simple to use. Once your items are sealed inside, you simply suck out the air using any standard vacuum. This pick includes a compact hand pump that you can utilize while on the go, too. The triple-seal valve is designed to get every bit of air from the bag.
Choose from Small, Medium, Large, and Jumbo size options, or a variety pack with different sizes as well. Spacesaver advises that the Small size can fit around six to eight sweaters, Medium can fit eight to 10 sweaters, Large can fit 10 to 12 sweaters or one pillow, and Jumbo can fit a queen-sized bedding set or four pillows.
Enthusiastic Amazon review: "Love this product and can't believe I waited so long to buy this. Right now with the summer heat I have been trying to find the best solution for all my winter comforters/blankets/throws and these bags have been a miracle. We have a huge fuzzy winter comforter that is tucked away perfectly now and completely air tight sealed so I don't have to worry about anything happening to it. These bags have given so much free space in my home I would for sure recommend this product to anyone trying to save up some space."
2. A Budget-Friendly Set Of Vacuum Storage Bags
While this bulk set of vacuum storage bags from Simple Houseware is a bargain at under $30, the quality is totally there. But don't just take my word for it; Amazon reviewers are thrilled with this pick, too, hence the solid 4.3-star rating overall they give it on the site, after more than 16,000 reviews.
The vacuum storage bags are made from sturdy, clear plastic with a double seal zipper closure that's airtight and waterproof. Suck out the air using any vacuum cleaner, and you'll find that the volume of your items can be reduced by up to 80% (according to the manufacturer). This pick doesn't come with a hand pump, though it can be used with one.
This particular set comes with 15 bags in four different sizes (two Jumbo, five Extra Large, four Large, and four Medium). However, this pick is also available in other budget-friendly sets with all Jumbo, Extra Large, or Large bags, and even a set with both Extra Large and Large bags.
Enthusiastic Amazon review: "Excellent quality, great price and excellent storage capacity. I was hesitant to purchase these but when they arrived I couldn't have been happier with my purchase. I packed them full of stuff and they all sealed well and were of better quality than I could have ever expected!"
3. A Pack Of Gigantic Vacuum Storage Bags
Measuring 47 by 35 inches per bag (uncompressed), you'll be seriously shocked by how much you can fit in these vacuum storage bags from Vacwel. Reviewers on Amazon indicate that they've been able to utilize the set of three bags for everything from multiple bulky comforters to even an entire closet's worth of clothes during a long-distance move (yes, really).
The bags are made from an ultra-durable plastic material, and the dual zipper ensures they won't bust open even when packed to the brim. Use any vacuum cleaner with a standard nozzle to remove the air from the bags — the manufacturer claims that you can expect up to a 75% reduction in volume. While this pick doesn't come with a hand pump, it can be used with one.
Enthusiastic Amazon review: "These bags are HUGE!! I was able to fit 2 comforter sets in one bag and still had plenty of space left. I love how the bag shrank to being almost flat. With 3 bags in this order, I can vacuum seal all my comforters."
4. A Set Of Hanging Vacuum Storage Bags
If you need to store jackets, sweaters, suits, or other hanging clothing items, these vacuum storage bags from TAILI are the perfect solution, since they're designed to hang directly on a rod. The sturdy plastic bags each feature a hanger hook at the top that rotates 360 degrees, plus five loops within each bag that allow you to hang multiple items. The double zipper seal will keep moisture and critters away from your stuff, while the one-way suction valve ensures a good, airtight seal. This pick is compatible with any standard vacuum cleaner, and it doesn't come with a pump.
This set comes with four vacuum storage bags — two are 53 inches long, while the others are 41.3 inches long. Choose from three color options — clear, blue, or white.
Enthusiastic Amazon review: "I LOVE THIS SO MUCH!Every time when I straighten my closet, I am very desperate, because I can't save more space from my closet. There are too many bulky coats and out of seasonal clothes in my closet. I needed more space to [store] my clothes. After searching for solutions and finally decided that these hanging bags were my best choice. After using them, they work [successfully]. What a supreme product!"
Also Nice: A Pack Of Roll-Up Compression Bags For Travel
While not a traditional vacuum storage bag, these compression bags from Hibag accomplish something similar by allowing you to roll out excess air — no pump or vacuum required. This can be especially convenient if you're traveling and don't want to carry a pump. This set includes 12 bags — six medium and six large — multiple Amazon reviewers have reported using the large size to successfully store a bulky winter jacket.
These double-zip bags have a 4.4-star overall rating on Amazon from more than 2,400 reviews, and users suggest that while it does take some effort to roll all the air out, the bags really do save space (up to 80%, according to the manufacturer). Some reviewers found that air started to leak into these bags over time, but others suggest that the key to a good seal is not overfilling the bags.
Enthusiastic Amazon review: "These were a life saver for our trip to Hawaii with our 10 month old baby. My husband, baby and I shared two carry ons and thanks to these bags we were able to fit everything we needed! They come with multiple sizes, they are very easy to use and even reuse! Not only were they great for saving space but they were great for storing any dirty clothes leaving no smell or mess in our luggage. Since being back I have stared using the unused bags for storage saving me so much space!"