The 9 Best Vacuums Under $200
We only recommend products we love and that we think you will, too. We may receive a portion of sales from products purchased from this article, which was written by our Commerce team.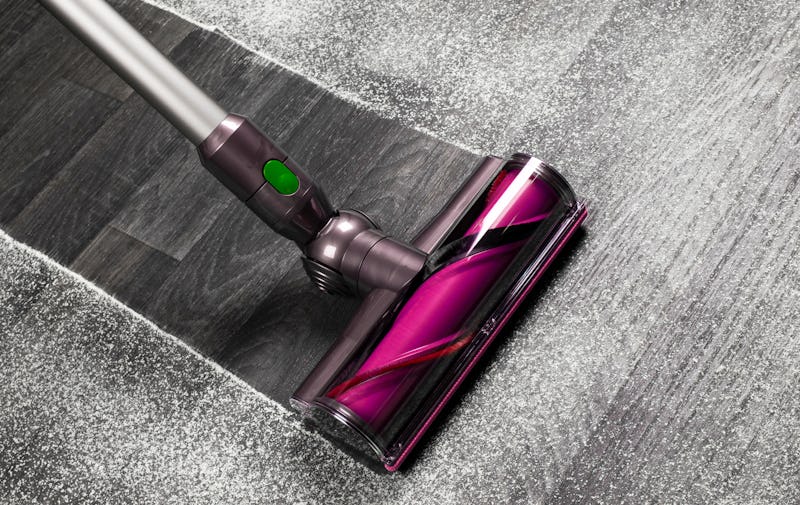 Shutterstock
If you're looking to invest in a good vacuum, you don't have to spend a lot. The best vacuums under $200 range in their designs and how they function, but they all offer a lot of bang for your buck, and can powerfully clean up the messes you're up against. But, since every person (and home) is different, there are a few things to consider before you invest.
First and foremost, decide what style of vacuum you want. There are fantastic upright vacuums that powerfully handle large spaces, but usually have cords that require access to a nearby outlet. If you're looking for a vacuum for small areas or cars, a handheld vacuum is a great choice that can get into crevices and many have a battery life of around 30 minutes. For a bit more versatility, look for a two-in-one vacuum that can be used as an upright model but also disassembled to work as a handheld or portable vacuum.
You'll also want to consider things like the weight of the vacuum, the filtration system (if there is one), and battery life if you're shopping for cordless vacuums. A good vacuum should have strong suction, but it should also be able to last long enough for you to get the whole job done, it should capture allergens or dust if you're prone to allergies, and it should be lightweight enough that you can easily maneuver it. Lastly, if you're shopping for a great vacuum to handle pet messes (there are a few on this list), keep your eye out for brush rolls that can catch hair, or wet and dry vacuums that tackle the variety of the messes that come with pet roommates.
If you still aren't sure which vacuum cleaner is best for you, here's a roundup of some great options to help you narrow it down.
1. A Classic Shark Vacuum That's Easy To Maneuver
Style: Upright, Two-In-One Vacuum
Cord? Corded
Weight: 14 pounds
This powerful upright Shark vacuum is a great pick for so many reasons. For one, it features a top-notch filtration system. The system automatically seals off dust or debris that gets kicked up from vacuuming, and it includes a HEPA filter to trap up to 99.9% of allergens and other irritants. It also features a dual-roller brush that works on both carpet and bare floors, as well as a swivel head so you can reach into nooks and crannies. And if you'd rather not push your vacuum around, this vacuum also has a two-in-one design so you can easily lift away the canister and use the attached hose to tackle corners, stairs, and other hard-to-reach places.
According to one reviewer: "This Shark is a very powerful, compact, and maneuverable vacuum! It pulls more crud out of my carpets than any other vacuum I've ever used. The rotating beater bar pulls the unit through even very plush carpets with ease - very similar to the feel of a self-propelled mower. It's a terrific value."
2. A Canister Vacuum With Multiple Attachments
Style: Canister
Cord? Corded
Weight: Approximately 9 pounds
While this utility vacuum looks heavy, it's actually really easy to move around. It weighs about 9 pounds and features wheels on the bottom of the canister so you can effortlessly roll it into any room. It also has 10-amp motor, which is more than enough power to suck up every last speck of dust, and comes with a 20-foot power cord so you don't have to unplug it every time you switch rooms. This vac even comes with multiple attachments, including a crevice tool, dusting brush, and an upholstery nozzle. And if you're worried about changing out the bags, it couldn't be easier with the five 2.5-liter bags that come with your purchase. As with many bagged canister vacuums, this utilizes the bags to trap any dust, in place of the filter you'd find on some other models.
According to one reviewer: "I have a lot of pet hair. Sometimes I vacuum daily, sometimes I ignore the hair for a day or two. I had two upright vacuums - you know - the kind with two or three filters, and a little tiny canister. I would need to empty that canister at least 3 times while vacuuming. THAT'S why I purchased this vacuum. So glad I did too! It has a bag that holds lots and lots of dog hair This vacuum has a nice long cord so I don't need to keep unplugging and replugging as I clean house. Love it! Will never use another vacuum. Highly recommend!"
3. A 4-In-1 Cordless Vacuum With A HEPA Filtration System
Style: Stick, Four-In-One Vacuum
Cord? Cordless
Weight: 3.3 pounds
Not only is this stick vacuum super easy to maneuver, but it features a cordless, four-in-one design that comes with two different brush heads you can attach to either the handheld base or the long extension, for four different configurations. One charge lasts for at least 28 minutes, according to the manufacturer. This vacuum also features a HEPA filtration system, trapping 99.99% of dust and particles in the air. On top of that, it also weighs less than 4 pounds, making it super easy to carry this vacuum around the house or even lift above your head to suck up cobwebs and dust on the ceiling. While its dust cup's capacity isn't listed, generally stick vacuums fall somewhere in between handheld and upright vacuums in their capacity sizes, best for medium-sized messes.
According to one reviewer: "This lightweight vacuum can [be used] for car, sofa, corner, carpet, floor, etc. I use it to vacuum wood floors and picked up all trash, dust, and hair. Since it is lightweight, my kid helps me to vacuum [the] floor."
4. A Robot Vacuum With Powerful Suction
Style: Robot
Cord? Cordless
Weight: 14 pounds
This high-powered robot vacuum works just like the name brands without the higher price tag. This vacuum features powerful suction to the tune of 1,600 pascals, as well as a low-profile, 2.83-inch design that can easily glide underneath furniture. Large wheels can easily maneuver over rugs and floors, and it has a 360-degree smart sensor that keeps it from bumping into your furniture. You can control it with the included remote or set it to automatically clean, and when it's collected 0.5 liters of dust (or when its battery dies after 120 minutes of cleaning), it'll return to its base to power up before the next session. This has a built-in sponge filter to trap dust and particles, and comes with a replacement filter for when you need to change it out. (Additional filters can be purchased here.)
According to one reviewer: "I love this vacuum! I did a lot of research before finally taking the plunge and purchasing a robot vacuum. After reading tons and tons of review I finally purchased the Goovi. I immediately put the vacuum to use once we received it. Putting it together was a breeze, all I really had to do was connect the brushes and off it went."
5. An Affordable Vacuum/Mop Combo Reviewers Love
Style: Vacuum/Mop Combo
Cord? Cordless
Weight: Less than 5 pounds
For the most versatility, you can pick up a combination vacuum and mop, like this cordless Shark VACMOP. Each mop pad that attaches to the bottom of this Shark has a built-in dirt chamber that catches crumbs, dust, and debris that the vacuum sucks up. Underneath the chamber is a disposable mop pad that trails as you vacuum, cleaning your newly dirt-free floors. Simply hit the button at the top of the handle and this mop will spray cleaning solution which the disposable pads then wipes up. This is one of the most popular cleaning tools on Amazon, having earned over 13,000 reviews and a 4.5-star overall rating. This vacuum mop operates for up to 13 minutes on one charge, which is something to keep in mind if you're dealing with big spaces. Also, while the dirt chamber's capacity isn't listed, it's smaller than the vast majority of other vacuums out there, as this vacuum and mop pulls double duty. One final thing to note: This mop only comes with one disposable pad, so you'd be wise to pick up a few extra when you buy (this pack of 30 costs $23), as well as the cleaning solution Shark makes to work in the spray mop. One note: Because this is more of a hybrid design, it lacks the filtration system you'd find on a classic vacuum, which may be a deal breaker if you are prone to allergies.
According to one reviewer: "I LOVE this thing. It's the perfect go to for those after dinner crumbs or when you need to do a quick clean up in the bathroom. I'm always amazed how much it sucks up and holds. I loved it so much I sent my mom and best friend one. If you have kids and pets this is a must have."
6. A Canister Vacuum With A Retractable Cord
Style: Canister
Cord? Corded
Weight: 9.1 Pounds
With a retractable cord and a long flexible hose, this canister vacuum is a great investment that can handle a large space. It comes with a bunch of attachments including a crevice tool, a dusting tool, and a low-pile carpet tool that can be swapped into the main hose. The dirt cup holds 1 liter of dust and debris all captured in the easy-to-empty canister. Despite its heavy frame, it has large wheels which make it easy to glide from hardwood floors to carpets, so you can tackle all the messes in your space. Unlike the other canister vacuum on this list, this has a bagless design, and both a pre-motor and post-motor filter. The foam pre-motor filter can be washed, while reviewer brush the paper post-motor filter clean with a brush. (These eventually will need to be replaced, but likely not until you've used them for many months.)
According to one reviewer: "I absolutely love my Bissell! I live in a 600 [square feet] apartment with a mix of hardwood, tile and area rugs. This vacuum is perfect: maneuverable, light weight, stores easily, not too loud, great suction and the hardwood floor tool is really spiffy."
7. A Hoover Vacuum Designed With Pets In Mind
Style: Upright
Cord? Corded
Weight: 17.1 pounds
Hoover is a trusted name in vacuums, and for that reason the brand's vacuums can cost you up to $500. But, this powerful corded upright vacuum from Hoover is a fantastic deal at under $200. Designed with pet parents in mind, this Hoover has a soft brush roll and a guard that protects hard floors, so you can use this on carpets and hard surfaces to pick up hair, pet or otherwise. With a flexible 12-foot hose on the back that you can use with one of the three attachments, you can reach ceiling corners, baseboards, or tight spaces with ease. You can even adjust the height of the vacuum between four settings for almost any pile carpet. The extra-large dirt cup can hold 2.5 liters of dust, so you won't have to empty it as frequently. It even features "AllergenBlock" technology which the manufacturer claims catches 97% of pet dander, dust, and pollen, so this is also a great pick for allergy sufferers.
According to one reviewer: "I love the suction power and the versatility of the handle (compared to my dyson)! It's a breeze to just pop it off and clean the baseboards, or whatever! And long and flexible enough to clean ceiling fans and ceilings as well. I have an indoor pet and I love the large canister that I don't have to empty every 15 minutes!"
8. A Powerful Handheld Vacuum With 50,000+ Reviews
Style: Handheld
Cord? Cordless
Weight: 2.6 pounds
With more than 50,000 Amazon reviews to date, this handheld vacuum is one of the most popular vacuums on Amazon for good reason. It's powered by a lithium-ion battery that can hold a charge for up to 18 months when it's off the charger, and comes with a handy charging base where it sits. When in use, you'll get 30 minutes of battery life out of this handheld vacuum, enough for small messes which store in the 20.6-ounce dust bowl. The crevice tool end gets into tight spaces and even extends up to 6 extra inches, according to reviewers. The crevice tool also rotates so you can get into whatever space you need to. It even comes with a two-year warranty. This has an easy-to-clean filter built into its design, which should be replaced every 6 to 9 months. For just $6 more, you can upgrade to the value pack option of this handheld vacuum, which comes with a replacement filter, as well.
According to one reviewer: "Love this dustbuster for picking up little messes and for vacuuming under my radiators and other hard to reach places. I also like that it comes apart so that the filter can be cleaned. I highly recommend this little vacuum."
9. A Vacuum/Mop With A Longer Battery Life
Style: Upright, Vacuum/Mop Combo
Cord? Cordless
Weight: 6.5 pounds
For combination messes, this wet and dry vacuum is a great choice that can handle nearly any spill you're up against. This cordless vacuum can operate for up to 22 minutes (some reviewers report that this is closer to 30 minutes!), and has a two tank design to hold both wet messes and cleaning solution. The cleaning solution is used in the mop function of this vacuum, which can easily be turned on with the button on the handle. Reviewers also rave about the cleaning solution that comes with this vacuum, saying it's amongst the best they've ever used. You can fit 0.55 liters of cleaning solution into the tank, and it can hold up to 0.4 liters of dirty water. With a 6.5-pound frame, this is a relatively lightweight vacuum that's easy to push around, and even a built-in HEPA filter. One note: Reviewers say this tends to work best on hard surfaces as opposed to carpet, because of its wet and dry design.
According to one reviewer: "How did I not know about you before, Tineco Ifloor Cordless Wet Dry Vacuum? After living in my house for 11 years with 2 cats and 2 dogs and all laminate floors, I have finally found a solution for my fur and dirt filled floors! I am beyond happy with this wet dry vacuum. It sucks up all the dirt and fur and I can mop at the same time! I'm in heaven!"