The 4 Best Vegetable Brushes
We only recommend products we love and that we think you will, too. We may receive a portion of sales from products purchased from this article, which was written by our Commerce team.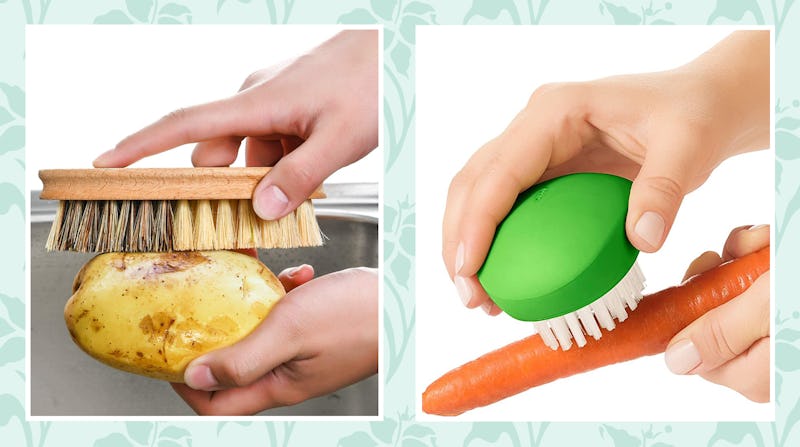 Amazon/Bustle
If you clean your vegetables by rinsing them under running water, you may be failing to eliminate things you can't see like pesticides or even bacteria. According to the FDA, rubbing or brushing firm produce under running water can help to eliminate dirt and contaminants (washing is advised for all fresh vegetables). So, if you're looking for a good vegetable brush for the job, I've got you covered. The best vegetable brushes are easy to grip, and made of either synthetic or natural fibers.
Generally, most vegetable brushes are made with either synthetic and natural fibers, each of which has certain benefits. While natural-fiber brushes are a great option if you are trying to cut down on your plastic usage, a plastic vegetable brush might be a bit more durable in the long run and are sometimes dishwasher-safe so they can be easily sanitized. And, as stated before, since you'll be brushing under running water, make sure to look for a style that's easy to grip.
One other thing to consider is the strength of the bristles. Firm root vegetables like carrots, potatoes, and beets sometimes have dirt or grime on them, so you shouldn't be afraid to scrub them using a brush with stiff bristles. If you want to wash soft, delicate items like mushrooms, summer squash, or strawberries, seek out a brush with a soft nylon plastic or natural fiber that won't bruise or damage them. Double-ended brushes that have both firm and soft bristles are a convenient choice.
If you want to ensure you're cleaning your vegetables thoroughly, keep one of the best vegetable brushes below at your sink.
1. The Overall Best Vegetable Brush
OXO's nonslip silicone brush has sturdy nylon bristles that are flexible, allowing them to thoroughly clean vegetables of all shapes and sizes without bruising or damaging them. The oval-shaped design is easy to grip, even with wet hands, and it can be cleaned in the dishwasher between uses, something you can't do with most natural fiber brushes. This brush has earned a glowing 4.8-star overall rating on Amazon after more than 7,000 reviews.
Helpful review: "This is a great brush for potatoes! I never realized how dirty my potatoes were before I started using this brush. The bristles are harder than expected, but not so much that they damage vegetables. The size is perfect for my small hands and stores easily next to the facet."
2. The Runner-Up
If you really want control while washing vegetables, Chef'n's brush has an ergonomic shape that fits snugly into the palm of your hand, as well as a finger loop for maximum control when cleaning vegetables under running water. The brush's nylon bristles are firm but flexible, so they'll adjust to the shape of whatever you're washing. Like the OXO, this brush can be sanitized by placing it on the top rack of your dishwasher. It's a bit pricier than the pick above and doesn't come quite as well-reviewed, but this convenient vegetable brush is a great pick definitely worth your money if you want extra control.
Helpful review: "Love this little brush. It fits so easily in my palm and makes cleaning vegetables super easy. When I'm done I just throw it in the dishwasher. Love it! I use it for carrots, radishes, potatoes and have even dry wiped mushrooms with this little jewel."
3. The Best Natural Fiber Vegetable Brush
This beechwood brush from SUBEKYU features two types of high-density bristles for cleaning a range of vegetables and other produce. The soft sisal end won't damage soft or tender ingredients, while the firm texture of the palm end thoroughly cleans harder ingredients like root vegetables. The brush's body is indented so fingers have a place to grip, even when washing large, wet items such as potatoes. To keep the brush fresh between uses, it should be washed with warm water and dried bristle-side down on a dish.
Helpful review: "I really like these brushes for cleaning vegetables! The bristles on this brush range from stiff to soft and this helps me get all the dirt off my garden vegetables."
4. The Best Double-Sided Vegetable Brush
If you want a brush that has two different nylon bristle textures and can be sanitized in the dishwasher, this versatile, double-sided brush from Progressive offers both. The soft side of the brush is small, enabling you to get into nooks and crannies on vegetables like mushrooms, while the stiff side has a wider surface area for cleaning hard root vegetables, squash, or fruits like apples. The easy grip brush won't slip when wet, and its stand-up design lets water drain off to prevent bacteria growth. It can also be sanitized in the dishwasher.
Helpful review: "I love this scrubber. The hard bristles work well without digging into the veggies, and the soft scrubbers are great. I didn't even know I'd been missing out until I washed mushrooms and zucchini with it. It's comfortable to hold and it's a little weighted so I don't feel like I'm going to toss or drop it."